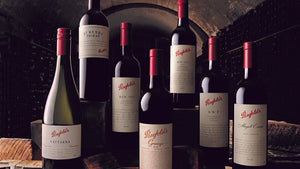 Over 175 years, three distinct styles have underpinned our winemaking philosophy: single vineyard or single block, single region or sub-region, multi-region, and multi-varietal blending.
Our single vineyard and single block wines are celebrated for their unique terroir and sense of place. These include Magill Estate Shiraz, Kalimna Block 42 Cabernet Sauvignon, Cellar Reserve Kalimna Block 25 Mataro, and Bin 170 Kalimna Shiraz.
Similarly, our wines sourced from a single region or sub-region represent the best of what that region or sub-region can offer. These wines are regarded for their optimised regional character and microclimate variants such as soil, drainage and aspect. Examples include RWT Barossa Valley Shiraz, Bin 128 Coonawarra Shiraz, Reserve Bin A Adelaide Hills Chardonnay, Bin 150 Marananga Shiraz and Bin 23 Adelaide Hills Pinot Noir.
Finally, both multi-region and multi-varietal blending exemplify what Penfolds is best known for from a winemaking perspective – crafting wines to a house style. Penfolds Grange is the original and most powerful expression of this blending philosophy, which results in a consistency of style and quality across vintages. Other examples of this style include Quantum Bin 98, Yattarna, Bin 389 Cabernet Shiraz and Grandfather Rare