Baron Philippe de Rothschild Wine dinner in September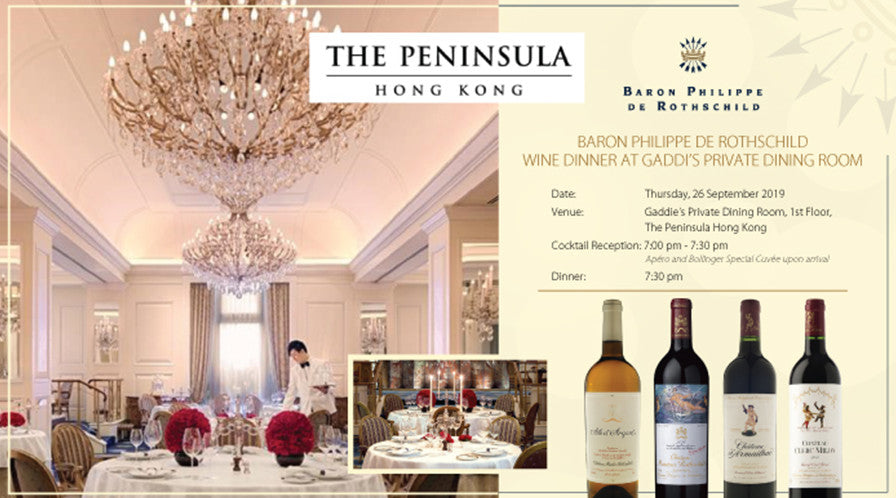 Baron Philippe de Rothschild Wine dinner in September
It gives me immense pleasure to invite you to a truly unique gastronomy feast in Hong Kong on Thursday, 26 September 2019 as we are delighted to host a remarkable wine dinner at Gaddi's with the support of Baron Philippe de Rothschild.

Featured wines:
✦ Mouton Rothschild Aile d'Argent Bordeaux Blanc 2004
✦ Petit Mouton de Mouton Rothschild 2010
✦ Chateau d'Armailhac 2005 – Double Magnum
✦ Chateau Clerc Milon 2000 – Magnum
✦ Chateau Mouton Rothschild 1996 – Jeroboam
✦ Chateau Mouton Rothschild 2010
✦ Remy Martin Louis XIII Cognac
In the late 18th century, Mayer Amschel Rothschild, a merchant born in the Judengasse , had five sons. In 1789, after introducing to them the art of business, he decided to send four of them to four major European capitals of the time.

Baron Nathaniel, one of the sons of Baron Nathan, from the English branch of the family, decided to settle in Paris. Wishing to serve his own wine to his illustrious guests. In 1853,he bought Chateau Brane Mouton at Pauillac, which sits in the heart of the Medoc, at an auction. Baron Nathaniel decided to bestow his own name on his newly acquired estate, calling it Chateau Mouton Rothschild.

In 1922, the 20-year-old Philippe de Rothschild, the youngest son of Baron Henri and the great-grandson of Baron Nathaniel took the destiny of the estate in his hands. Two years later,he imposed a revolution and created a chapter in history that changed the world of wine forever.

To pair with the luxurious wine collection, Gaddi's talented Chef Albin Gobil has curated an exquisite six-course pairing menu at *HK$ 6,888 +10% service charge per person. Each course has been carefully designed to enhance the flavours of each wine and bring out the unique personality and character of the selection at Baron Philippe de Rothschild wines.

*Special discounts for credit card holders are not applicable, including Peninsula American Express credit card holders.
Date: 26 Sept, 2019 (Thursday)
Time: 7:00 pm - 10:00 pm
Venue: Gaddi's Private Dining Room, 1st Floor, The Peninsula Kowloon Google Map
Price: HK$6,888 + 10% Service Charge
---
---