10 Best Christmas Gifts for Wine & Spirit Lovers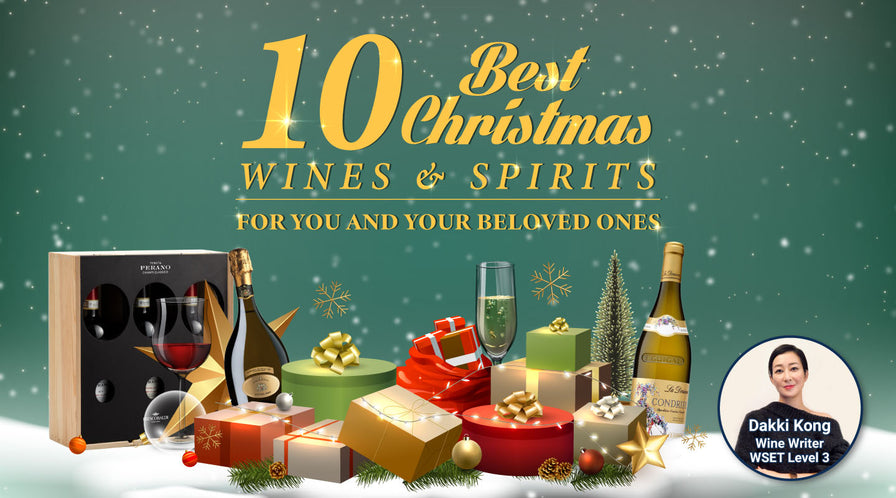 Picking the right gift for someone who savours a glass or two every night could be challenging when it comes to the gifting season. No matter if it's for your dearest, your nearest or yourself, it's always dull if you choose a bottle of cabernet. There are actually many choices of festive "spirits" and here are some suggestions.
 1. Azumaichi junmai ginjo Nero 
Japanese drinks are truly on the rise in recent years. So why don't we pick a bottle of sake to give to a Japan-loving chum? This Azumaichi junmai ginjo NERO looks completely like a bottle of wine, featuring a gold-stamped label and a gold foil capsule. Similar to white wines, the junmai ginjo is a good match with cheese, sashimi and sushi.
Made with the premium rice Yamadanishik polished to 49% in Saga Prefecture, Azumaichi junmai ginjo Nero is considered an unusual type of sake as it contains lower alcohol content but expresses an elegant style filled with an opulent concentration of fruity notes. The best gift to surprise wine lovers.
2. Mouton Cadet Rouge Ryder Cup 2016
Special-edition gifts are always good for Christmas presents. Mouton Cadet Rouge Ryder Cup 2016 is a special edition celebrating the international golf match held every two years for a battle between European and U.S. golfers since it's chosen to be the official wine for the event.
Behind the limited-edition label is a sumptuous 2014 Bordeaux vintage made with grapes collected by the prestigious and prominent Baron Philippe De Rothschild from growers scattered around Bordeaux's main appellations. Full of expressive fruits with an aroma of spice on the nose. Ready to drink. Consider gifting it to any Bordeaux or golf fan.
3. Frescobaldi Tenuta Perano 3 Bottles Gift Set
A good design has a knack for winning our hearts. This wooden gift box could be unfolded and turned into a six-bottle rack featuring a contemporary design. Smart, practical and thoughtful. Another reason to pick this gift set is Frescobaldi's 700-year history in winemaking in Tuscany. The accomplished Tuscan winemaker presents this single-estate masterpiece to any Chianti Classico lovers. 
Planted in its own estate called Tenuta Perano, the Sangiovese grapes enjoy sufficient light and heat from the south and southwest-facing amphitheatre-shape vineyard located 500 meters above the sea level, resulting in a purple and powerful wine with outstanding structure and intense fruity notes.
4. Maker's Mark Whisky x 2 Bottles with Jumper
Everyone looks adorable in their Christmas jumpers and Maker's Mark Whisky makes no exception. This year, it's an extra-large conjoined sweater that could warm two bottles of Maker's Mark Whisky and warm your heart with its festive look.
The classic Maker's Mark Whisky is truly a handmade oldie from fermentation to bottling. Offering a soft, sweet and fruity scent, Maker's Mark Whisky is a must-have for Christmas cocktail making and a great present to put under the tree this year.
5. Penfolds Chardonnay Pinot Noir Cuvee with Gift Box / Foss Marai Native Prosecco DOCG Strada Di Guia 109 Vadobbiadene Extra Dry
A special edition of wine is an unrivalled gift for wine geeks. The most distinctive thing about this Penfolds is where it's produced. Yes, right, this Penfolds is not produced in Australia but France where the chief winemaker Max Schubert was inspired to create Grange. That's why this special French edition is launched to celebrate the 175th anniversary of Penfolds' winemaking. This delicate and complex Champagne is a collaboration between Penfolds and the Oscar Champagne sponsor, Thiénot.
If you've given Champagne last year, switch to Italy's finest sparkling this year, such as Foss Marai Native Prosecco DOCG Strada Di Guia 109 Valdobbiadene Extra Dry.
6. Taylor's Historic Collection Reserve Tawny / Taylor's Vintage Port 2016
Some gifts are too good to give away and you'd rather keep them for your own enjoyment. Taylor's Port and Tawny are some examples. The unusual chestnut-shaped bottle of Taylor's Historic Collection Reserve Tawny Port is love at first sight. Then you'll seriously fall in love with its complex aromas of plum, fig and sultana. It tastes like a fruit cake and feels like Christmas.
In case you're looking for something with fresh fruit, racy acidity and tannin structure to go with your cheese platter on Christmas night, go for Taylor's Vintage Port 2016 which received a 100-point score from James Suckling.
7. E.Guigal Saint Joseph Rouge 2016
If you couldn't bring your loved one to a Mediterranean cruise this year, buy him or her a bottle of Saint Joseph red instead. The red wines produced in Saint Joseph soak up the essence of the sunshine in the Rhone area of Southern France. The Château, E. Guigal acclaimed as "King of the Rhone" and highly praised by the world-class wine critic, Robert Parker,  brings a powerful yet elegant wine style to your palate, as it exudes oaky notes of raspberry and pepper with a promising finish.  Perfect for wine connoisseurs.
8. E.Guigal Condrieu La Doriane 2019
Sending a bottle of the most sought-after bottles is absolutely a safe bet and E. Guigal Condrieu La Doriane 2019 always tops the list of best selling wines. The single-vineyard wine is an all-viognier white that has stunning notes of buttered peach, crème brulée and white flowers. Fine and fresh.
The wine is great as an aperitif or pairing truffle pasta and foie gras for your Christmas feast.
9. Manotsuru Karakuchi Dry "Tsuru"
Who doesn't like a cup of warm sake on a winter night while enjoying Japanese food? This dry Honjozo-shu is excellent for serving warm as it reaches 65% rice polishing rate with little alcohol added during brewing, resulting in a lighter and more fragrant sake. It allows you to taste hints of citrus and almond.
The elegant and silky mouthfeel makes it the Grand Gold Medal winner of Atsukan (Hot Sake) Category of Japan Kanzake Contest 2017. This sought-after Manotsuru Karakuchi is a perfect gift for foodies who love Japanese cuisine.
10. Takizawa Special Junmai
Nagano Prefecture reminds us of those sweet and succulent Nagano-grown fruits. To comfort someone who misses Japan too much, send a bottle of Takizawa Special Junmai which comes with masses of fruity aromas such as peach, lychee, melon, banana and pear. By using one of the best sake rice types, Miyamanishiki, one of Japan's softest water named Obsidian and its 150-year expertise in sake brewing, Takizawa Special Junmai is beautifully smooth with light acidity. Enjoy either chilled or gently warm.
Take action now and secure a bottle at your earliest before they're gone! 
---