2021 Lunar New Year Gifting Ideas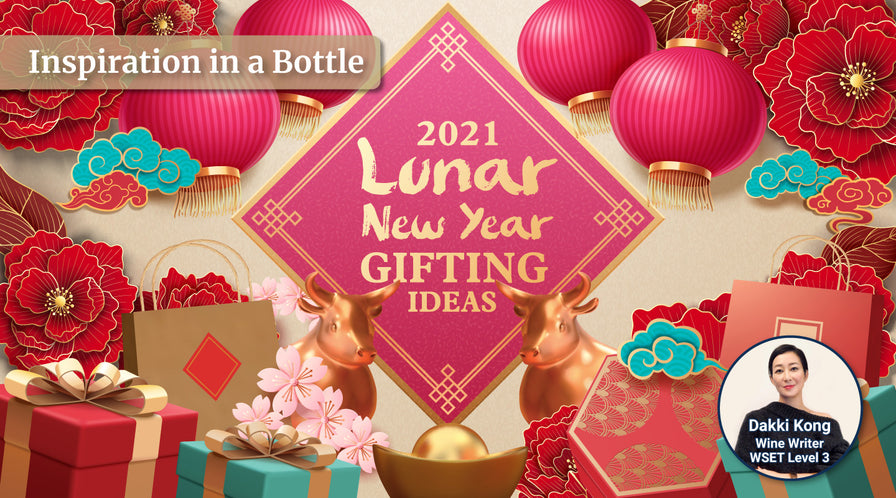 Text: Dakki Kong
Perfect gifts to celebrate the 2021 Year of the Ox
To prepare for the Chinese New Year, everyone in the city gets excited and busy searching for auspicious foods and decorations. Don't forget a heart-warming gift for your respected and beloved one to bring good fortune in the Year of the Ox. In case there's no plan to visit each other, it's a good idea to order some great wines and spirits online and send directly to them. Here're some well-selected presents that express your love and greetings.
1. Penfolds Bin 389 Cabernet Shiraz 2018 with Giftbox
The Australian brand Penfolds, in Chinese, is called "Ben Fu" which literally means "chasing prosperity", a definitely auspicious greeting during Chinese New Year. Penfolds stormed the world by its emblematic wine, the Grange, created by the chief winemaker, Max Schubert. Bin 389 is always nicknamed "Baby Grange" as it's matured in the barrels that aged the Grange. And similar to the Grange, Bin 389 a multi-regional blend.  The prestigious red gift box makes it a great choice for Lunar New Year gifting.
2. Courvoisier XO 2021 CNY Limited Edition
When it comes to the traditional celebration of Chinese New Year, Cognac is the indispensable beverage for almost every household for decades. Granted the "Prestige de la France" award, Courvoisier XO has also been awarded the Silver Medal of San Francisco Spirits Competition and the Gold Medal of The Cognac Masters. Intensely aromatic with a rich and complex palate, laced with hints of creme brûlée and candied orange. Courvoisier XO 2021 CNY Limited Edition is packed in a luxurious gift box printed with Chinese calligraphy of the word "Ox" symbolising the Chinese zodiac ox. Truly magnificent and auspicious. 
3. Raifuku Junmai Daiginjo Ultra 8 
Originally made for religious rituals and worship, Japanese sake has been turned into a celebratory beverage for special occasions such as coming-of-age ceremonies, weddings and birthday banquets. That's why many chose to use blessing words to name their brewery, such as Raifuku that is translated as "Lai Fuk" in Kanji, which refers to "happiness to come". It's made with the finest Hitachinishiki rice from Ibaraki Prefecture while achieving a rice polishing rate down to 8%. Not only a special gift to usher in the best fortune for the Lunar New Year,  but Raifuku Junmai Daiginjo Ultra 8 also brings a velvety palate with touches of pear, melon and Kyoho.
4. Fukuju Daiginjo
Wrapped in an imperial gold coloured packaging, Fukuju Daiginjo delivers a style of elegance and prestige. The name of the brewery Fukuju is two characters in Kanji, "Fuk Shou" which means fortune and longevity. It makes a perfect gift especially for seniors. With the use of the premium Yamadanishiki rice from Hyogo Prefecture, Fukuju Daiginjo tastes extremely delicate and smooth with light fruity flavours such as peach, Japanese pear, plum and floral notes.
5. Kikusaki 28 Junmai Daiginjo
Firecracker-shaped, Burgundy coloured and gold-stamped with a floral pattern, Kikusaki 28 Junmai Daiginjo got the perfect packaging for Chinese New Year gifting. The number "28" actually refers to the rice polishing ratio and coincidently, this means "prosperity" as it sounds like "easy to prosper" in Chinese. The packaging represents the modern twist launched by the 11th-generation successors of Senkin Brewery who believe sake made with Yamadanishiki at 28% rice polishing rate gives the most balanced acidity and the most captivating fruitiness.
6. Robert Mondavi Private Selection Bourbon Barrel-aged Cabernet Sauvignon 2017 Giftset
If you're struggling between a bottle of whiskey or red wine for Chinese New Year gifting, I would suggest you consider this Robert Mondavi Cabernet Sauvignon matured in American bourbon barrels. You could taste the dark fruit from Cabernet Sauvignon, as well as some nuances of chocolate, coffee and smoky notes from the bourbon barrels which also develops a silky finish. The gift set consists of two bottles of Robert Mondavi Private Selection Bourbon Barrel-aged Cabernet Sauvignon and two branded wine glasses. Doubled happiness.
7. Bollinger PN VZ15 with Giftbox
Why Bollinger Champagne is a great for Chinese New Year gifting? It's because both the glittering golden sparkle, and the lofty and charming lifestyle shared by James Bond in the movies symbolise wealth and prosperity. As most Champagne making involves three predominant grape varieties, Bollinger PN VZ15 is exquisitely devoted to 100% pinot noir. More, Bollinger PN VZ15 is made with pinot noir which is exclusively harvested from the vineyard called "Verzenay" which is what "PN" and "VZ" mean on the label and surely makes any Champagne lover delighted.
8. Frescobaldi Nipozzano Riserva & Pomino Bianco in Wooden Case
Apart from French wine, gifting Italian wine is equally popular. Nipozzano Riserva Chianti Rufina DOCG is produced by the reputable merchant, Frescobaldi on the hill of Chianti Rufina where Sangiovese is renowned for its alluring aroma. The precious Pomino Bianco produced in another tiny region, Pomino DOC expresses wonderful freshness on the nose. This gift set consisting of both wines is a perfect match for the Chinese New Year feast.
---