6 sake cocktails to shake up the world of mixology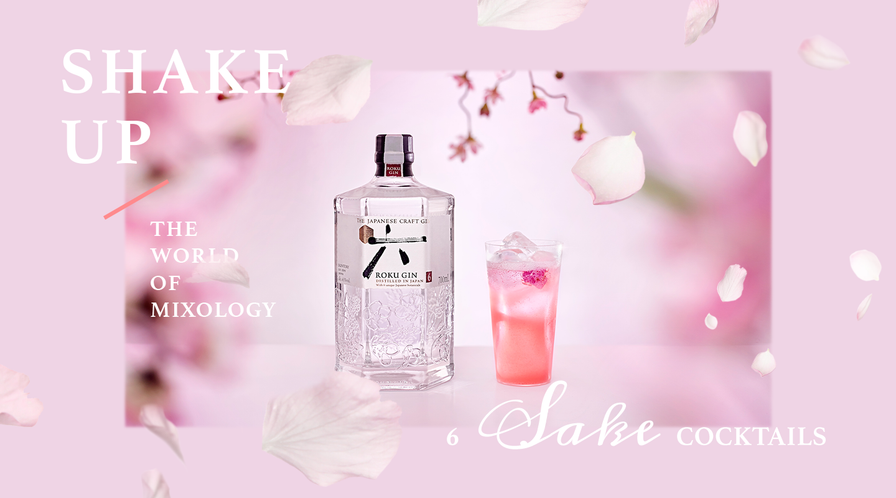 If you ask mixologists what makes a liquor good for making cocktails, most of them would say something strong enough to boost the booze but interesting enough to add interest on the palate.

The transparent and aromatic sake is the perfect candidate.

In fact, the nihonshu cocktails are gaining popularity among bartenders and drinkers in Japan and from around the globe. You'd see canned sake mixed drinks sold everywhere. If you're not a sake absolutist, let's explore the possibilities.

Apart from the sake bomb, there're many more ways to enjoy a sake-based mix drink. Here are six delicious and easy sake cocktails good for both sake newbies and well-seasoned palates.

Sake Highball
The classic highball is considered the simplest recipe in the world of mixology, which has become one of the Japanese' favourite cocktails. It's simply pouring your favourite liquor over ice cubes in a Collins glass, followed by some soda. The key is high-quality ingredients. Here let us replace the conventionally used fine scotch with Junmai Daiginjo. Most people love to put equal portion of sake and soda. Try also the golden ratio of 6:4 for more sake flavour. The long drink is a great way to enjoy the crisp fragrance and the tropical fruitiness of the premium sake. Absolutely refreshing and pleasing.

Kyoto Sour
You might have tried Whiskey Sour, New York Sour or Amaretto Sour. And here comes Kyoto Sour, a cocktail created by a sake enthusiast Paul Tanguay. He picked Tokubetsu Junmai sake for its bright and clean flavour. Firstly, muddle grapefruit and green Tabasco. Add 3 ounces Tokubetsu Junmai shu, ½ ounce lemon juice and ¾ ounce agave nectar. Then shake fiercely. Pour it into an ice-filled old-fashioned glass. Decorate with a mint sprig and a grapefruit slice. Citrusy, balanced with natural sweetness. This sake cocktail keeps you sipping without a pause. It's especially good as a pre-dinner drink for your Japanese feast.

Samurai Rock
If you think a cocktail is something complicated to make and strong to swallow, try Samurai Rock or Sake Samurai on the rock for a new perspective. It's actually a sake version of the two-ingredient cocktail Gin Lime. Fill an old-fashioned glass with ice cubes, pour over sake (any Junmai shu can do) and squeeze half a lime over it. Stir well and enjoy. Don't forget a lime wedge for garnishing. Thanks to the generous amount of lime juice. The refreshing acidity makes this cocktail extremely easy to drink. You might not even notice a trace of sake except its fresh crispness as the lime dominates your palate.

Sake Katsugen
If you've ever visited Hokkaido, you should probably have tried the sweet yet sour fermented beverage in a milky colour called Katsugen. In Hokkaido, mixing equal parts of Katsugen and sake with some ice is widely enjoyed by the local citizens. The two fermented drinks blend so well together unexpectedly, creating a delicate taste of sweetness, sourness and freshness. Either Junmai shu or those sakes with stronger lactic acid flavour is applicable. Nigori can be considered if you prefer more sweetness and rice flavour. Some creative drinkers even turn it into an ice-cold slushy. In case you could not find Katsugen, try other yoghurt-flavoured drinks such as Calpis or Yakult, which are similarly satisfying.

Saketini
Sake Martini or Saketini is the classic gin or vodka martini that swaps dry vermouth for sake, delivering a mellow, crisp and delightful flavour profile. How could James Bond miss this truly east-meets-west-themed tipple when dispatched to Japan? First, chill the martini glass with crushed ice. Muddle some cucumber, add 1 ½ part vodka or gin and ½ part sake, and some ice. Shake well and strain into the emptied and chilled glass. Garnish with a lemon or cucumber twist. For those who think it's too boozy, try adding one part of water. There're many innovative variations out there, such as lychee saketini, basil ginger saketini, matcha saketini or you could create one to your taste.

Sake Bellini
To make a bubbly cocktail, you now have sparkling sake to substitute Champagne and Prosecco. Since the fine bubbles of sparkling sake are created with a method similar to how Champagne is made, it's ideal for the sake version of Bellini. Create your own peach purée by baking peach slices with honey for 30 minutes, followed by blending. To serve, add two spoons of purée to a Champagne glass and top up with peach nectar and sparkling sake. The flavours come in more delicate waves than the traditional Bellini. Too easy to drink. Perfect for summer sipping or Sunday brunch.

The clean, crisp and aromatic character of sake makes it a wonderful ingredient for mixing. Try to respect the delicate flavour by choosing simple recipes or limiting to a two-ingredient cocktail. If you're trying to create somehting more complex and boozy to swipe away the lockdown blues, go for the undiluted sake, Genshu. You will not regret. Chin Chin!
---