8 Christmas Cocktails to try at home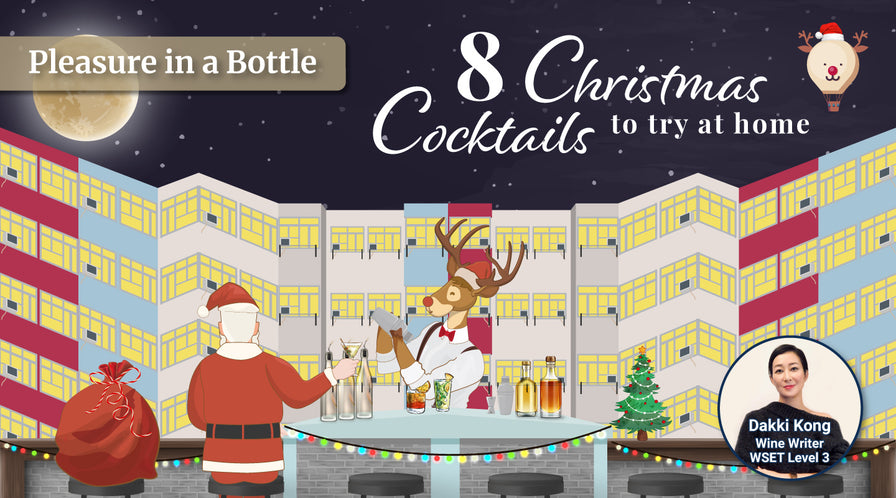 Text: Dakki Kong
This year we've learned how to live a normal life no matter what happens.
When eateries are ordered closed, we cook at home. Now bars are closed too, let us make ourselves cocktails at home. With these simple cocktail recipes and repeated trials, you could build your home bar and make some handcrafted premium cocktails for Christmas.
1. Whisky Sour
This simple and straight-forward recipe is for complete beginners in mixology. The cocktail always tastes good even when the proportion is not strictly followed. This 150-year cocktail is originated in the U.S. and therefore bourbon is first used. Later there comes many versions including Boston Sour. In recent years, it even captures the hearts of Japanese when using the local whisky. Shake all ingredients with ice, serve on the rocks and garnish with a half orange slice.
INGREDIENTS
1 1/2 oz bourbon whisky

4/5 oz fresh lemon juice

1/2 oz sugar syrup
2. Eggnog
The most traditional cocktail consumed over Christmas is definitely Eggnog. Not many people know it's originally non-alcoholic. However, the heavily spiked version is more welcomed for its intense flavour. Countless recipes of eggnog are found using spirits such as brandy, Cognac, bourbon, whisky, sherry or rum. Rum turns out to be the best one and here's a simplified recipe. Add the ingredients one by one to a blender and that's it!
INGREDIENTS
1 large egg

2 teaspoons sugar

1 oz cream

1 1/2 ounces rum

Garnish with ground nutmeg
3. Hot Toddy
A warm and comforting hot toddy is surely a hit when it's chilly outside. Some believe it's a magical cure for cold and flu. Though its origin is not known, it's widely consumed in the United Kingdom. A hot toddy is quite simple to make. All you need is just whisky, honey, lemon, and some spices. Without heating, combine the ingredients and add hot water. Garnish with a slice of lemon and a cinnamon stick.
INGREDIENTS
1 oz whisky

1 tablespoon honey

2 teaspoons lemon juice

1/4 cup hot water

3 dried cloves
4. Negroni
The bitter Negroni with a strong sense of liquor is the cocktail to best describe what we've gone through this year. Being one of the top three most popular cocktails in the world, the classy and aromatic Negroni could be made with a no-fuss recipe. Remember the golden ratio 1:1:1 for gin, Campari and vermouth. Serve on the rocks. The highlight is a twisted orange peel on the top. Four Pillars has specially designed the Spiced Negroni Gin for this cocktail. Also, Four Pillar Australian Christmas Gin is highly recommended for Christmas drinking.
INGREDIENTS
1 oz Four Pillars Spiced Negroni Gin

1 oz Campari

1 oz vermouth
5. Espresso Martini
As coffee culture is taking the world by storm in recent decades, you'd see coffee makes apparent on the bar table too. Espresso Martini is invented by a bartender in London when asked by a supermodel for something to "wake her up and mess her up". A good idea for Christmas. The simple three-ingredient cocktail instantly looks professional when poured into a v-shaped glass and topped with a few coffee beans.
INGREDIENTS
1 1/3 oz vodka

2/3 oz Flor de Caña Spresso Coffee Liquor

2/3 oz espresso

Sugar syrup to taste
6. Bloody Mary
Bellini is not the only drink for the Christmas brunch time. Colour your brunch table with some cocktails in a red tone such as Bloody Mary on Christmas Day. There's nothing simpler than adding tomato juice to vodka, then season it to taste with Worcestershire, pepper, Tabasco, celery, bacon, olives or whatever you find interesting on your dining table. Bloody Mary is also famous as a hangover cure.
INGREDIENTS
2 oz vodka

5 oz tomato juice

1/2 oz fresh lemon Juice

1/2 oz Worcestershire

Pinch of pepper

Pinch of sea salt
---