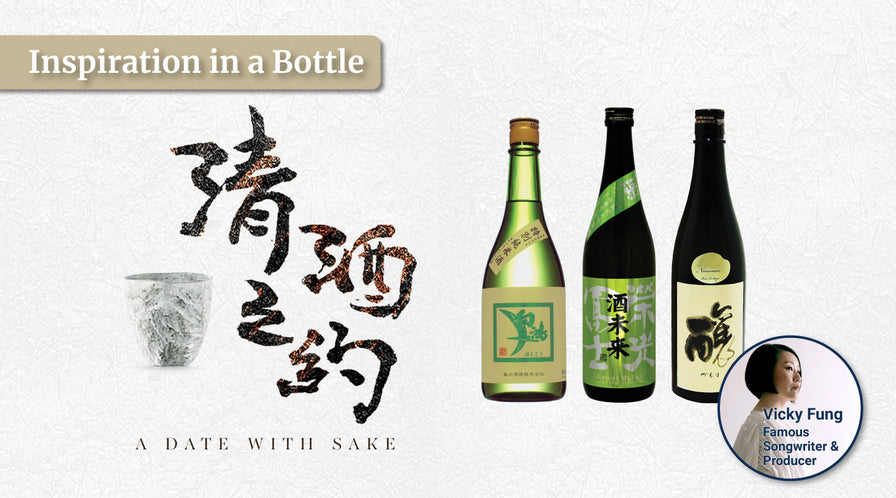 Text: Vicky Fung
Reminiscing the night of 24 June 2020, a special night which felt surreal. The half year before that date, we had experienced shutting ourselves out or separation. And within just a few weeks after that night, we have to go back to the pandemic fighting mode and spirit. The special night of "A Date with Sake" sake tasting and music pairing event at Lost Stars Livehouse Bar & Eatery brought about by Jebsen Wines and Spirits in collaboration of my new song took place just right on time.
It was a unique encounter --- when sake meets a song inspired by sake, what experience would it bring about? How would the interactions among their taste, nose, texture, and after taste be like? I have always been curious about that. I can finally put my imagination to reality by writing a song about the feelings aroused by sake. Special thanks must go to Jebsen Wines and Spirits's team and their Wine Buddy Ken for pairing the song <A Date with Sake> with three sakes with different characters which resonate with the different relationships and interactions between the emotions and mood of the song. The fragrant but placid Hakuko Tokubetsu Junmai Green Label, the dynamic and sweet tones of Eiko Fuji Junmai Daiginjo Unfiltered Nama Genshu Sakeminai, and the complexity of the mixture of elixirs dripped from three kinds of rice of Senkin Kamosu Junmai Daiginjo, each adds to deeper sensations of the melody and lyrics of the song.
As for me, sake is a door to surreal time and space. In the midst of the ambiguity between blurry memories and dreams, there is only a fine line between the state of reality, fantasy and surrealness. Reality may be cruel. Let yourself dive into surreal imaginations sometimes and be the true self you want to be by letting the universe embrace helpless feelings. That's a part of living the art of life. Let yourself be the creator of your own reality and imagination. So raise your sake glass and pair it with the song <A Date with Sake>, it's my invitation to you to enter into your own imaginative space.
---