Auspicious wine gifts for Year of the Tiger 2022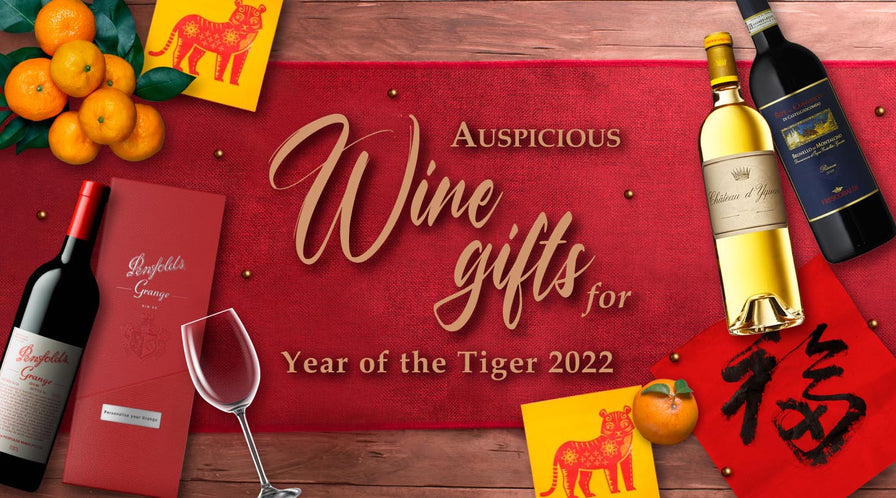 Chinese New Year is approaching. It marks the time of the year good for expressing your gratitude to someone important to you. And it's the Year of the Tiger and we'd better unleash the tiger with some well-selected gifts to show a generous gesture. Fine wines, aside from the enjoyment, makes a great collectible gift with value appreciation over time, similar to art pieces. Here shortlisted some fine liquids you could give away to embody your wishes.
Penfolds Bin 8 Cabernet Shiraz
Penfolds Bin number series is always named after the original bin location. But this bottle is an exception. Penfolds Bin 8 is a classic Australian wine showcasing the traditional Penfolds style. Since the ageing of the wine uses older oak previously used for Bin 128, Bin 28 and Bin 389, the number "8" is picked as the bin number as it's the common thread among the bins, best as a gift for wishing our loved ones good wealth and fortune.
Penfolds Bin 1111A Clare Valley Barossa Valley Shiraz
Penfolds rocks millions of fans over the past decades. And sending a bottle of Penfolds during Chinese New Year has become a symbolic gesture. Aside from the auspicious transliteration of "Penfolds" and its festive Chinese New Year special packaging, the 175-year-old winery wins the heart of its fans by a number of unique Special Bin editions. The latest launch Penfolds 111A with a limited release of 1000 cases is definitely a good gift idea. Blending Shiraz from Penfolds' two celebrated single vineyards, Clare Valley and Barossa Valley, 111A is powerful but velvety, opaque but full of deep ripe dark berries. Not only does the aroma lingers, it's also extremely age-worthy.
Penfolds Grange
For those who love to drink wine or collect wine, a bottle of Penfolds Grange always puts a smile on their faces. The legendary Grange truly makes Penfolds globe-trotting and stand out from New World producers over the last 70 years. Famous for its powerful expression of Penfolds' multi-vineyard and masterful blending philosophy, Grange is recognised as one of the world's most collectible wines, representing an exquisite Australian style.
Château d'Yquem
How auspicious it is to raise a glass of Château d'Yquem to wish each other sweetness in the Year of the Tiger! Famed as the best sweet wine in the world and being the only chateau attaining Premier Cru Supérieur class in Sauternes, Château d'Yquem brings more than a golden hue and richly sweet palate. The complex aromas of honey, dried fruits and sweet flowers make it a wonderful match with the Chinese New Year rice cake. And every drop of the "liquid gold" is costly made by carefully handpicking the noble rotted grape berries from each bunch. For your record, D'Yquem could age for 20 years up to a century, especially those of good vintage year.
Château Margaux
Sending a bottle of Premier Crus from Bordeaux Left Bank definitely delights those who enjoy great wines as they are truly the world's top wines. Château Margaux is one of five prestigious Premier Crus. The style epitomises elegance, finesse and harmony. Its enduring characters demands your patience for at least 10 to15 years of bottle ageing. Deliciously fresh upon maturation.
Château Latour
Apart from Château Margaux, Château Latour is another one among the five Bordeaux first growth. Probably one of the oldest estates in Bordeaux, Latour, located in Pauillac, the same region of other two first growth, Lafite and Mouton, is highly sought-after and similar in popularity with the two rivals around the globe. A wine truly combines delicacy, power and richness.
Chateau Pavie Decesse 2008, Grand Cru Classe, Saint Emilion
Saint-Émilion of Bordeaux's Right Bank is always on the wish list of Chinese New Year gifts. If you love to pick the best one from the right bank, consider Château Pavie which has secured 1er Grand Cru Classé A, the top classification in Saint-Émilion. The wine is known for its powerful and concentrated character with wonderful ageing potential.
Frescobaldi Ripe Al Convento Di Castelgiocondo Brunello Di Montalcino Riserva DOCG
If you've already sent over French wines last year, try Italy. Frescobaldi is a prominent wine dynasty boasting a history of 700 years in winemaking and being passed down for 30 generations in Florence. Made with 100% of the palate-pleasing Sangiovese, Frescobaldi Ripe Al Convento Di Castelgiocondo Brunello Di Montalcino is exquisitely trending worldwide. The "Riserva DOCG" on the label indicates lengthy ageing prior to release. This Frescobaldi evokes a lavish vibe filled with complex ripe fruitiness and earthiness. Good to drink or hold.
---