Brand of the Month - Minuty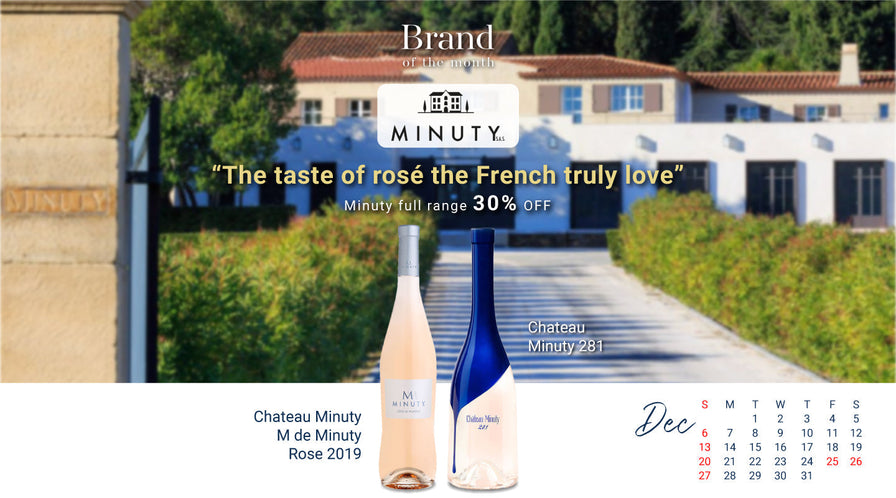 Provençal rosé has become a trendy frenzy around the globe in this decade. But which one is the best and preferred by the local French among the countless rosé wine from the South of France? Let's stroll along the picturesque Mediterranean coastline, the French Riviera.
You'll see Chateau Minuty is best-selling in beach clubs, restaurants and retail stores. Offering the authentic taste of rosé the French truly love, Chateau Minuty insists handpicking grapes for all its rosé wines and handles all harvest in-house to preserve the elegance and freshness. The chateau located in Saint-Tropez remains family-owned since 1936. In 1955, Chateau Minuty became one of the classified growths in Provence to receive Cru Classe status. Nowadays, Chateau Minuty practices sustainable and biodynamic viticulture to protect the soil and to maintain a chemical-free vineyard, ensuring the purest palate.
---
Chateau Minuty M de Minuty Rosé 2019
Attracted by the light and bright pomelo hues, you'll be impressed by the beautiful freshness with intense fruit when taking a sip. Smelling likes orange peel and red berries, M de Minuty is smooth in the mouth and brings plenty of vibrant fruitiness everyone will no doubt enjoy. Crisp and luscious. With the classic blend of Grenache, Cinsault and Syrah, showing an authentic taste of Provençal rosé. 2019 was an excellent vintage, given the optimum Saint-Tropez sunshine that brings grapes to full maturity at the chateau. The iconic unique bottle shape is easy to recognise.
---
Chateau Minuty 281
The bottle looks as satisfying as the taste of this luxury rosé. The royal blue colour cascades down the side of the bottle of the elegant pink wine. '281' exactly refers to the Pantone number of this blue colour, which stands for the sky and the ocean of the Mediterranean Sea, selected by the same artist, Hubert de Malherbes who designed for Dior J'adore fragrance. If you're looking for a bottle of unforgettable rosé wine, this the best bet for you. Exclusively harvested from the 25-year-old vines of Grenache in the chateau's own vineyard, Chateau Minuty 281 captures the essence of the single old plot, bringing strong intensity and aromatic complexity of fruit flavours such as peach, melon, and strawberries. Great depth with a mineral touch. Take a sip of the sensational pink wine and imagine yourself in the French Riviera enjoying Mediterranean gourmet. If you're lucky, you'd get one of 15,000 bottles produced each year.
---
---