Bring Your Own Bottle. A guide to a full-moon mini party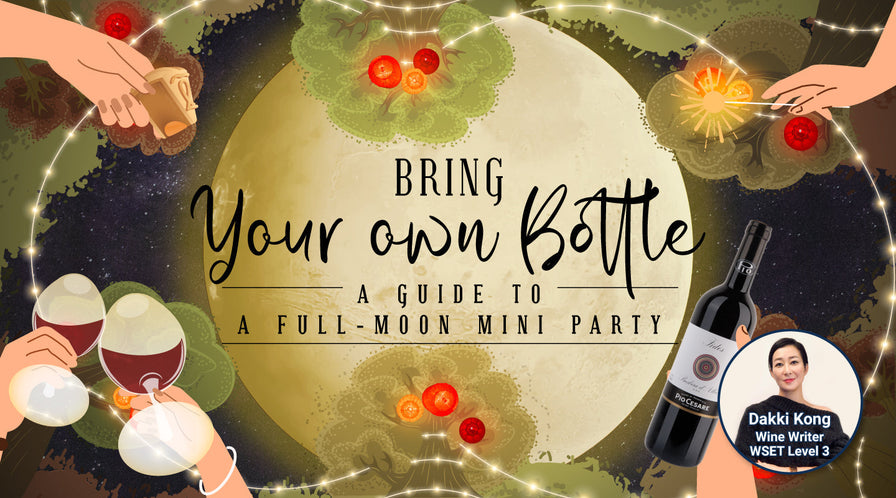 Text: Dakki Kong

It's another tough year that we are all locked up in the city, but luckily, we are still able to see friends. To celebrate the Mid-Autumn Festival, enjoy a good time with your dearest friends having laughs over drinks, no matter if it's a picnic gathering in a park, a BBQ party under the full moon or entertaining at your cozy home. Order some snacks or party foods, and bring the wines or liquors of your choice, you are all set to create unforgettable moments of joy on the festival night.

BBQ
When the Autumn months start to roll in, we can't wait to light the BBQ fire. There's no better way to celebrate the Moon Festival than gathering your beloved friends for some delicious and sizzling charcoal grill dishes. In fact, there're plenty of fantastic barbecue places in Hong Kong you could choose from, from the public beachside pits, barbecue sites inside country parks to some private barbecue venues for rental. Don't miss the most favourite recipes such as pork chops with minced garlic, herb-rubbed lamb chop, porterhouse steak with herb butter or some cheddar-stuffed Bratwurst. Though beers and sodas are common beverages for BBQ, if you'd like to level up the meaty meat feast, try some fuller-bodied, robust and peppery or smokey reds. Barbera, Syrah/ Shiraz, Cabernet Sauvignon, Nero d'Avola, Carménère, Primitivo or Malbec which all make great BBQ wines. Even the young reds turn smooth all of a sudden when it reacts with a meat bite in your mouth. Remember to bring a corkscrew with you if you plan to go to a far-flung destination.

Camping
For the camping fanatics or those who plan to stay over after the BBQ, bring some booze you could sip all night long next to the campfire during your night talk under the starlight. Think about some smooth and complex whiskies, brandy or Cognac, especially those with a long finish. Having these alcoholic drinks in your hand, you could stand the cold and breezy night in the mountains.

Picnic
Basking in the sunshine and breathing in some fresh air is undoubtedly more preferred under the pandemic. Therefore, enjoying a picnic is guaranteed to be a good celebration for the Mid-Autumn Festival. It's unbelievable this packed city boasts plenty of amazing picnic spots, Kwun Tong Promenade, Kai Tak Cruise Terminal, West Kowloon Promenade and many more, no matter whether you'd prefer a breathtaking mountain or scenic harbour view as a backdrop. A grassy lawn, a vast open space, and a picnic basket packed with sumptuous delights. Simply lazily lie in the green spaces, read a book, chat with friends, do some yoga or do any blanket-based activities. What else do you need for an unwinding holiday?

For your alfresco eating, you'll be spoilt for countless offerings, such as restaurant takeaways, or fruits and snacks grabbed from delicious delis. Salads, cold cuts, cheese, pizza, sandwich, sushi, quiche, fruit platter, dried fruits & nuts, brownie, focaccia or even fried chicken or dumplings. Whilst the sun's out, it's always blissful to drink something chilled or sparkling, which also goes well with the picnic snacks, such as rosé, Champagne, prosecco or any bubbly. Pick something fruit-forward, delicate with a racy acidity including those off-dry, such as Chardonnay, Sauvignon Blanc, Vouvray, Pinot Gris, Riesling and Gewurztraminer. Sake also falls into this category. Feel free to bring wine glasses with you as it does not only pimp up the picnic but also elevates the appreciation of those delicate flavours. In this case, an ice bucket or a cooler bag is a must-have item.

Home Party
With the social distancing restrictions still in place, some people would rather stay home. Then let's invite some closest friends over and throw an awesome cocktail party.

Foods for your at-home party have no limitations. You could prepare baked foods, finger foods, desserts, seafood dishes or whatever you have in your mind or you're good at cooking. To make the preparation less stressful, go for a cocktail party which also saves your energy on the food pairing. Limit your mixology to some two-ingredient or three-ingredient cocktails. Not only could you easily prepare them in minutes, but also let your guests DIY a cocktail to their own taste. First of all, you have to stock up your home with some premium liquors, such as rum, gin, vodka and vermouth. Simply prepare some essentials such as ice cubes, lemon slices or wedges, mint leaves, juices, tonic water or soda water and glasses then you're good to go. Mojito, Daiquiri, Martini, Tom Collins, Gin Fizz, Gin Tonic, Appletini and Screwdriver can all be made with the above ingredients and it's a delicious way to spend the day together.

Nothing can stop us from having fun even during the pandemic. Get some party ideas, go ahead and toast to life.


---