Create your own Home-makase and sake paring experience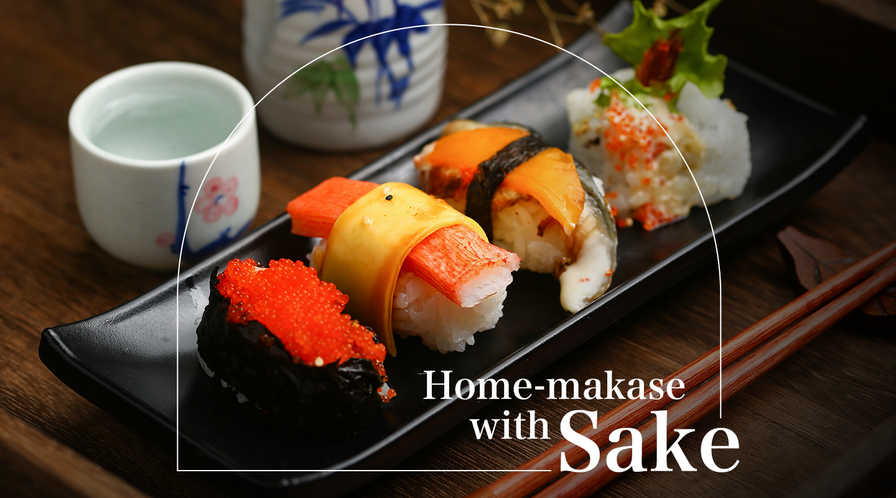 Never get disappointed when you are unable to book a seat at your favourite Omakase restaurant. The fear of dining out should not stop you from enjoying an unforgettable culinary experience. Instead, prepare yourself a "Home-makase", a casual version of Omakase enjoyed at home by ordering or shopping from your favourite restaurant or sushi stores. The highlight is to pour yourself a cup of sake for each dish. Get a taste of the Japanese luxurious dining in the comfort and privacy of your home. Sit back and relax. Itadakimasu!
If you are serious about the Omakase dining experience or seeking some of its essences at home, try to arrange your dishes in the following order:

1. Appetiser
2. Sashimi
3. Cooked dish
4. Sushi
5. Soup
6. Dessert

Now, upgrade your 10-piece or even 20-piece menu by pairing with sake properly. Sake is definitely made for complementing foods. It does not only accentuate the food flavours, but also it cleans the palate at the same time and keeps you refreshed throughout the dining. Similar to food and wine pairing, pairing sake to your Japanese dish is all about balance and harmony of flavours, aromas and textures.

Appetiser
To freshen up your appetite, go for some refreshing condiments such as tofu with dried bonito, lightly salted edamame. Start off with the light and crisp Honjozo. If you feel like having a seasonal fresh Hiroshima oyster with ponzu sauce, enhance the enjoyment with one shot of unfiltered Nama Junmai Daiginjo for its creaminess, medium body and aggressive acidity.

Sashimi
Omakase always features a diversified choice of sashimi. Remember to enjoy them in an order of increasing flavour intensity. For instance, begin with the lightly flavoured squid and the delicate scallop, both of which are best paired with similarly silky smooth Ginjo or Daiginjo.

When savouring sashimi with more sweetness and umami flavours, such as Hokkaido sweet shrimp and the fatty Otoro, go for Tokubetsu Junmai for its rich but refreshing flavours. If you'd opt for the more flavourful red sea bream and Akami, try a congruent pairing with Junmai shu for its rich and full-flavoured taste.

The last few sashimi pieces should probably be those of the strongest taste, such as silver-skinned fish. To perfectly match yellowtail with soy sauce and wasabi or seared horse mackerel with ginger and shiso leave, what comes to mind is a sip of some richly-bodied sake with a higher level of acidity and amino acid, such as Yamahai Junmai shu.


Cooked dish
Following the chilled sashimi dishes, it's time to warm your stomach with some cooked dishes. Ideas include chawanmushi, pan-grilled Hokkaido scallop, grilled hamachi collar or charcoal-grilled Miyazaki A5 Waygu beef, all of which are easily prepared at home without too much hassle. The umami sweetness of the scallop turns much more outstanding when matching to the Nigori sake. The fish oiliness of the hamachi collar and the buttery scent of the A5 Wagyu beef is best matched with Kimoto- or Yamahai-style sake as the lactic acid in the drink would do their jobs. Try Sparkling sake with chawanmushi for a surprising contrast on your tastebuds.

Sushi
When your stomach is warmed up, let's proceed to the more fulfilling sushi dishes. For the rice-based dish, there's no doubt Junmai grade sake is competent to elevate the intense rice aromas. So feel free to match Junmai Ginjo with flounder sushi or sea urchin and minced Otoro hand roll; or Junmai shu with Chutoro sushi and Aka-gai sushi.

Soup & Dessert
Don't forget to finish your Home-makase with a hot soup such as miso soup accompanied by some seasoned pickles or clam miso soup. Add an official ending by enjoying a matcha pudding, ice-cream mochi, sweet potato crème brulée or some seasonal fruits such as strawberries.

In case you're not sure about the choice of sake for the multi-course meal, one bottle of Ginjo would definitely accomplish the mission throughout the entire dining experience. It's a Home-makase so trust yourself and feel free to explore the combination of the Japanese dishes with a different sake.

---