Drinking With the Hong Kong Movie Stars (Part 2)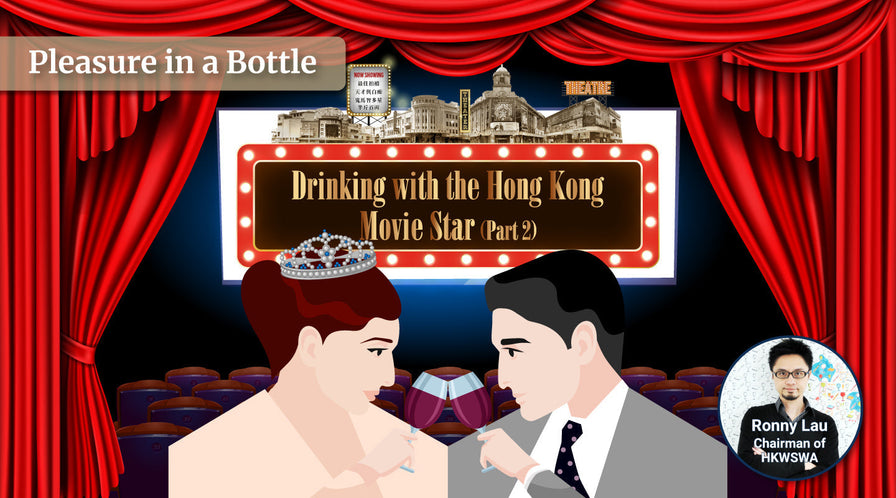 Text: Ronny Lau
Château Lafite Rothschild 1982 may be the best supporting act in Hong Kong cinema, but she's not the only one. In Derek Yee's " Protégé", the drug dealer played by Andy Lau went to Thailand for vacation with his family, he ordered four bottles of Petrus 1982 to pair with caviar. The way to drink is a subtle way to shape the movie character.
Johnnie To, Andy Lau and Sammi Cheng, dubbed the "iron triangle" of Hong Kong movies, had a new partner in 2004's "Yesterday Once More": Wine. Director Johnnie To gave wine an important role. The appearances of wine bottles were used to shape the character of the two leading roles, as well as a linkage to different scenes. For example, Andy Lau and Sammi Cheng stole a bottle of Château Cheval Blanc 1961 from a wine shop, and brought it to a restaurant. When the waiter took the bottle, he asked for the price of this fine wine, she simply replied, "I don't know, I just stole it." After they finished the bottle, they wanted to continue the lovely moment and open more bottles, then Andy Lau mentioned they had already stolen two more bottles, each one of them got one bottle after they divorced. Since they still kept the bottles, they decided going back to her home and his home respectively. What a humorous way to describe these two characters in the movie are still caring for each other!
Moreover, Andy Lau open a bottle of Château Haut Brion 1961 to drink with two police officers, before they headed to the police station for investigation. After few glasses of great wine, the investigation was as smooth as the matured first growth.
The glory of Hong Kong cinema has faded since 2000s, the quantity of movies produced has dropped drastically. Producers started to looking for investment from mainland, and co-production movie became a new trend. Stephen Chow, one of the icons of Hong Kong cinema, became another player in the trend directing "The Mermaid". In the movie, three bottles of DRC Romanée-Conti 1990 were featured when the host Deng Chao tried to show off his wealth. It indicated the glory of Bordeaux first growths has faded too, the wine for the rich and famous has already replaced with rare gems from Bourgogne.
If you don't want to break the bank, there are lots of option from Bourgogne. Chanson is one of the reliable négociants that offers all the four categories of appellation from Régionale, Village, Premier Cru, to the prestige Grand Cru, such as Chambertin Clos De Beze and Clos de Vougeot. You can easily found your favourite from different wine styles and price ranges.
Wine is not only to talk about money in the movies, but also romance, especially the scene was set in a chateau surrounded by beautiful vineyards. This is the way 2014's "Horseplay" and 2015's "Paris Holiday" told their romantic stories.
"Horseplay" was filmed in London and Prague, however, director Li Chi Ngai can't help but set the last scene at Château de Monbazillac, a wine estate in Southwest of France, which is famous for producing sweet white wines like Sauternes. While James Yuen, the director of "Paris Holiday" also ended up his movie at Château de Fontenay in Loire.
No matter it's a comedy or a romantic story, the different tastes of wine is always a great supporting act to make it shine.
---