Easy home-cooked dinner ideas for celebrating the Year of the Tiger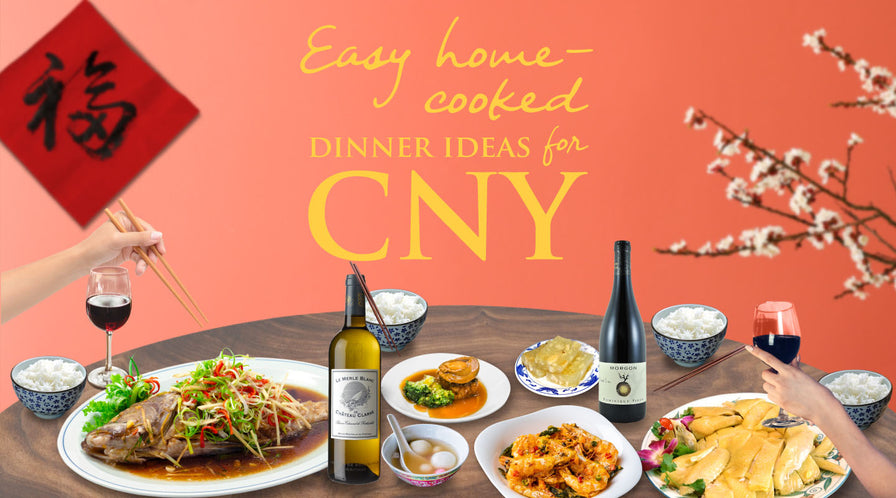 This Year of the Tiger will be different from the previous years. Most of us probably stay home for the Chinese New Year dinners instead of dining out as we did. Tired of ordering food deliveries? Let's cook yourself a sumptuous festive dinner. Forget the cumbersome of Chinese traditional cooking recipes and cook in an easy yet lazy way with some proper wine pairing. You and your family will definitely be satisfied with a family meal at the comfort of your home.
1. Steamed whole fish

Fish, pronounced in a similar way as "abundance" in Chinese, is a must-have dish for the Lunar New Year as a sign of prosperity. You have plenty of choices, such as garoupa, sea bass and turbot. It's one of the easiest Chinese dishes to cook. The key is to adjust the time of steaming according to the weight of the fish. Then top the fish with scallions and soy sauce, and you're done. To savour the delicate flavour of the dish, pair it with a similarly crisp yet delicate light-bodied white, such as Pinot Gris, Fiano, Albarino and dry Riesling. Don't enjoy the fish with Chardonnay or Sauvignon Blanc as these with fuller body and flavour profile might be overwhelming for the tasty dish.

2. Golden prawns with salted egg yolk prawns

Golden prawn with salted egg yolk is truly a dish for Chinese New Year as "prawn" is pronounced like "laughing" while the golden colour symbolises wealth and fortune. However, many believe salted egg yolk prawns can only be enjoyed at restaurants. The truth is it's straightforward and easier to cook than expected. Firstly, prepare the prawns by cleaning them, lightly coating them with corn starch, and pan-frying them. After that, melt butter, add the steamed and crushed egg yolk, and toss the prawns through the sauce until evenly covered. Creamy, crunchy and satisfying. Prawns always match with most white wines. However, dominated by the tangy egg yolk, this dish is best enjoyed with some bubbly such as Prosecco, Cava or Champagne to enhance the aroma.


3. Steamed fresh abalone with dried tangerine peel

It's a tradition to enjoy dishes made with gourmet ingredients to bring you luck and wealth during the Chinese New Year, such as steamed fresh abalone. Use some high-quality aged tangerine peel from Canton province. Shred the peel after soaking it, place it on the abalone and it's ready for steaming. To finish, pour some sizzling oil and soy sauce. Crispy with umami flavour and a touch of sweetness. The renowned Cantonese dish has a medium intensity of flavour and it's perfect to pair with some medium-bodied whites, say Chenin Blanc and Sauvignon Blanc. Sparkling wines match well too.

4. Stir-fried scallops with XO sauce

The word "scallop" in Chinese literally means the birth of a baby boy and it also represents a prosperous career. That's why it's a popular dish during Chinese New Year. Cooking stir-fried scallops with XO sauce is nothing complicated. Season the scallops and blanch them. Heat a wok and stir-fry scallop with minced garlic. Add pre-boiled celery and two tablespoons of XO sauce. Stir well and ready to serve. To balance the mild spiciness of the XO sauce and to enhance the sweetness of the scallops, try off-dry whites, such as German Riesling and French Chenin Blanc.

5. Soy sauce chicken

The main dish of a Chinese festive dinner is probably the chicken dish. Go for this simplified version of soy sauce chicken which is truly a fuss-free recipe for beginners. The key is a rice cooker. In a rice cooker, put soy sauce, dark soy sauce, Chinese rose wine, rock sugar, scallion, ginger, tangerine peel, star anise and Sichuan peppercorns. Bring to a boil and add the pre-washed whole chicken. Turn it over every 10 to 15 minutes four times. Cut into small pieces when it's completely cool. Reduce the sauce and pour over the chicken to serve. Full of umami flavour, the soy sauce-based dish is not a good match with high-tannin reds. Try unoaked or partially oaked Chardonnay, or unoaked Sauvignon Blanc and Gewürztraminer. If you insist Chinese New Year is time for drinking reds for prosperity, go for Gamay or rosé wines such as soft Provençal rosé and Tavel rosé from the Rhône Valley.

6. Golden water chestnut cake

Time for dessert now. As you might be bored with the sweet glutinous cake, let's switch to golden water chestnut cake. Crunchy and slightly sweet. The translucent and golden hue is a sign of wealth and riches. To pair with wine, try the refreshing and lightly sweet Moscato d'Asti. Or you could follow the principle of pairing sweet food with a sweeter wine by picking a bottle of the top-notch Sauternes to celebrate the new year.


In the Year of the Tiger, keep eating well and living well. May you find the strength and courage to overcome new challenges like a tiger does.
---