In the mood for a romantic season. 4 tips for picking mood-setting holiday wines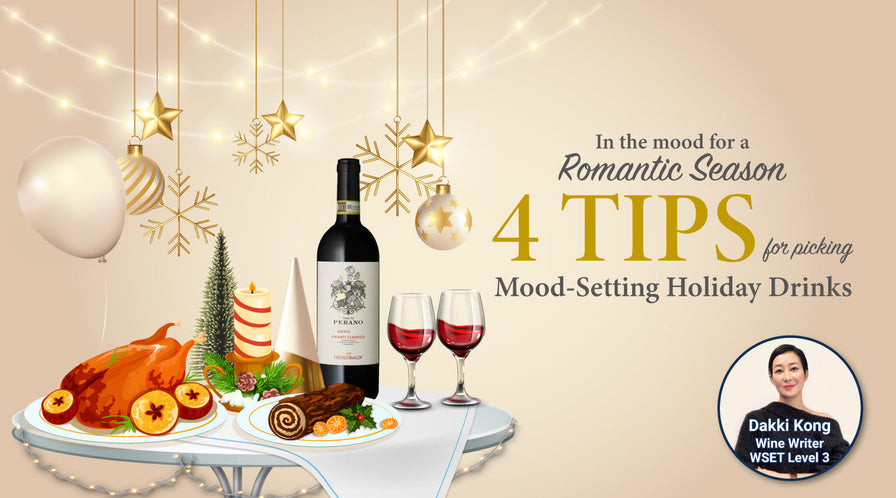 It's December! The Christmas Season has just started.
From festive lights, dazzling Christmas trees and smooth Christmass Jazz, the air is just filled with love and romance. So it's a great time to share some romantic moments with your loved ones, no matter if it's an exciting new date or a decade-long relationship. A bottle of wine is always magic. Look no further than the following tips to pick the best wines that reconnect the two of you.
Warm-Climate Grapes
Sipping a glass of wine in a riper style seems easier to revive some sparks between the two of you than sipping a tart or lean one. Thanks to heat and sun, warm-climate wines bring richer flavour and fuller bodies to your palette. Especially those reds from regions around the Mediterranean Sea or in the Southern hemisphere, apart from their tantalizing colours in medium ruby or purple, the wines mostly exhibit chocolate notes and dark fruit aromas including plums and blueberries. The rich texture of ripe tannin and the characters of low-acidity and spiciness might turn the night more voluptuous. So do not miss Châteauneuf-du-Pape, Hermitage, Côtes du Rhône from Southern France; Rioja and Ribera Del Duero from Spain; and Malbec from Argentina. 
Slightly More Alcohol
A good drink definitely helps you unwind and prepare a relaxed mood for a date especially when alcohol is doing its work. In wines, the alcohol level ranges from 5% to 20% ABV (Alcohol by volume). Some wines are higher in alcohol than others due to wine-making skills, grape variety and weather. Pick the right wine and let a tiny little glass warm both hearts and swiftly set your mood.
California wines are among medium-high or high levels of alcohol, which could go from 13% to 15% for those in the dry style, meaning every bit of sugar is fermented into alcohol such as Zinfandel, Cabernet Sauvignon and Merlot. Plus, those from warm weather regions are also comparatively boozy as sufficient natural sugar in those sun-drenched or sundried grapes is converted into alcohol. Try Shiraz from Australia or Cabernet Sauvignon from Margaret River, or Chianti Classico from Central Italy and Nero d'Avola from Southern Italy.
Bubbly Champagne
There's no doubt the opulent Champagne always tops the wine list for a romantic occasion.
Not only the sound of popping a cork is mood-lifting, but also the smooth and fine bubbles streaming in flutes keep the romance alive. Not to mention the complex and pleasing aroma of blending Chardonnay, Pinot Noir and Pinot Meunier.
Popping a Champagne is celebratory but it doesn't mean you have to wait for a special occasion to open one. It's actually a good way to tell your date how much you value the special night. In case you'd like to impress your date more, opt for the precious single-vintage Champagne which is only produced when the harvest of the year is particularly good, such as 2008, 2012 and 2013. A blushing pink rosé full of bright and intense red fruits would be another easy-to-drink choice to make the date night sexier and more memorable. 
Look for other sparkling options such as Spunmante、Prosecco or Moscato d'Asti from Italy if you'd prefer a more casual and down-to-earth vibe.
Sweets for Sweethearts
People say drinking together helps people bond. Then drinking sweet wines together probably makes relationships more tenacious. To complement the chocolate, cheeses or dessert course on the date night, you would need something sweet and luscious. The first thing that comes to mind is surely the classic late harvest wines, Sauternes and Barsac which are both good picks. You two could taste the complexity, honey, caramel candies, marmalade and a taste of oak ageing, which will make you keep on drinking because of its bright acidity.
If you look for something red, rich, delicious, sweet and boozy, port from Portugal is the answer for you. Port wine is basically one of the fortified wines, which is made by adding extra spirit during fermentation and retaining the natural sugar extracted from grapes, resulting in a sweet wine boosting up to 20% ABV. Don't panic when given a handful of styles to choose from. Go for Ruby port or the more complex vintage Port if you enjoy fruity characters of berries. Go for tawny or old tawny if you love nutty and caramel flavours.
Ideal for sipping all night long on a cold winter evening. 
Are you ready for your next date?  
---