Left or Right in Bordeaux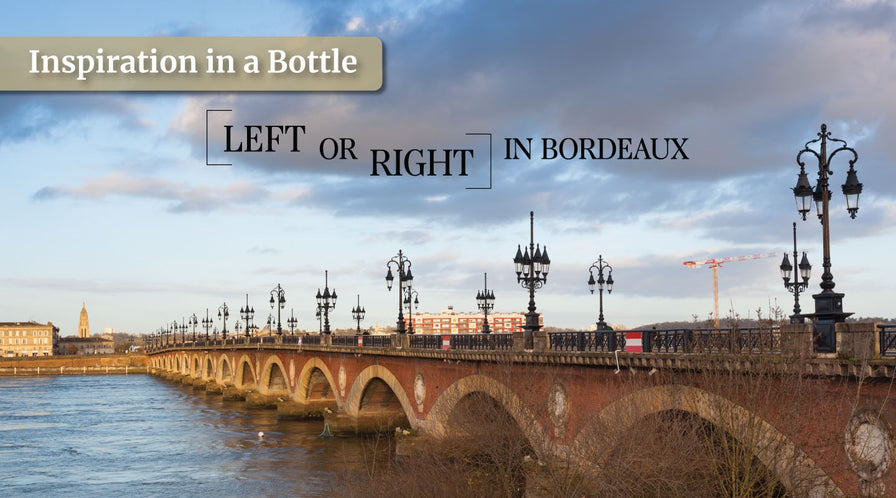 Bordeaux is undoubtedly one of the most famous producing regions for Red wines. Not only New World wine countries planted the same grape varieties in order to make wines in similar style, but also some wine regions in the Old World that had long history in winemaking. It's common to see wine producers to blend different grape varieties to make their wines in Bordeaux, Cabernet Sauvignon, Merlot, Cabernet Franc are the main varieties, while Malbec, Petit Verdot and Carménère are the auxiliary ones. These six grapes are called Bordeaux Blend, or Meritage in the United States.
The combination of the grape varieties created different wine styles in Bordeaux, and the characteristic of Left bank and Right bank, which are divided by the River Gironde, are obviously noticeable. I would describe the Reds in Left bank as masculine gentlemen, and the ones produced in the Right bank as elegant ladies.
The terroir and micro-climate on the Left bank is better for planting Cabernet Sauvignon, with a little help from Merlot and Cabernet Franc. Cabernet Sauvignon shows rich black fruits and ample tannin, tastes fruity with hints of black pepper and green pepper when young, and turned into leathery, flavours such as dark chocolate mint and tobacco after fully matured. The masculine Left bank Reds are good for ageing.
The Right Bank produces predominantly Merlot based wines with Cabernet Franc and Cabernet Sauvignon. Merlot is less tannic than Cabernet Sauvignon, tastes smoother with red fruits. It shows cranberry, plum, and vanilla aromas when young, and displays attractive dried cranberry, liquorice, leather and cigar box flavours after ageing.
Everyone has a different palate, what is your favourite Bordeaux red? Left or Right?
---