Make yourself a boozy Mid-autumn Festival at home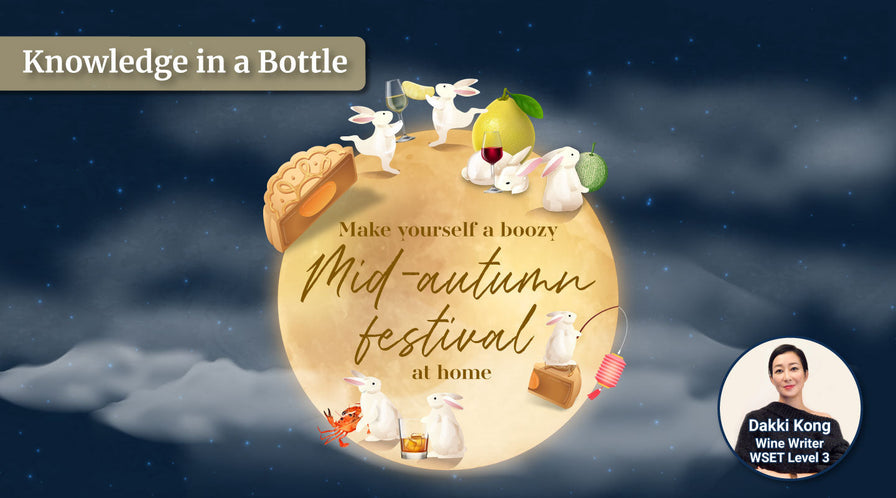 Text: Dakki Kong
To celebrate the Mid-Autumn Festival, lighting lantern might not be your favourite. However, tasting mooncake and seasonal treats are some of the greatest pleasures during the festive nights. Have you tried pairing wine with these gourmet foods? Which wine is good to go with them?
Egg custard mooncake
Among the countless choice of mooncakes, the egg custard mooncake is trending in recent years, catching up with the traditional ones.
If you're tired of "having a sweet wine with a dessert", make an attempt on a "contrasting pairing" by picking a decent Champagne to go with the egg custard mooncake this year. Let the refreshing acidity of the bubbly cut through the creaminess of the custardy filling, while keeping your palate refreshed. The buttery crust of the mooncake matches so well with the brioche and toasty aroma of the Champagne which comes from the maturation on lees for 12 months minimum. Both Bollinger Extra Brut and Ayala Blanc de Blancs work perfectly for this pairing. The fine fizziness of the Champagne plays an important role that it brings the mellow and savoury egg yolk taste to the next level while making it linger beautifully, especially after the mooncake is reheated in an oven. A truly satisfying and balanced tasting experience.
Lotus seed paste mooncake
If you're a loyal fan of the traditional mooncake, I bet you might have tried a pairing with the French dessert wine Sauternes or the Portuguese barrel aged Tawny Port. This popular matching is completely in line with one of the food pairing rules that "the wine should be sweeter than the dessert". But in case you haven't got sweet tooth for such lusciously sweet challenge, let's get back to the "contrasting pairing" by returning to the tradition, which means a cup of hot Yunnan high-quality aged Pu'er tea.
Hairy Crab
Autumn is the time to enjoy the seasonal delicacy, hairy crabs. It's an absolute delight for the festive celebration and is savoured for its creamy and golden crab roe. Foodies are crazy for its intense aroma and succulent sweetness.
To truly savour the stronger umami flavour, we need "wines with similar intensity" to elevate the richness. Then let's swap the wine for a whisky. Try Japanese single malt whisky for its smooth mouthfeel with flashes of sweet fruitiness and floral tones. Such as The Chita and The Yamazaki, the maturation of both whiskies involves Sherry casks. It reminds the taste buds of the Shanghainese yellow wine which is traditionally served with hairy crab dishes. That's why these two Japanese single malt whiskies give notable nutty and ageing aroma with nuances of sweetness which marry well with the crab roe flavour.
Seasonal Fruits
The Mid-Autumn Festival is the best time to enjoy seasonal fruits. According to the rule of "the shared flavour of the food and wine could be amplified", simply pairing these seasonal fruits with fruit-driven wines could create some wonderful treats to accompany the moon appreciation.
Take Hokkaido Yubari melon as an example. It's now the harvest time and you'd always see one in every gift hamper. This sought-after Japanese fruit could have its melon flavour amplified if matching with white wines that exhibit honeydew or tropical fruit flavours, such as the off-dry Sauvignon Blanc from New Zealand or some off dry German Riesling.
Another seasonal fruit, pomelo, is versatile with wines as the high-toned citrus and grapefruit notes could be easily found in many crisp whites such as Penfolds Koonunga Hill from Australia, or Mastroberardino Fiano Di Avellino from Italy.
To many, food pairing could be extremely complex and fuzzy. It's indeed much more than just "red wine with red meat and white wine with white meat". Luckily, there's a rule of thumb that always works, that is "to pair local foods with local wines". So you might hear the old adage used by Europeans for decades, "What grows together, goes together." According to this simple rule, try Nagano muscat grapes with Junmai Ginjo from Nagano or pair the juicy and fragrant peach from Yamanashi with a local sake such as Shichiken, and see how you like them?
There exists numerous rules of wine pairing,  simply pick some basic ones and apply in your next tasting. Be creative and make a bold attempt. I am sure everyone could be a wine pairing expert.
---