Mooncake and Wine Pairing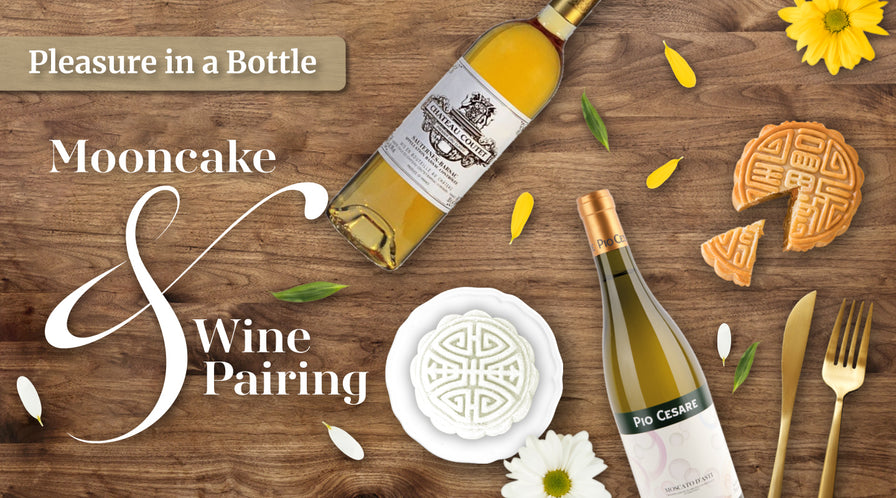 No doubt, mooncake is the traditional food of Mid-Autumn Festival (MAF). It has a long history and special meaning to the Chinese culture. Many thinks that mooncake should pair with sweet wine only. In general, yes, but then please don't forget that there are various styles of mooncake! Too many that this article can't cover all. Below show the most popular 5 types of mooncakes.
 1. Lotus seed paste
It is one of the most popular mooncake. I love to pair it with traditional botrytis affected sweet wines like Sauternes. Its rich, creamy texture with honeyed, floral and nutty aromas and flavours make it a great match with lotus seed paste. The acidity also balances off the sweetness, thus integrates both the mooncake and wine.


 2. Egg custard
To me, egg custard is usually with more pronounced in aroma (I like it warm!) but fluffier in texture. Since, usually, it is less sweet, wines with high acidity might not be needed. Ice wine or Eiswein would be just great! Sticky just like a Sauternes, but less acidic.


3. Assorted nuts (sometimes meaty)
Assorted nuts mooncake is made with nuts (usually 5 kinds) and some dried fruits. Sometimes Chinese style dried ham is added too. It is nutty, chewy with a hint of savory sweetness. It matches just right with the barrel aged tawny port, which also has that nutty caramel aromas and flavours.


4. Snow skin
It is more and more popular and comes with a lot of different flavours (though not my cup of tea). Not as heavy on the palate like other styles of mooncake and serve chilled, a fruity, floral sweet semi-sparkling wine like Moscato d'asti would be just perfect.


5. Chiu Chow style
It is covered with puff pastry and the fillings is often less sweet than lotus seed paste. A long lees-ageing sparkling like vintage champagne or Gran Reserva Cava should match well. Both are rich, with toasty, brioche aromas and flavours. The acidity of the sparkling can cut the fat of the puff pastry, which is usually made with lard, too!
The greater meaning of the MAF and the shape of mooncake is to have the family reunion or gathered together. Drinking wines at family gatherings of course enhances the ambience while drinking the wines which matches to the food reinforces it even better! Have you got the mooncake and wine ready?
---