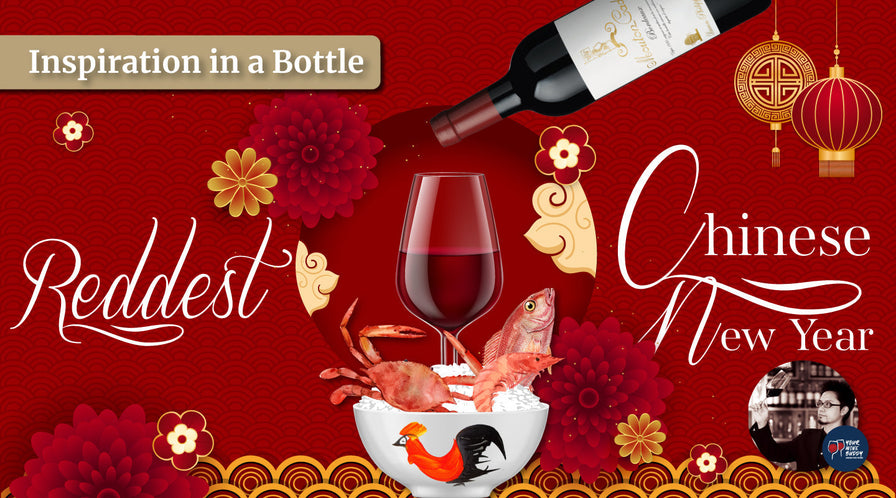 Text: Ronny Lau
Chinese New Year is the most important festival for Chinese, special dishes are made to celebrate this festive time, wishing to bring luck and fortune. Dried oyster, fish, pork knuckle, prawn are some of the traditional ingredients you may found in every meal. If you think it's bit cliché, pair them with the right wines, not only it will turn into full spectrum of flavours, but also it will bring the tastes of the traditional dishes to a new level.
Country or wine region may be your first priority when choosing a bottle of wine, but it's not exactly right! All you should bear in mind is grape variety, it's the most important factor to shape the taste and style of wine.
Consider the savour and richness of traditional Chinese New Year dishes, forget the crispy White wines or light-bodied Champagne, Red wine is your best bet. Moreover, red means propitious and lucky in Chinese culture.
However, there are light-bodied Red wines too, wines made from Pinot Noir or Gamay is somehow not suitable in this occasion. I suggest you to pick the full-bodied and structural Cabernet Sauvignon, rather than a young Grand Cru Classé from Bordeaux. The astringent tannin will exaggerate the fishy taste of dried seafood. In this case, an entry-level Bordeaux, or a fruitier Red wine produced in the New World is more appropriate.
Mouton Cadet was produced as the second wine of Château Mouton Rothschild, it was so popular that it became an independent brand by sourcing grapes from neighbouring vineyards. Mouton Cadet is now one of the best selling wines in the world, try the Mouton Cadet Edition Vintage, which is a level up and tastes richer.
There are many choices if you look at the New World wine producing countries. Napa Valley of California is a renowned region for full-bodied Red wines, you can't go wrong opening a bottle of Robert Mondavi Napa Valley Cabernet Sauvignon 2015. South Australia is also an unmistakable region if you are looking for richness and body, try Penfolds Koonunga Hill Seventy Six Shiraz Cabernet 2016, it's a tribute to the legendary Koonunga Hill Claret 1976, the outstanding retro label and the exotic spiciness will be a highlight of the meal. If you prefer a more elegant one, open a bottle of Twinwoods Margaret River Cabernet Sauvignon 2015, the relatively gentle climate in West Australia even reminds you of Old-world style.
---