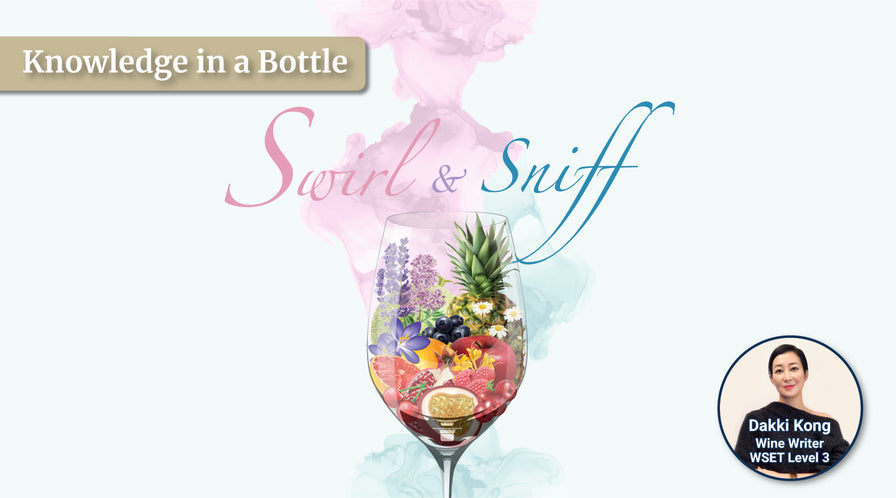 Text: Dakki Kong
It could be very frustrating if you don't have a clue for the sip of the wine you just swallowed while others have a detail description gushing out of them, "Blackcurrants, black plum, vanilla, violets, nuts, spices, pencils..." Who hasn't gone through this as a beginner on the journey to the world of wine?
You might have ever suspected there's something wrong with your tastebuds as I did. Or you might even have thought this drinking hobby is only good for those gifted persons.
Let's give it some thought. Isn't it too hilarious that you blame your tastebuds when you cannot tell the taste of a wine? It's the same way as you blame your memory system when failing to recall the name of a long-lost friend you bumped into. The truth is you didn't know this friend well or haven't seen him for a long time. In other words, as long as you have familiarised yourself with possible wine aromas such as fruity, floral and herbal notes, you should have no difficulty in naming them instantly during the wine tasting.
I remember, at the wine class, being instructed by my wine tutor to sniff each tiny vial from an aroma kit called Aromaster and try my best to memorise the scents. Outside the classroom, think about places like Lush and The Body Shop which are good for strengthening your scent memory, though the scents are not 100% natural.

Fruity tones are arguably the most recognisable notes during a wine tasting, for example, citrus, apple, tropical fruit such as pineapple, melon, guava and passion fruits could be found in wines like Chardonnay and Sauvignon Blanc; red berry flavours such as cranberry, raspberry and cherry from Pinot Noir; or black plum and blackcurrants from Cabernet Sauvignon. If you're unable to recognise these scents, try a mindfulness-driven approach to enjoy fruits next time by paying full attention to how the fruits look, smell and taste.

Wine is much loved for its floral aromas. To familiarise yourself with floral notes, why don't you take a stroll around the Flower Market? Visit the shops lining the beginning of the street that mainly sell imported varietals. Stop in front of the flowers. Memorise the size and shape diversity. Lightly inhale the sweet-smelling freshness from species such as violet, lilac, lavender, honeysuckle and camomile. These scents are often spotted in wines made from Touriga Nacional, Dolcetto, Gamay, Petit Verdot, grapes blended into southern Rhône reds, Viognier and Sémillon respectively.

Understanding herbs and spices is part of the wine study since these aroma compounds frequently show up in wines. There're aromas of baking spices in wines such as Cabernet Sauvignon and Montepulciano, which refer to cinnamon, clove and nutmeg on the nose. In the tasting notes for southern Rhône reds and wines made from Merlot or Grenache, the term "dried herbs" is always seen. Some more popular herbs you have to know, including the well-known pizza herb, Oregano, found in Sangiovese and also Liquorice in the Sicilian grape Nero d'Avola. To improve your sense of smells for herbs and spices, get acquainted with these common aromas by heading to Sheung Wan district or Reclamation Street for the decade-old spice shops.
The main character of Japanese comic <The Drops of God>, Shizuku, had similar nose training. During his childhood, he's forced by his father, a renowned wine critic, to drink countless unknown herbal tea and fruit tea, to sniff leather, to lick knife and pencil for more than an hour in a day. That equipped Shizuku with a strong sense of taste and smell without drinking any wine.

There're definitely reasons why the father offered him the severe training. In the world of wine tasting, the leather-like aroma is an important indicator of aged wine. Too much leathery note could indicate over-ageing. And for the knife and pencil lead, the father actually wanted him to taste the graphite-like and steely flavours, which are what we called "mineral note", a very common descriptor in wines. The mineral notes also include wet gravel, soil, mushroom and petroleum. I am not here to suggest stone licking. Instead, I suggest you go for walks in forests in the morning haze or after rain to get the beautiful mingling of mineral and earthy tones.

Be aware of the smells in your environment and make good use of our natural sensory perception. Without analysing the information from the wine label or using your wine knowledge, simply swirl it, smell it and bring yourself into the moment of truly sensory pleasure.
---