The Art of Giving Bottles as Gifts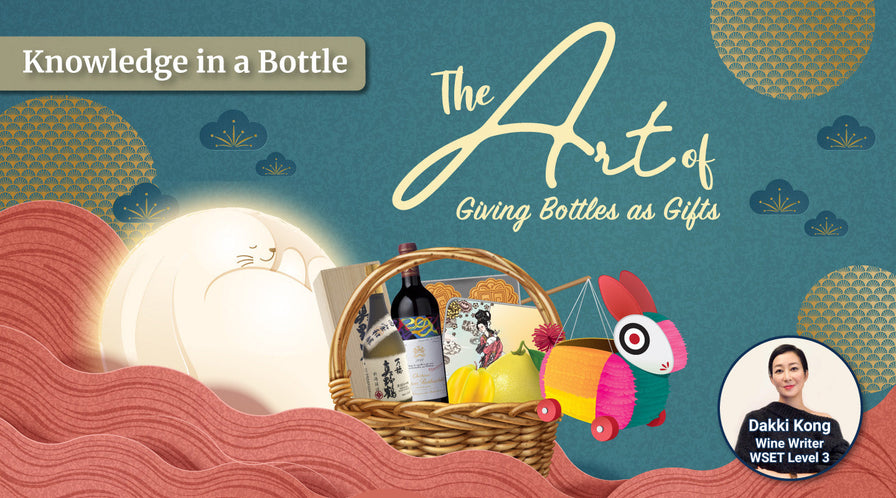 Text: Dakki Kong
Giving a bottle as a gift has never been an easy task, especially around the festive holidays such as Mid-autumn Festival and Christmas. If a bottle costs too much, the receiver might find it's extravagant to accept. If it's too common like those found in supermarkets, you might be considered a lack of careful thoughts. So what's the best?
Okay, the number one rule of gifting is always to think like the receiver. To give a gift that will definitely make the receiver love, find out how much the receiver loves wine and spirits. If he's a serious drinker, you have to be wine-minded too. Names like Bollinger, Chateau d'Yquem or E.Guigal are definitely delightful as these mean something to insiders and easily puts a smile on their faces when you hand one to them. Even wine professionals regard these as a treat.
If you're prepared to stop the heart beating of an important person who's also a wine enthusiast, try spending generously on some top-notch wines as a gesture of thanks. The choice includes Chateau Mouton Rothschild that comes with a unique label design for each vintage; the differentiated First Growth, Chateau Haut-Brion located outside Medoc; or the right-bank fine wine superstar Chateau Ausone, would surely win the hearts. But make sure the receiver has got a wine cellar or temperature-controlled equipment to store the age-worthy wine as mostly these fine wines take some time to reach its best drinking years.
Some prefer to impress a gift receiver by a deep knowledge instead of a deep pocket. Then please do some research and share some thoughtful details when handing a unique bottle to the receiver. For example, you could say 'this "terroir" was the only plot of land that Napoleon drank during his reign' while offering a bottle of Chanson Chambertin Clos De Beze Grand Cru. Or you could tell 'this sake is made like a Champagne with the second fermentation carried out in the bottle' when you pass Shichiken sparkling sake to your beloved one. By simply sharing a little lesser known information of the chateau could show your consideration and thoughts.
In our culture, never arrive at someone's home empty-handed. Further, it would be much more impressive to have luxury bottling or packaging, which makes a big impact when presented to the host upon your arrival. Not only does attractive branded gift box adds prestige to the present, but a distinctive bottle design even thrills the receiver, such as the limited crystal decanter of Taylor's Single Harvest Vintage 1863, the transparent bottle filled with shimmering pure gold foils of Eiko Fuji Junmai Daiginjo Undiluted Sake 79 Au Pure, the stylish bottle design of Chateau Minuty 281,  or Japanese Roku handcrafted gin in a distinctive hexagonal bottle, instantly melting the heart those collector maniacs.
In case the gift receiver is a compassionate person, opt for a biodynamic wine or a socially responsible wine such as Frescobaldi Gorgona. Gorgona is Italy's prison island that allows inmates to learn the profession of vine growing and winemaking on the scenic Mediterranean setting. A sense of hope for the inmates' future. 
When it comes to a party or an event of gift-exchanging, pick something truly crowd-pleasing and friendly. That means something not extreme on the palate with refreshing and easy-drinking characters, such as Chablis, Albarino, dry Provençal Rosé, Pinot Noir from New Zealand, Chianti Classico, and Côtes du Rhône.
Remember the key is to give something from your heart, meaning it's something that perfectly fits the receiver and something you truly want. The only concern is you might miss the chance of tasting it because it usually goes straight to the collector's cabinet upon receipt. Here are some tips. Chill the bottle if it's a white one and tell the host the temperature is good to drink upon arrival. Or explain the vintage red or spirit is ready to drink now without further ageing. Good luck!
---