Tips for Chinese New Year Wine And Dine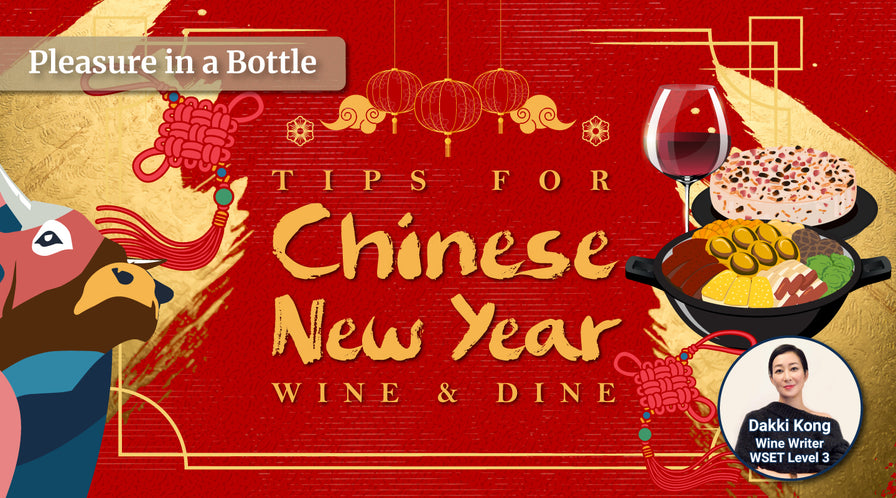 Text: Dakki Kong
The Year of the Ox is almost upon us. To reward yourself for withstanding the challenging year, a sumptuous Chinese gourmet feast is a must. Indulge in Chinese delights and delicious wines which are best enjoyed with family members during the reunion dinner and the opening feast of the Lunar New Year. Let's prepare some great foods and wines to start off a forthcoming year of prosperity at home. 

Dried oyster with black moss
"Fat Choy Ho See" is literally translated as "wealth and prosperity" in Chinese, which means braised dried oysters with black moss, a classic and auspicious dish at the dining table during Lunar New Year. The sun-dried oysters bring umami flavour and intense aroma while the black moss adds a crispy and pleasant texture. The sweet and umami flavours come as the primary taste of this delicacy. When it comes to wine pairing, never pick reds, especially the tannic reds because the umami-rich food emphasises the wine's bitterness and astringency. Instead, a glass of lightly sweet, rounded and medium-bodied whites boost the aroma and umami flavours, such as the off-dry German Kabinett Riesling or the sweeter Spätlese Riesling. The shared mineral and earthy scent of the dried oyster, the black moss and the wine is amplified for your enjoyment.

Poon choi
Originated from the walled villages in the New Territories, Poon Choi (a communal dish of numerous ingredients served in a basin) becomes much-loved in recent years and takes centre stage at the Lunar New Year dinner table. Famous for its layering of different food elements such as meats and poultry, Poon Choi is best matched with a wine of similar weights on your palate. Bordeaux reds are often picked for complementing Poon Choi. The fuller-bodied and chewy Bordeaux definitely matches the weight and creates a balance between the acidity in wine and the fatty elements such as BBQ pork, braised pork, pork skin, roast duck and chicken, while the opulent Bordeaux style fits for Chinese festivities. But the modern Poon Choi features many more high-end ingredients such as fish maw, abalone, dried scallops and prawns. In order to avoid the fishy and astringent flavours caused by combining umami-rich foods and red wines, grab a bottle of versatile and refreshing sparkling or rosé as a backup. Besides, the golden bubbly and pink hue both represent wealth and good luck.

Sliced chicken
A Chinese New Year meal is never complete without a chicken dish, which symbolises flourish and is considered luck and prosperity. People struggle between the choice of reds or whites to match. In fact, it's not a matter of wine colour and it's all about the flavour intensity. In case sliced chicken is served, the paired wine has to play a role to emphasise its delicate taste and juicy texture. Consider the flinty and appetising Sancerre and Pouilly-Fumé from the Loire Valley, France. During the winemaking of these whites, lees are used to add beneficial textures and flavours which is perfect to enjoy with the poached chicken. Crisp, tender and smooth, all at once. For the crunchy and aromatic deep-fried chicken which is richer in flavour, pick soft and light reds such as Burgundy or Beaujolais for its fruitiness and spiciness.

Lobster
As Australian lobster turns out to be one of the top-selling premium cooking ingredients this year, why don't we serve such incredible seafood favourite in celebration of the Lunar New Year? Recognised as a symbol of the dragon in Chinese culture, lobster has become a sign of strength and health and is always savoured for its freshness, whether steamed, stir-fried or in Thermidor sauce. To complement the richer taste and firmer texture of the crustaceans, let's pick more flavourful whites, such as the dry Vouvray from the Loire Valley or sauvignon blanc from New Zealand. For the Lobster Thermidor, go for full-bodied whites from Bordeaux, Burgundy or Rhône. The scent of stone fruits and white flowers from Rhone whites, especially white Hermitage, matches wonderfully, while the well-aged Burgundy whites such as Meursault or Montrachet complements well with the creamy delicacy.

Puddings
As you're going to stay home during the Chinese New Year holiday, what's better than savouring some handcrafted puddings with your family members? Said to help you reach a higher level of prosperity, the popular turnip cake is mainly made with lightly flavoured and succulent shredded turnip. The rich and savoury taste actually comes from cured sausage, air-dried meat, dried conpoy and XO sauce. Try the ginger-like and spice-scented Gewürztraminer with the pudding. It's soft as turnip in your mouth while the natural sweetness counteracts the subtle spiciness of the XO sauce. If you'd prefer the Chinese New Year puddings, switch to some rich Old Tawny Port for its scent of dates, caramelised and nutty aromas.

Now you've learned some tricks to try on food matching. You could also play around mood matching. Pick something you feel like to try and discover your own sensory experience on your tastebuds.
---