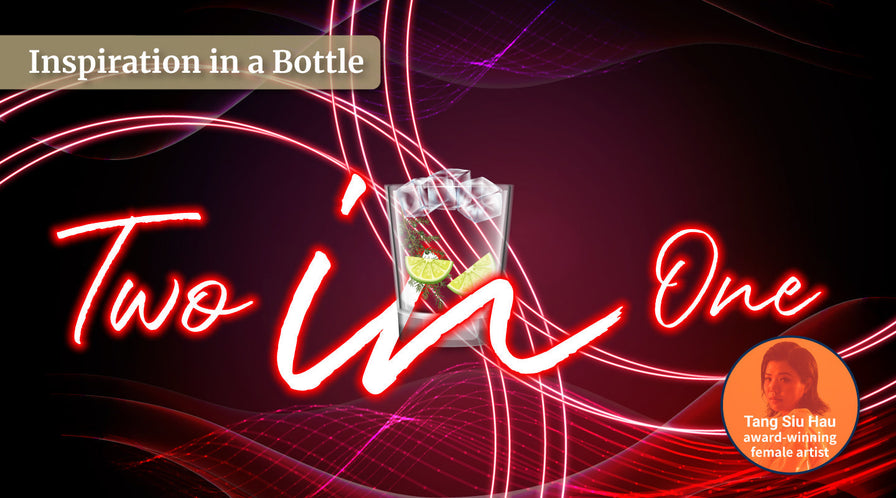 Text: Tang Siu Hau
I have always liked having a few drinks (or more) in a favoured bar with friends, learning about the world as we share in each other's lives. Now that the gathering ban is in place, I spend most of my time at home by myself. I like to set the mood by lighting some candles, playing some music and discussing world events with my friends online; or murmuring about things that can only be told after a couple of drinks. My song 'Mixology' is about how people use their body to flirt and seduce. Although at the moment I don't get to hang out in bars, I won't allow the current climate to prevent me from kicking back and relaxing at home; although my five cats would be the only ones who get to flirt with me when I'm tipsy! A Gin and Tonic has always been my go-to drink, especially in a bar in the summer.
A Gin and Tonic is safe - you can't really go wrong with just two ingredients. If you don't like the bitterness of tonic, you can add ice and a squeeze of lime, fresh but simple. If a bar can't get a Gin and Tonic right, it's a sign you should drink somewhere else. I love Gin because of the complex herbal layers and the refreshing aroma of juniper berries but also because of its effectiveness at reducing fluid retention. I have never really liked sweet beverages, saccharine cocktails featuring peaches or Kyoho grapes have never appealed to me, the tartness of a gin and tonic with its smooth but complex flavour profile is my perfect match. An added bonus is that Gin has fewer calories than some other spirits.
Each Gin should be carefully paired with the right accompaniment whether it is refreshing citrus, cooling cucumber or the heat of spices but the best Gin I have ever drunk was enriched with the delicate flavour of fresh pine needles, an elegant combination. Despite there being pine trees in the mountains behind my building, it is quite a challenge to get fresh pine needles in Hong Kong, and I'd rather spare myself the hassle and just use the ingredients I can find on my rooftop. Plucking a fresh lime leaf and squeezing half a lime will suffice. The lime leaf is more domineering than the lime, but I like this kind of 'zesty dominance', which matches perfectly with the botanicals in the Gin.
When jobs are cancelled and even the promotion of songs has to be done online, I should treat myself better and look harder for gaps to breathe and live. Cheers!   
---