We Drink and We Sing Cantopop Episode 1: 70s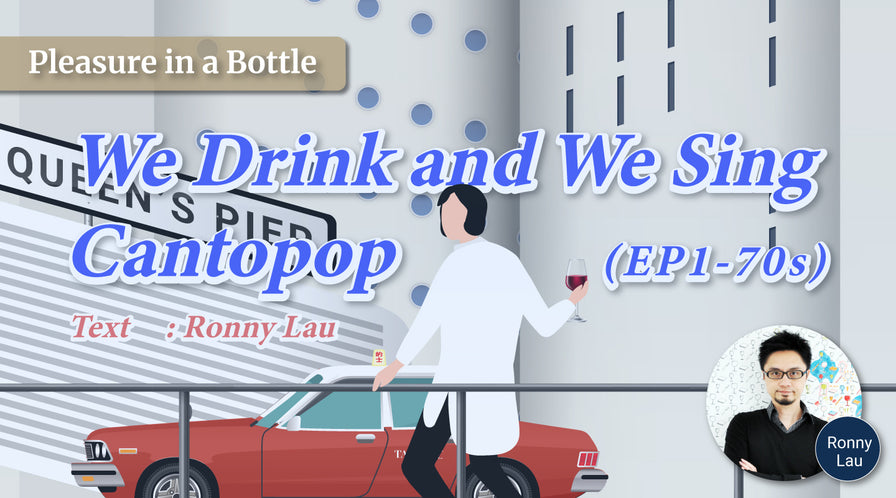 Text: Ronny Lau
I drink [Champagne] when I win, to celebrate...and I drink [Champagne] when I lose, to console myself. Not only Napoleon needs wine and spirits to cheer him up, but also most of the people in Hong Kong. We drink and we sing, check out some of the most popular Cantonese songs, and you can even see how the drinking habit evolves in the city.
Before 1970s, domestic Pop singers or bands were performing English songs, and mostly were cover versions from the UK or United States. The only Cantonese songs were Cantonese Opera or songs in musical movies. Sam Hui started his music career in 1960s, singing English songs for several bands. In 1972, he performed his original composition "Eiffel Tower Above Clouds" in Cantonese in his TV show "Double Star Announcement", the melody was influenced by Western Pop music, breaking away from the music style of Cantonese Opera, was considered the first musician to start the Cantopop movement, and is now crowned "God of Song".
By listening to Sam Hui's songs, you can imagine he really appreciates a glass or two. Alcoholic drinks appeared quite often in his Cantonese songs, sometimes it was even the song title. "Drunk With Me" was a cover version of Stephen Foster's American traditional folk song "Oh Susanna!". Sam Hui adapted the tune and rewrote Cantonese lyrics together with Peter Lai, sang about optimistic life with a humorous touch. The alcoholic beverage he mentioned in the song was "Shuang Zheng Jiu", a double distilled rice liquor, which was very popular among the Hong Kong working class back in 1970s.
Sam Hui and his brothers Michael and Ricky starred in the movie "The Contract" in 1978, he released a companion album, which included two songs about alcoholic drinks. The lyrics of "Drink and Sing" was penned again by him and Peter Lai, but the melody was his original composition. The theme is similar to the previous song about live the life, well, with a glass of cold beer this time. While "Bottoms up" is about keep calm and drink to achieve world peace. The drink mentioned in this song was a peg of Whisky, on Rock.
"Peg" is a unit for Spirits such as Whisky and Brandy, equals 30ml. The name was come from Patiala peg in India. In Patiala, whisky was served to the height between the index and little fingers when they are held parallel to one another, against the side of the glass. To make life easier, the amount was replaced by one Imperial fluid ounce, which equals to 28.4ml, and eventually rounded up to 30ml.
...to be continued.
---