We Drink and We Sing Cantopop Episode 2: 80s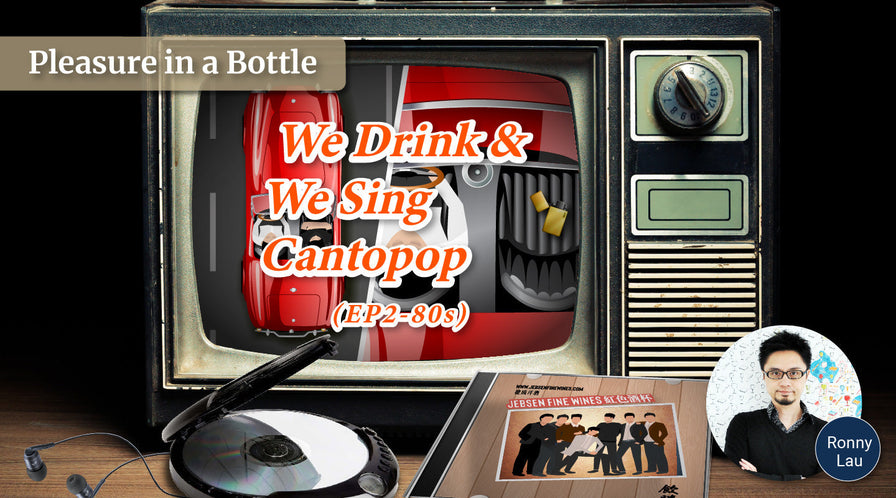 Text: Ronny Lau
Sam Hui is not the only Cantopop artist to sing about the drink culture in Hong Kong, Roman Tam, Paula Tsui and Albert Cheung are some of the other notable artists recorded Cantonese songs on this topic in 1970s too. However, it is nothing to compare with the blooming 1980s.
Adam Cheng's "Bottom's Up" maybe the first tune to start the drink parties in 1980s, it is a different song from Sam Hui's 1970s' hit, though with the same title. While Adam Cheng was still singing about Double Distilled Chinese Rice Liquor, George Lam's 1981 song "Flamboyant" brought the listeners to a scene like James Bond sharing a glass of Champagne Bollinger with a sexy Bond girl in his arms, which indicates the first wave of wine culture in Hong Kong.
In 1984, Japanese band Anzenchitai's "Wine Red no Kokoro" was covered, Jolland Chan penned the Cantonese lyrics and made it probably the most popular Cantopop wine song. Funnily enough he wrote another set of lyrics for Kenneth Choi as "Eclipse", which was actually more popular at the time. "Wine Red Heart" is considered a classic Cantopop song after three decades, just like Grands Crus Classés from Bordeaux, tastes better after ageing. Add Château Latour 2011 or Château La Mission Haut Brion 2010 to your shopping cart now, and drink it 30 years later, you will find it is worth waiting for.
If you fancy a bottle of young sweet wine, you are probably a fan of Leslie Cheung. The line "To sip some young sweet wine" in his 1983 hit "Cross In Love" was so catchy. Was it a bottle of Château d'Yquem? Nobody is able to find out now.
Looking back to the 1980s, Cantopop band was a significant movement, Beyond, Raidas, Taichi, Blue Jeans, Tat Ming Pair, among others, added Rock 'N' Roll and Electronic Music elements to Cantopop. Alcoholic beverage appeared in Beyond's songs quite often, while both Raidas and Taichi told their stories through a glass of Champagne, but in different angles. Blue Jeans' "Life Wine Cellar" is another great song, used the tastes of wine as a metaphor for life. However, I think the most interesting Cantonese wine-related song in the 1980s was "Knocking a Wine Glass on a Piano" by Joe Cheng and Sarah Wong. How bad was the wine would make you knocking your wine glass on an expensive piano? 
...to be continued.
---