We Drink and We Sing Cantopop Episode 3: 90s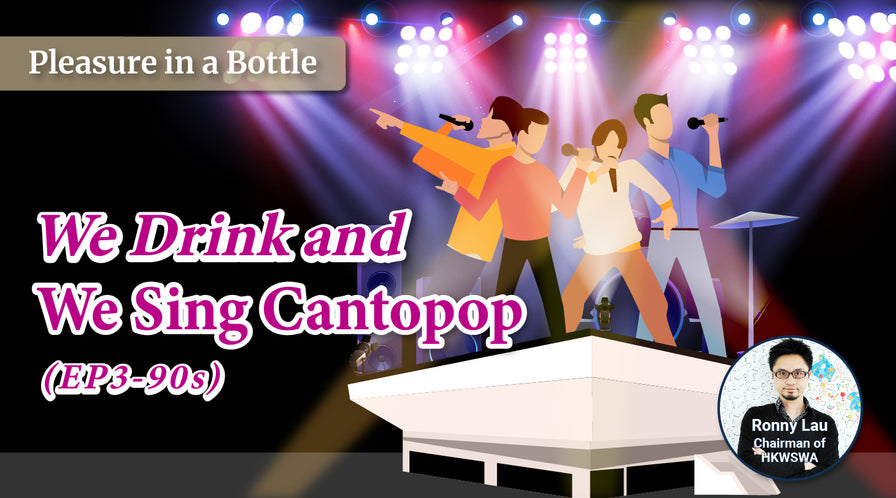 Text: Ronny Lau
Lau Handover is undoubtedly the hottest issue for Hong Kong in the 1990s, however, the domestic music industry has been developed as one of the biggest businesses, record companies wanted to continue entertaining the consumers by the Cantopop love songs as in the past decade. Jacky Cheung, Andy Lau, Leon Lai and Aaron Kwok, who were dubbed "Four Heavenly Kings" by the industry, filled the gap with loads of romantic love ballads. Political songs were seldom heard though it was a critical moment.
Jacky Cheung, also known as "God of Songs", started his singing career in mid-80s, made his love songs popular not only in Hong Kong, but also all the Chinese communities in the world. When he sang "Li Xianglan" in 1990, you could find it's different from his previous hits, the hidden meaning wrote by Thomas Chow was only understood if you knew the dramatic life of this songstress.
Jacky Cheung's fondness of drinking was well-known by his fans, Gene Lau wrote another songs about drinking for him in 1993, "Just Wanna Spend My Life With You" turned to be one of the all-time favourites Hongkongers sing in Karaoke lounge. Gene Lau is also one of the most important lyricists for Beyond. He wrote many songs for the band about wine and spirits, such as "Silent Years" in 1989 and "Grey Trail" in 1990 for the movie "A Moment of Romance".
Most of the 1980s bands have broken up, but Tai Chi is still alive and kicking. Their 1991 hit "What For?" was a song tried to differentiate from Four Heavenly Kings' love songs. The original song "Santa Fe" written by Jon Bon Jovi was about the cruelty of wars, inspired by it, Richard Lam wrote a rarely heard Cantonese war song, the prestige Champagne was mentioned to imply the rich people.
Richard Lam's memorable lyrics appeared in Four Heavenly Kings' Cantopop as well, Leon Lai's "Wish We Are More Than Friends" is another example he put alcoholic beverages into songs. Holding hands to drink spirits together will bring two friends to a more intimate relationship? All you need is imagination. While another " Heavenly King" Aaron Kwok also needed wine or spirits desperately when talking about love. In "Why I Let You Go?", there's a catchy line: "there's no drink but wine", which led us walking through the 90s with a wine glass on hand.
...to be continued.
---