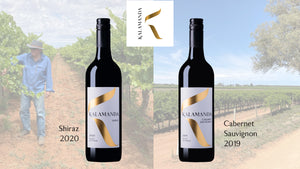 Welcome to the world of KALAMANDA wines. Based in the heart of the McLaren Vale wine country, we stay true to our mission of producing wines that proudly express the soul of Australia within every bottle. KALAMANDA Wines was created and established by the Twinwoods Estate family in 2014, with the aim of utilizing our vast winegrower relationships throughout South Australia, and capacity to produce fruit driven vibrant wines at outstanding price points.
Month by month, the KALAMANDA word spreads, with distribution expanding across the globe.
Chief Winemaker Aldo Bratovic, a highly respected veteran of the Australian wine industry, is based in Adelaide and calmly overseas the rapid expansion of our production of KALAMANDA wines, to keep pace with global demand.
We trust you enjoy our wines and continue to spread the word of KALAMANDA wines around the world!