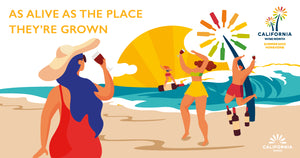 Let's celebrate "California Wine Month" with 2 major happenings:
Music In The Vineyard
Enjoy music by 3 popular artists:HIGGO RAJ , GORDON FLANDERS , KIRI T and taste Private Selection & Woodbridge range
Date & Time: July 8th (SAT) | 12pm to 5pm
Venue: 留白 LAU BAK FREESPACE LIVEHOUSE 尖沙咀西九文化區自由空間地舖
Masterclass by Wine Specialists
Savour the essence of Napa Valley with wide range of Robert Mondavi Winery selstion with the guidance of wine specialist
Date & Time: 24/07/2023
Venue: Jebsen Office, Causeway Bay

Open for Registration on Monday, Stay Tuned!
Est. 1966
Being the leading pioneer of California's wine industry over 50 years as well as home to highly renowned To Kalon Vineyard, Robert Mondavi has been awarded with #1 North America Vineyard for 4 consecutive years and top wineries in the world since 2019, producing top-rated wines that win the hearts of industry experts, master sommeliers and consumers alike.
"Walking through To Kalon, admiring its contours and vines, smelling the richness of its soil, I knew this was a very special place. It exuded an indefinable quality I could not describe, a feeling that was almost mystical."
– Robert Mondavi
Learn More
Geneviève Janssens, Chief Winemaker for Robert Mondavi has received one of the industry's highest honors, being named Wine Enthusiast's Winemaker of the Year. These awards recognize excellence in the wine industry, honoring the most notable figures, with a special emphasis on achievements made over the past year. Her wines that are recognized globally for their exceptional quality.
Learn More
The story of Robert Mondavi Winery begins here, with the To Kalon Reserve. This tier represents the pinnacle of the wines Robert Mondavi produce.