Pio Cesare Wine Dinner 2019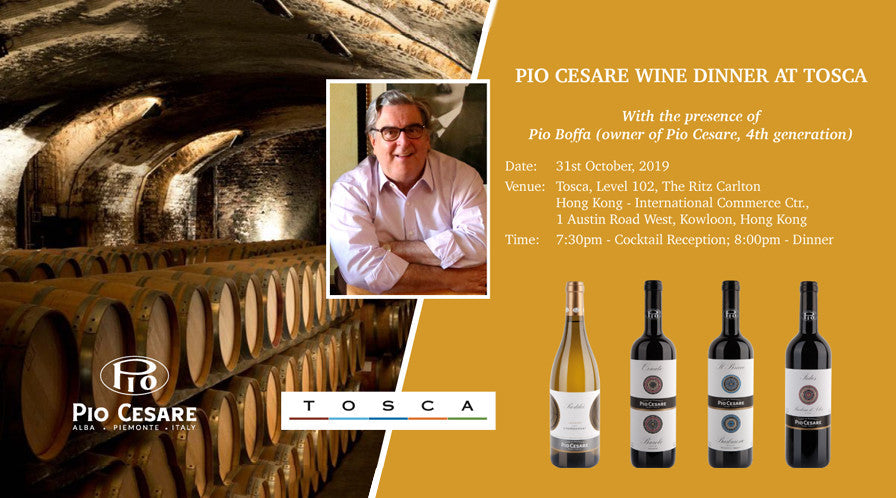 (只提供英文版)
Jebsen Fine Wines cordially invites you to an unforgettable evening featuring a 5-course Italian banquet matched with sensational Pio Cesare wines from the Barolo region of Italy. Join us at Tosca the Ritz Carlton hotel on 31st October. The great-great grandson of the founder, Mr Pio Boffa will be visiting Hong Kong for the first time. They will be representing Pio Cesare to share with you the wonderful wines of their family.
Featured wines include:
Pio Cesare Gavi DOCG 2018
Pio Cesare Piodilei Chardonnay Langhe DOC 2015 [JS 96, WA 89]
Pio Cesare Barbera d'Alba Fides DOC 2015 [WA 91, AG 92]
Pio Cesare Barbaresco 'IL Bricco' DOCG 2011 [JS 96, WS 92, WA 92, AG 93]
Pio Cesare Barolo Ornato DOCG 2006 Magnum [WS 93, WA 94]
Pio Cesare Barolo Chinato
This eponymous winery was founded in 1881 by Cesare Pio, a visionary vintner who early on understood the great potential and quality of Barolo, Barbarseco, Barbera and other great Piemonte wines. The cellar walls of the facility, where the wine is produced date back to the Rome Empire (50 B.C.). Pio Cesare are fermented and aged, blending both modern wine-making techniques in tandem with the ancient traditional methods found around the region. Using large casks and barriques made from a variety of French oaks, each wine is bottle-aged before its release to the market. It's all part of a unique wine-making region that helps assure wines of consistently high quality. For the five generations, this has been the Pio Cesare way of respecting traditional while paying tribute to the vines and to the terroir of the region.
Date: 31 October, 2019 (Thursday)
Time: 7:30 pm - 10:00 pm
Venue: Tosca, 102/F, The Ritz-Carlton Hong Kong, International Commerce Centre, 1 Austin Road West, Tsim Sha Tsui Google Map
Price: HK$1,508 + 10% Service Charge
Discover the essential ingredients and distinctive brewing methods used to produce quality Sake.
Language: English
Date & Time: 21st September, 2019, 12:30pm – 1:30pm

Topic: Sake 101
A beginner's guide to the wonders of Japanese Sake
Language: Cantonese
Date & Time: 21st September, 2019, 2pm – 3pm

Topic: Koji and it's impact
Learn about the magic of Koji and its impact on sake flavour and aroma
Language: English
Date & Time: 21st September, 2019, 6:30pm – 7:30pm
---
---
---