Edmond de Rothschild Heritage Wine Dinner 2019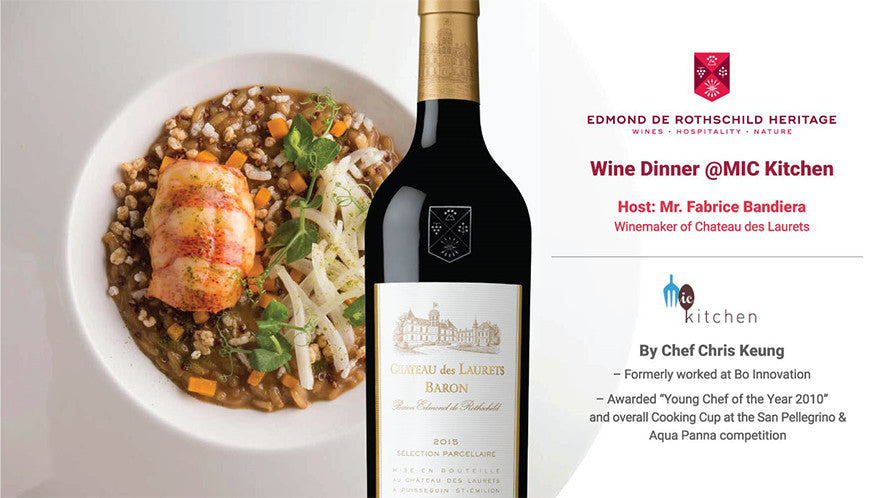 Jebsen Fine Wines cordially invites you to an unforgettable evening, featuring the finest selection of fabulous wines from Edmond de Rothschild Heritage with an 8-course unique innovative menu by Chef Chris Keung, formerly worked at Bo Innovation and was awarded "Young Chef of The Year" and the overall Cooking Cup at the San Pellegrino & Aqua Panna competition in Italy.
Date: 25 April, 2019 (Thursday)
Time: 6:30pm - Cocktail; 7:00pm - Dinner
Venue: MIC Kitchen, 26/F, Stanley 11, Central, Hong Kong
Price: HK$980 net
Host: Mr. Fabrice Bandiera, Winemaker of Chateau des Laurets
Edmond de Rothschild Heritage
The passion for wine that runs in the French branch of the Rothschild family was born in 1868 when James de Rothschild purchased Chateau Lafite. His great-grandson, Edmond de Rothschild, began a new chapter in the family adventure in 1973 by acquiring two Crus Bourgeois: Chateau Clarke and Malmaison. The Compagnie Vinicole was born.
At the Compagnie Vinicole, members of the Rothschild family strive to retain their characteristic pioneering spirit from James de Rothschild, in 1855, to the present day. They honour the potential and history of each terroir of their vineyards, and give them the care and special attention so that they can express their full potential to produce unprecedented great wines renowned around the world.
The showcased wines include:
Les Laurets, Baron Edmond de Rothschild 2015
Le Merle Blanc de Chateau Clarke 2016
Chateau des Laurets 2015
Croix des Laurets-Montagne St Emilion 2012
Rimapere Sauvignon Blanc 2017
Reservation & Enquiry
Pauline Cheung Tel: (852) 3180 3424 Email: paulinecheung@jebsen.com
Danny Kam Tel: (852) 2926 2269 Email: dannykam@jebsen.com
Make your reservation today for this truly exceptional wine pairing 8-course feast!
---
---