Penfolds Grange Wine Dinner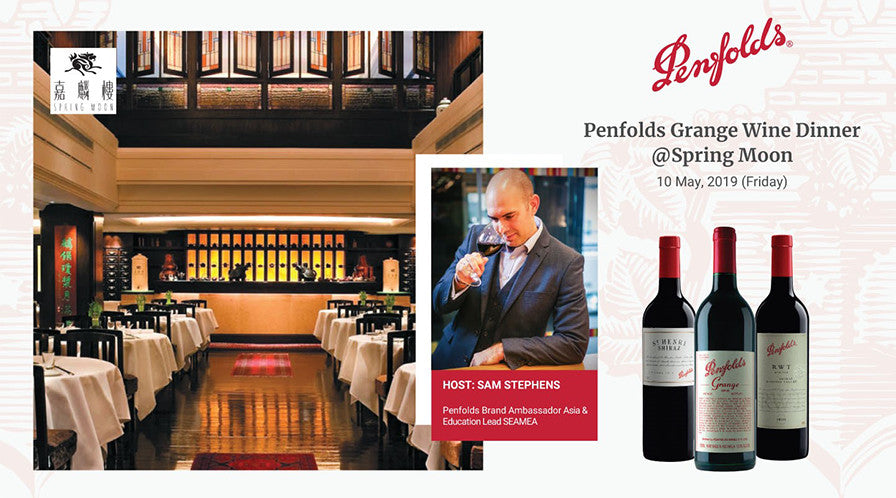 Enjoy an exquisite vertical tasting of 2007 and 2014 Penfolds Grange, plus other Icon & Luxury Range such as St Henri, RWT, Bin 51 etc, with a heavenly 6-course banquet at Spring Moon (嘉麟樓)!
Date: 10 May, 2019 (Friday)
Time: 7:00pm - Cocktail; 7:30pm - Dinner
Venue: Spring Moon (嘉麟樓), 1/F, The Peninsula Hong Kong, Tsim Sha Tsui, Hong Kong
Price: HK$3,617 (HK$3,288 + 10% service charge)
Host: Mr. Sam Stephens, Penfolds Brand Ambassador Asia & Education Lead SEAMEA
Penfolds
Since 1844 the legendary Penfolds winery has been widely hailed for its commitment to the highest standards of quality. The merging of science, art and innovation has driven Penfolds to become one of Australia's most famed and respected winemakers. Don't miss this unique opportunity to come and taste the visionary heritage of this iconic brand.
The wine list:
Penfolds Grange Shiraz 2007 (RP95)
Penfolds Grange Shiraz 2014 (RP98)
Penfolds RWT Shiraz 2002 (RP93)
Penfolds St Henri Shiraz 2015 (RP93, JS94)
Penfolds Bin 311 Chardonnay 2017 (RP93, JS93)
Penfolds Bin 51 Eden Valley Riesling 2017 (JS92, JH95)
Penfolds Grandfather Port
---
---