6 French Wine Terms to Start Your Wine Journey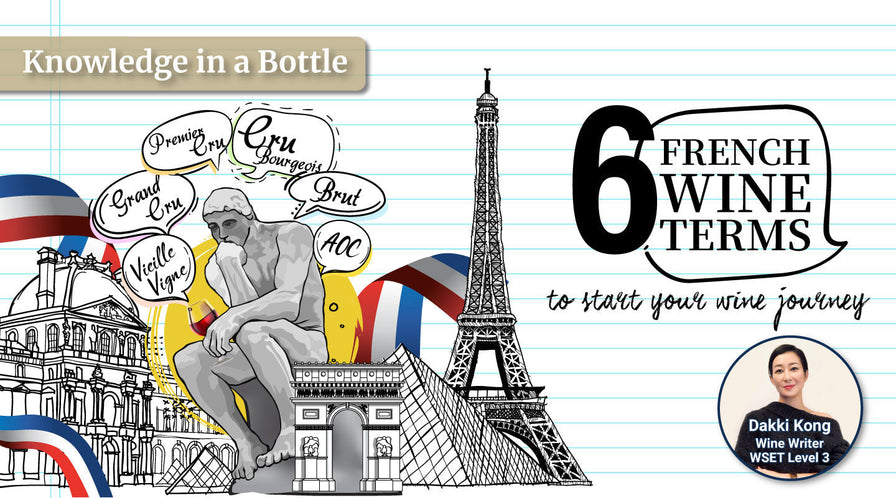 Text: Dakki Kong
You don't have to be a fluent French speaker to learn about wine. However, knowing some wine terms would definitely help you pick a lovely French wine.
Brut
The French word "Brut" refers to a dry style, indicating a low level of sweetness. It's often used on the label of Champagne to show the level of sweetness varying from sweet to off-dry or dry. For instance, when you're reading the label of Ayala "Brut", you could tell it's balanced and soothing. The term "Extra Brut" on Bollinger R.D. Champagne refers to a refreshing and pleasing character. For the Champagne with the lowest sugar level close to zero, like Ayala "Brut Nature", you'd expect an indulgence in pure fruitiness without any sugar. 
Grand Cru
It's pretty common people thought a wine is of the highest quality when they see "Grand Cru" on the label. You might be wrong in some cases. For the left bank of Bordeaux, those wines labelled with "Grand Cru Classe" are truly world-class while being ranked from the first ("Premier Cru") to fifth growths ("Cinquièmes Cru"). So "Premier Cru" definitely means the crème de la crème and "Grand Cru" are some great wines too. Whist in the world-renowned Burgundy, instead of the chateau, it's the land that is awarded "Grand Cru". There're 33 Burgundian Grand Cru plots of land representing the top quality, such as one of Chanson wines produced from the plot named "Chambertin-Clos de Beze Grand Cru". But when it comes to the right bank of Bordeaux, St. Emilion, it's another story. Grand Crus belong to the entry-level and mostly good-value wines at a reasonable price, such as Chateau Cotes de Sol. If you're into the top-quality St-Emilion, look for "Premier Grand Cru Classe".
Premier Cru
Knowing more about "Grand Cru", you'd find sometimes Premier Cru means the top quality (in Bordeaux), while sometimes it's the second best (in Burgundy). Take Domaine Chanson as an example, one of its great produces is from a Premier Cru terroir called Les Chenevottes in Chassagne Montrachet region, which is just a few steps away from the expensive Grand Crus. If you're buying smart to avoid the pricey Grand Crus, Premier Crus are some wonderful alternatives.
Cru Bourgeois 
It's widely known that the French embrace freedom and creativity. The strict Bordeaux classification system is probably too hegemonic to them. Therefore, an alliance named "Cru Bourgeois" has been formed to free them from the system. Since then, either grand or little chateaux could become a Cru Bourgeois wine if they'd crafted a wine of great quality to get a pass on the wine expert blind tasting test. Next time look for a Bordeaux wine labelled with "Cru Bourgeois". You might discover some great value wines or hidden gems such as Chateau Patache d'Aux, and Robert Giraud Chateau Moulin de Bel-Air.
AOC
"AOC" (Appellation d'Origine Contrôlée) is probably the first term we'd learn in any wine course. It's a legal term not only to guarantee the grapes are grown in the wine region but also a set of standards achieved by the vineyard. For instance, the 400-year Dominique Piron specialises in crafting wines in Morgon region of Beaujolais, and you'd see their cherry-scented wines are labelled with "Appellation Morgon Contrôlée". The versatile winery also has expanded its production in the adjacent regions such as "Appellation Fleurie Contrôlée" and "Appellation Brouilly Contrôlée".
Vieilles Vignes
When you spot this term on a wine label, you'd know it's a product of old grapevines. Unfortunately, it has no legal bound on vine age to put "Vieilles Vignes" on a label, meaning you're free to call your wine "Vieilles Vignes" even if the vines are only 10 or 20 years old. Generally speaking, it's used for the vines that grow more than 30 years producing the precious cuvee with more concentrated flavours. Bollinger Vieilles Vignes Francaises Champagne, which is produced from two longstanding grand cru plots, is a bottle you couldn't miss.
---