8 Myths About French Wine Drinking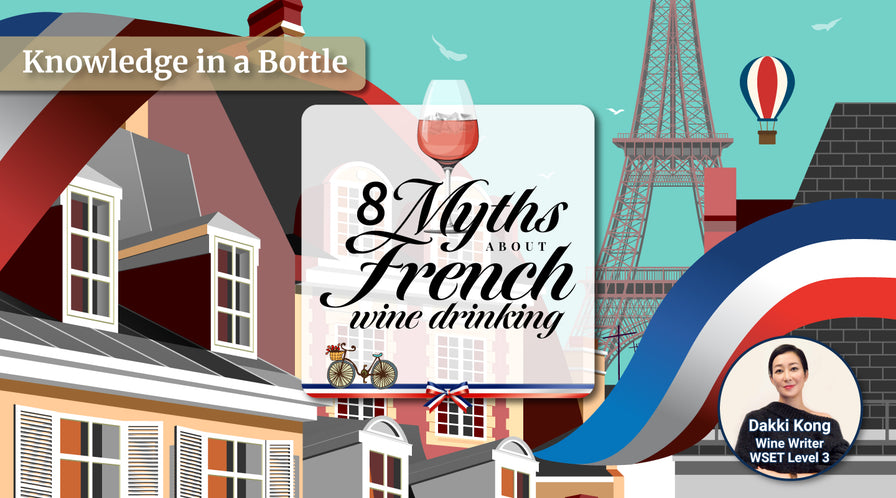 Text: Dakki Kong
May is always a wonderful time to enjoy French wines because it's the best way to welcome the arrival of summertime. As you indulge yourself in the world of French wines, get to know more about the drinking style à la française and I'm sure you'll get the best out of a wine glass. Drink up! Tchin Tchin!
1. Sweet wine with salty dishes?
Pairing sweet wine with sweet foods is always a rule of thumb to many oenophiles. If we're going to savour the rich and sweet Sauternes, we'd definitely save it for the dessert course. However, for the French, it's never enjoyed with desserts! Sauternes such as Château d'Yquem or Château Rieussec are always paired with savoury dishes of similar intensity such as blue cheese or foie gras. Another French classic pairing that was once popular in the late 18th century is to match Sauternes with the fresh yet briny Pacific oysters harvested along the Southwest coast of France. The sweet-salty pairing is something unforgettable.
2. Wine on the rocks?
I guess anyone would frown in case they see someone adding ice to wine and say, "are you mad?" As a matter of fact, the French do add ice to Rosé wine. It's not a tradition but a big summer trend set by a group of St.Tropez beachgoers in recent years and has become sought-after internationally. The practice is exceptionally popular along the sizzling South of France. The rosé on the rocks even has a name, La Piscine de Rosé or Rosé Piscine. 'Piscine' means 'swimming pool' in French and implies a feeling of coolness. Champagne over ice or Champagne Piscine is another welcomed drink to beat the heat.
3. Drink and run?
Who would have thought of combining a marathon with wine tasting? Médoc is the very first destination that holds the 42K-run Marathon du Médoc in September every year since 1985. Imagine running through Pauillac, Saint-Julien, Saint-Estèphe, Médoc and Haut-Médoc while enjoying the scenic vineyards, oyster tasting, musical breaks and alcoholic refreshment served by numerous châteaux en route. Feel free to dress in your favourite costume to express yourself in the event as 90% of the participating runners do so. In the north of Bordeaux, there's another race named Marathon des Vins de Blaye that takes place in May every year for your selection.
4. No red/white wine in an empty stomach or full stomach?
If you see someone in France sipping a glass of wine (except Champagne which can be enjoyed anytime) without a meal, chances are the drinker is probably a tourist! In France, everyone drinks wine with their meal. For example, prior to dinner, the French only drink apéritifs such as Kir, vermouth or gin. Next, when the food is ready to eat, they'll start drinking wine. Once they finish the meal, they'll stop drinking it, even if the glass is not emptied. Then they'll put aside the wine glass and move on to digestifs, such as Cognac or brandy.
5. Open Champagne with a sword?
Of course, this is not happening to daily life in France. The art of cutting the top off a Champagne bottle with a sword or a sabre is called Sabrage, which originated from the days when Napoleon's soldiers attempted Sabrage during horseback riding to celebrate victories. Nowadays, the 200-year-old tradition of beheading a Champagne has become one of the French wedding rituals, which is the most favourite party trick, followed by the Champagne tower in French weddings. If you're lucky, you'd see Sabrage by the bride which is truly unique.
6. Only French wines?
Do the French only drink French wine? No. Technically you could buy foreign wines, such as Spain, Italy and Portugal, in this leading wine-producing country, However, the percentage is only up to 6 to 7% of the total national wine consumption, meaning over 90% of the French still stick to their domestic wines. Next time when you're going to attend a French party, make sure to bring a bottle of French wine to please local palates.
7. You must take a sip?
Whether it's a small private party or a formal business dinner, always wait until the host raises the glass. After toasting, always make sure you take a sip before putting the glass down on the table. Otherwise, it's considered rude in the French culture. During French President Hollande's visit to the US in 2014, when Obama proposed a toast to the alliance between the two nations, the French president did not take a sip. No one knows whether it's the US wine in the glass or the mood of the president in a complicated relationship.
8. How much is too much?
A few times in history have the wine-loving French been considered drinking too much and urged to cut down alcohol consumption. In 1956, a campaign In France was launched to encourage drinking less than a litre per meal. Two years ago, another nationwide campaign urged the French not to drink every day and no more than two glasses a day, which made everyone say, "Quoi? Quoi? Just two glasses?" Even President Emmanuel Macron admitted to drinking wine daily during lunch and dinner.
The more you know about French wine and culture, the more you'd appreciate the wines. Drink responsibly and enjoy drinking! À votre santé !
---