Around the world with Autumn delicacies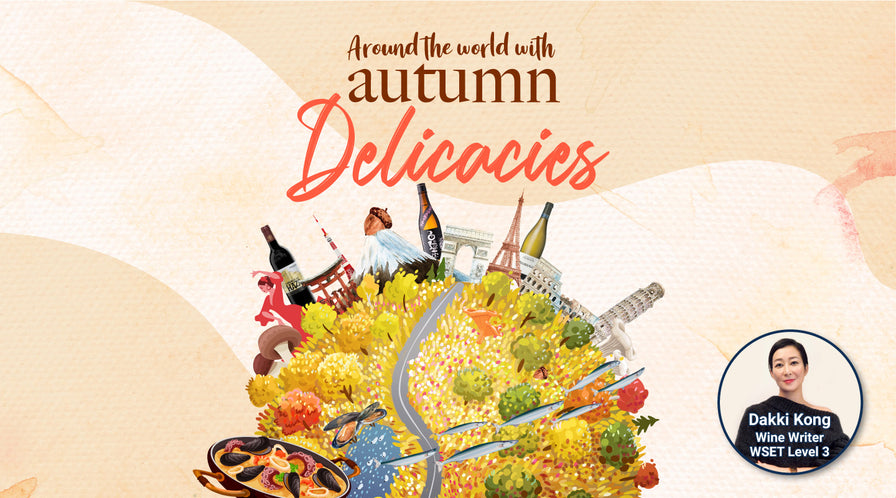 Text: Dakki Kong
My favourite season is just around the corner. Apart from the decreasing humidity, it's the season of hearty and warming foods. You could taste some of the best Autumn produce from farmer's markets, and bountiful seafood and poultry which have grown richer with fattier, no matter if it's prepared by yourself or enjoyed at some authentic cuisine restaurants. Wine lovers could now put aside those refreshing summer wines and pour some richer and fuller wines to go with these delicacies. Is fall also your favourite time of year?
French
One of the most anticipated seafood is the live blue mussels which have finally arrived in September from countries like France and Ireland. Smaller than the frozen mussels from New Zealand or Chile, these blue mussels are just sweeter, softer, and much more succulent. Simply cook it with cider, beer or Chardonnay, season with lemon and parsley. Pair it with the same lean whites you usually pair with oysters, such as Muscadet, Chablis or even dry Riesling. Or be brave to try the classic French recipe "Moules au Roquefort", meaning Mussels in blue cheese sauce in English. Any smooth and medium-weight Chardonnay is good enough to elevate the sweetness and creaminess of the traditional dish, such as Rhône whites, Pouilly-Fuissé and Meursault. Absolutely moreish!
Japan
In Autumn, fishes from cold water are some great catches, such as sanma or Japan autumn fish which are caught in the northeastern sea of Japan on their way to the warmer water ocean for reproduction. Sanma is not only rich in highly nutritious fish oil but it also tastes sweet and intense. Often served as salt-grilled, sanma is more luscious and smooth if used for sashimi and sushi. The silver-skinned fish is best enjoyed along with some rich sake that has a dry body and pronounced acidity, such as Junmai (excluding Junmai Ginjo and Junmai Daiginjo), as both the sake and the fish have matching richness while the acidity and dryness of the Junmai cut through the high-fat content of the sashimi.
Clam is in season too! Make yourself a pot of simple and easy sake-steamed clams.
Spain
With all seasonal ingredients in your hands, why don't we cook a nourishing and family-friendly Spanish seafood paella? Mussels, clams, shrimps or feel free to upgrade with a lobster. Of course, we have to pair it with a local Spanish wine such as the refreshing and floral Albarino. In case you prefer the authentic and original Spanish recipe that replaces seafood with chicken, pork and beans, then also switch to a bottle of Rioja or Ribera del Duero.
Italy
Mushrooms are at their most plump in autumn and it becomes king in any Italian kitchen during autumn. If you got some fresh mushrooms from the Sunday farmer's market, the best way to enjoy the seasonal ingredient is probably cooking a creamy mushroom risotto. Originated from Italy, the traditional recipe is at its best if you add porcini mushroom and top with shaved truffles. By adding white wine, chicken stock, butter, Parmesan cheese, the mushroom risotto is truly a hearty and tangy dish no one can resist. So what should we drink? I would say most Italian wines are a good match because the creamy and earthy dish is a real all-rounder and works well with both reds and whites. Or you could imitate the wine pairing for white truffle gnocchi by drinking Dolcetto, Barbera or Nebbiolo from Piedmont.
It's the perfect time to eat sweet chestnuts. In northern Italy, the locals always enjoy chestnuts with some local new wine during chilly nights. For the dessert, think about a chestnut dessert. 'Mont-Blanc', shaped like a tiny snow-capped mountain, is definitely a dessert to remember. It is actually made of chestnut purée, meringue and light whipped cream to bring a smooth, creamy, crunchy and nutty flavour. You could get this seasonal delight at some fine pastry shops. Since Mont-Blanc is located in the Alps between France and Italy, the two countries are still disputing about the origin of the dessert nowadays. In this case, let's try both French and Italian wines, that is, to pair the dessert with either Sauternes or Vin Santo. Let me know which you prefer more.
Warm yourself up with some delectable autumn recipes this autumn. Let the freshest ingredients and well-selected wines create a culinary journey and bring a smile to your face.
---