Best Wines For Him and For Her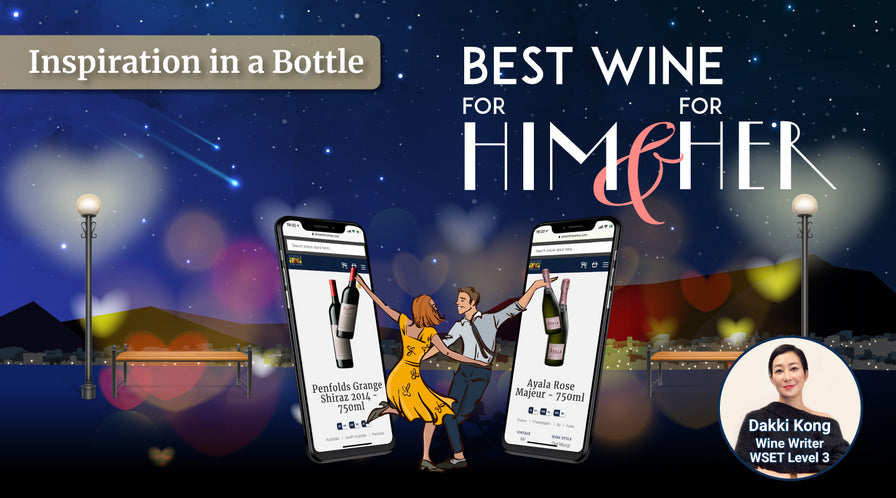 Text: Dakki Kong
Valentine's day is coming! Let's celebrate the touching love story of your own by picking a wine or liquor that helps expressing your love. Find out which wine is the best for him and which one is the best for her.

FOR HER
1. Chateau Minuty 281
Instead of sending a bouquet of roses, make a difference this year by offering a bottle of enchanting rosé to her on Valentine's Day. Of course, you could prepare both to win the biggest smile on her face. Chateau Minuty 281 impresses your lover with its distinctive bottle design. The streamlined bottle of salmon-pink hued wine is decorated with a splash of royal blue colour cascading down the side. Full of prestige. Savour this rosé wine for its strong intensity and aromatic complexity of fruit flavours such as peach, melon and strawberries, feeling like a trip to the French Mediterranean coastline.

2. Chateau D'Yquem 2010, 1er Cru Classe Supérieur, Sauternes
If you'd like to tell your lover how sweet she is, there's no better choice than sending a bottle of Chateau D'Yquem 2010, 1er Cru Classe Supérieur, Sauternes. As one of the world's most sought-after and expensive wines, Chateau D'Yquem is preciously made from handpicked and rot-affected noble grapes. Precious as jewels. The reason it's chosen for gift-giving on Valentine's Day is its outstanding age-worthiness. For your record, a bottle of Chateau d'Yquem from the 1811 vintage has been sold for USD$123,000 in 2011. Who doesn't want a gift that denotes a long-lasting relationship? It tastes intensely opulent even when young. Luscious sweet, caramelised pineapple, honey and spices. Complexity and richness develop with time.

3. Schloss Johannisberg Silberlak Grosses Gewachs Riesling 2017
Research shows riesling is more preferred by women than men. Then what about grabbing a bottle of riesling for your sweetheart on Valentine's Day? The most classic riesling is produced in Germany where Schloss Johannesburg boasts a lot of highly rated riesling. Robert Parker has praised the 1200-year vineyard of Schloss Johannesburg as one of the greatest riesling terroirs on the planet wine. The riesling comes with appealing mineral flavour and plenty of peach and passion fruit on the palate. On the label, the term "Grosses Gewachs" refers to the finest dry German riesling. So I'm sure even non-wine lover wants a sip and it'll surely bring an unfailing sense of freshness to both of you.

4. Clos de Los Siete 2017
Getting bored with sending her chocolates on Valentine's Day? Try replacing them with a bottle of wine that delivers a scent of chocolates such as Clos de Los Siete from Argentina. Primarily made from the iconic Malbec, Clos de Los Siete is also blended with Cabernet Sauvignon and Syrah. All these grapes are loved for its spice, blueberries and a smooth finish with a fascinating aroma of chocolate.

5. Ayala Rose Majeur
Though red means romance and intimacy, it's not a designated colour for Valentine's Day. If your beloved one has a cute, sweet, adorable and feminine character, pick something in pink colour to represent the charm. Ayala Rose Majeur is completely pink both inside and outside. Apart from the gift box and the wine label, the Champagne shows a lovely and delicate pink hue. You could smell expressive aromas of strawberries and raspberries. On the palate, its richness and power accompanied with a fine and mousse-like mouthfeel are unforgettable.

FOR HIM
1. Bollinger Special Cuvée James Bond Limited Edition
Having acquired a solid reputation in the world of Champagne, Bollinger is always served to mark special occasions. Preferred by the British secret service agent James Bond in the movies, Bollinger has become a choice for gentlemen. Hence, Bollinger Special Cuvée James Bond Limited Edition makes a perfect gift for him on Valentine's Day. The Pinot Noir-dominant blend aged in small barrels is loved for its roundness and elegance. Spoil your man with this cuvée and let him momentarily immerse in the James Bond lifestyle.

2. Kikusaki Nana Junmai Daiginjo
Sake is a big hit in recent years. The traditional rice wine has evolved into a full-flavoured drink and brings plenty of excitement to your palate. Besides, it's believed sake containing amino acids, vitamins and glycerol is a healthy drink. If you're looking for something less guilty with delicious umami flavour for your loved one, sake is an ideal option. Kikusaki Nana Junmai Daiginjo (One Year Aged at Zero Degree Celsius - Limited Availability) delights everyone with its delicate and soft sweetness that comes from the lowest rice polishing ratio, ageing at the freezing temperature and the use of the rare rice named Kamenoo. Truly a masterpiece of Japanese craftsmanship. Act fast as its supply is limited.

3. Penfolds Grange Shiraz 2014
Pretty much any wine enthusiast would love to receive a bottle of Penfolds Grange. Grange itself is a success story of the winemaker, Max Schubert who created the iconic wine and also a modern wine era for Australia. That's why Penfolds Grange is a thoughtful present if you plan to reward your entrepreneurial man. Powerful, rich, full-bodied and concentrated, this 2014 Grange smells of dark plum and fig. Wine Advocate commented the 2014 Grange delivers exactly what the Penfolds icon wine is expected to deliver. This long-lived wine ages beautifully up to 15 years, great for future milestone celebrations.

4. The Yamazaki Single Malt Japanese Whisky Aged 12 Years
Though whiskey is no longer a man's drink, it's a drink that makes a man look more charming and knowledgeable. If the man in your life is the type or you'd like him to be one, buy him a whiskey. In fact, the complexity and aroma of whiskey demand one's ability to appreciate and admire. The Yamazaki Single Malt Japanese Whisky Aged 12 Years with box makes a nice gift for someone who enjoys the beauty of little things.

5. Frescobaldi Lux Set
This year many couples may skip their long-waited anniversary trip to Europe. To deal with disappointment, buy him some wine from the sun-kissed Tuscany. A glass of Chianti would absolutely bring him the Italian amore. Frescobaldi Nipozzano Reserva 150 Anniversary Gold Edition 2014 in a gold bottle has aromas of sweet violet, liquorice and plum, while Frescobaldi Chianti Classico Riserva 2016 brings even more concentrated ripe fruit flavours. Frescobaldi Lux Set consists of the four wines and an elegant decanter with a corkscrew. The best gift to console the lost soul.
---