Brand of The Month - Chateau d'Esclans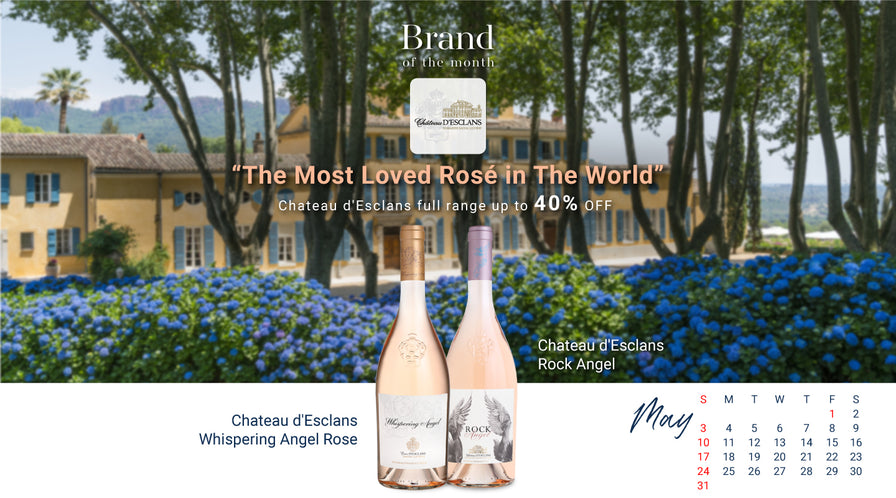 The colour of rosé wine is particularly intriguing and so is the description for its colour.

Salmon pink, onion skin, lightly peach-hued, sunset cerise and lurid bubblegum…

By simply looking at the shades of rosé, you would find it enjoyable and appetising.


Provence has been regarded unofficially as the capital of rosé since it possesses the perfect climate, terroir, and grapes for making rosé. Produced in Côtes de Provence of France, Chateau d'Esclans Rock Angel & Whispering Angel rosé do not only have an alluring pale pink hue, but they also give a silky-satiny texture over the fruitiness. Its winery, Château d'Esclans prides itself on introducing rosé wine beyond the border of France. Thanks to the travellers who visit Provence for the Southern French flair. As drinking chilled rosé is a must-do under the hot Mediterranean sun, everyone falls in love with rosé and cannot stop drinking it when they're home.

Whether you have summer salads, charcuterie, pesto pasta, or spaghetti alle vongole, the dry and smooth Chateau d'Esclans Rock Angel & Whispering Angel are always a wonderful culinary companion. When not enjoyed with foods, they're still excellent especially in a warm and sunny afternoon over an indulgent weekend throughout a year.
Chateau d'Esclans Rock Angel
Pale pink, engaging freshness with vibrant apple, pink grapefruit and rosehip flavours. The gently silky texture is charming and the mouthfeel is impressive.
---
Whispering Angel Rosé
Exuberant grapefruit, peach and strawberry flavours over silky mouthfeel. Dry and incredibly refreshing on the palate, perfect to go with appetisers, canapes, and light pasta. Click here to shop 6 bottles of Whispering Angel Rose 2019!
---
"A magical estate in the heart of Provence"
As enchanted as his father was by Provence, Sacha Alexis Lichine, convinced by the potential of these sundrenched soils, became the owner of Château d' Esclans in 2006. Since that day, he hasn't ceased to combine his talent and know-how to this magical terroir, and has given a new dimension to Provence Rosé, making a unique assemblage of refinement and pleasure. A new chapter has begun in the world of Rosé
---
---