Brand of the Month - Frescobaldi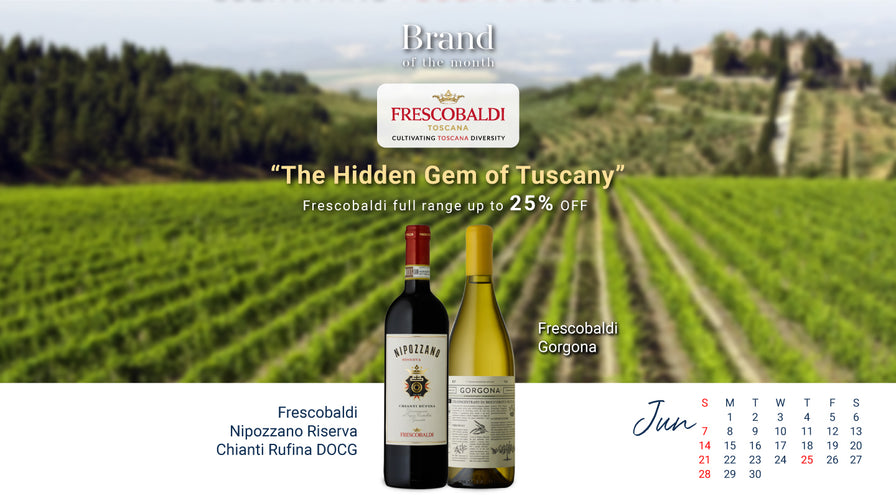 Tuscany is a hot travel destination for all tourists. Some travel to Florence for the Italian Renaissance artworks. And some travel for wonderful cuisine and wine. Being one of the largest Tuscan fine wine producers, the Frescobaldi family has dedicated to winemaking for more than 700 years through 30 generations and currently, they produce red, white, sparkling and rose in diversified wine styles from the regions such as Chianti, Montalcino, and Pomino.
Frescobaldi Nipozzano Riserva Chianti Rufina DOCG
The sought-after Chianti and Chianti Classico from Tuscany are nothing new to wine lovers.  The marked prices have already gone up with their rising fame. So not to mention the Tuscan wine of higher quality, Brunello di Montalcino. If you're currently looking for a hidden gem in Tuscany, Chianti Rufina from Frescobaldi is a name to be remembered. You would taste the notes of toasted tea, coffee, nutmeg and red fruits, excellent with meat and poultry cooked with spices.
---
Frescobaldi Gorgona
It is produced in the last operating isolated prison island – Gorgona where can be reached from the coast of Tuscany by a 1-hour boat ride. The Gorgona Penal Institute started to plant grapes, offering the prisoners skills in vine-growing, which they will be able to use to build a new future. The result was not too promising until Marchesi de' Frescobaldi stepped in with an helping hand. The first vintage of Frescobaldi Gorgona 2012 was already celebrated as a great and unique Tuscan wine. This wine is having a wild flowers aroma and tropical fruit notes on palate, the unexpected full body and long finish are also unmistakable. 
---
Discover more about Frescobaldi
Located in Central Italy, Tuscany is a place in the sun. Watch the video to learn more about the story of the brand.
---