Brand of the Month - Frescobaldi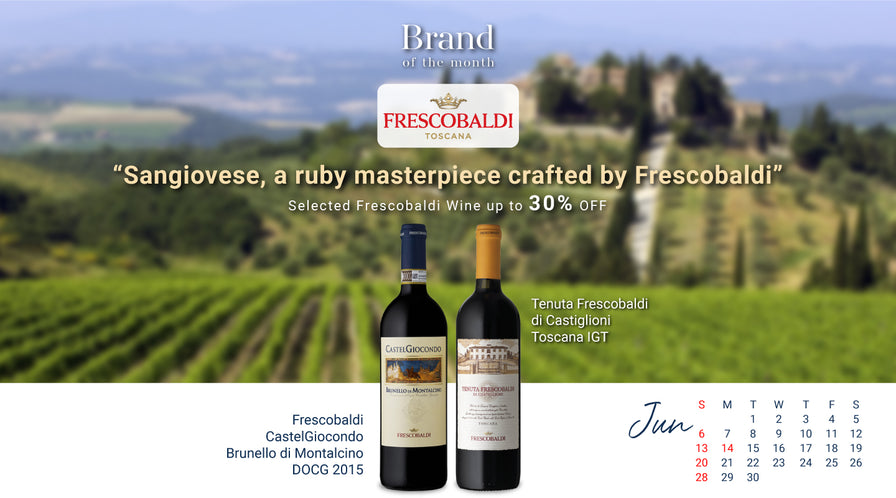 For those who love drinking red wines except the astringent mouthfeel, Sangiovese is always a good alternative. Under the sunlight, a glass of Sangiovese shines bright as a ruby and this small-berry grape, whose name is translated as the "blood of Jove", offers you a taste of vitality with a silky and elegant tannic texture, especially those aged wines from Tuscany. You could taste wild cherry, roasted tomato, herbs like thyme and oregano, and some interesting notes of sweet balsamic and espresso.
The high acidity of Sangiovese with hints of tomato and herbal notes make it a superior companion for any foods cooked with tomato sauce and herbs such as Bolognese spaghetti, pizza and Polpette meatballs.
Sangiovese is the most planted grapes in Italy and intensively grows in the sun-drenched middle part, such as Tuscany, Umbria and Marche.The most sought-after Sangiovese is found in Chianti of Tuscany. The grape could be made into a simple Italian red which is bright and fruity, i.e. Chianti; Or it could be some age-worthy and tangy wines, such as Chianti Classico, the more aged and opulent Chianti Classico Reserva and the most prestigious and finest Chianti Classico Gran Selezione. 
---
Frescobaldi CastelGiocondo Brunello di Montalcino DOCG
Similarly fashionable as Chianti, Brunello di Montalcino is a small region located in the warmer south of Tuscany. Brunello is actually a local varietal cloned from Sangiovese. "Brunello" is a word derived from "Bruno", meaning brown in English, which refers to the colour of the grape when ripened. Compared to Chianti, Brunello di Montalcino is filled with exquisite aromas of black cherry, black raspberry, violet and chocolate, while bringing more finesse which comes from the minimum legal requirement of five-year ageing prior to release. Be prepared to spend more on this wine because of its limited supply.
---
Tenuta Frescobaldi di Castiglioni Toscana IGT
As the Chianti styles are considerably diversified, always pick a reliable producer. Among the top producers in Tuscany, Frescobaldi is one of the reliable ones, operating vineyards scattered around Tuscany. The 700-year-old producer does not only focus on Sangiovese but also embraces the diversity of the modern Tuscany style, i.e. Super Tuscan, by blending Sangiovese with Bordeaux grapes. Try Tenuta Frescobaldi di Castiglioni Toscana IGT and the signature Frescobaldi vineyards such as Mormoreto. If you're after the extremely smooth mouthfeel, the balanced Frescobaldi Giramonte Toscana IGT would absolutely bring you a taste of elegance.
---
Frescobaldi Tenuta Perano Chianti Classico Gran Selezione DOCG
The most prominent expression from the heart of Chianti Classico territory. A sought-after wine for years. A pure Sangiovese with a strong and exquisite soul, vibrant but never exuberant. The colour is an intense and brilliant ruby red. The bouquet is complex and harmonious. On the palate, it is marked by an incomparable richness and depth. The finish is persistent and clear. Can age for 7-10 years. An elegant and mesmerizing wine.
---