Brand of the Month - Robert Mondavi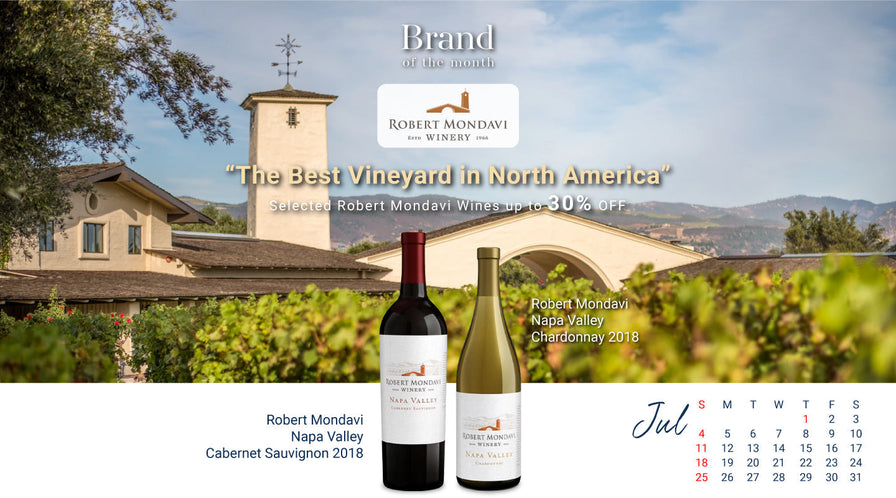 Named the best vineyard in North America in 2020 by World's Best Vineyard, Robert Mondavi Winery was established in 1966 with a vision to create Napa Valley wines that would stand in the company of the world's finest. He chose To Kalon Vineyard in the heart of the Napa Valley as the home for Robert Mondavi Winery. This first-growth vineyard, located in Oakville, California, is renowned for producing some of the finest Cabernet Sauvignon wines in the world.

Robert Mondavi Napa Valley Cabernet Sauvignon
It showcases a nicely balanced mix of elegant and richness to your tastebuds. A beautiful nose of fresh, ripe blackberry and black plum jam, gently framed by notes of dried thyme and toast. On the palate, the wine is full and juicy, brimming with more black fruit and touches of bittersweet chocolate, mint, and dried straw. Generous and harmonious, with velvety tannins and a long, smooth finish.
Robert Mondavi Napa Valley Chardonnay
It showcases intense, vibrant flavors of fresh apple, melon, and fig with notes of honey and cream, making this table white wine a great companion for a variety of dishes. A refreshing acidity elevates the defining creaminess of this Napa Valley chardonnay wine and carries the fruity, toasty flavors to its deliciously rich finish. Pair this chardonnay wine with any fish, seafood, pork or poultry dish.
---