Brand of the Month - The House of Suntory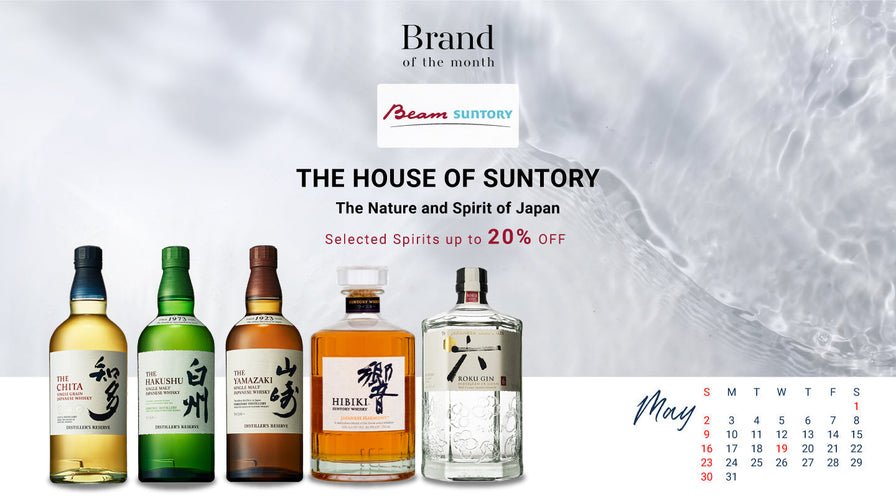 Founded in 1899, the House of Suntory was built on one man's dream. Shinjiro Torii wanted to enrich the lives of his people. He wanted not only to blend imported liquors, but develop quintessentially Japanese spirits for his people. He dreamed of crafting an authenic Japanese whisky. To make that dream a reality, he started the construction of Japan's first malt whisky distillery in Yamazaki, in the outskirts of Kyoto, in 1923. Inspired by the riches of Japanese Nature, he chose the region for its reputed soft water, unique climate and distinct seasons-all of which would contribute to the distinctive Japanese character of Suntory whiskies.
Though Shinjiro is most known for his creation of Japanese whisky, he also applied his challenger's spirit and "Monozukuri" craftsmanship to producing other spirits as well. That passion laid the foundation for the House of Suntory and Shinjiro's legacy. The House of Suntory now represents a House of Japanese culture-a rich cultural experience and pilgrimage to Japan in every bottle, ready to be discovered by the world.
Yamazaki Distiller's Reserve
Being the first and oldest malt distillery in Japan, the Yamazaki Distillery only produces pure Japanese single malt whisky. Yamazaki Distiller's Reserve brings intense notes of strawberry, cherry, peach and coconut on both the nose and palate with nuances of sweet spices such as vanilla and cinnamon on the finish. 
---

Roku Gin
Roku means "six" in Japanese, which refers to the six seasonal botanicals, including Sakura flower, Sakura leaf, Yuzu peel, Sencha tea (green tea), Gyokuro tea (refined green tea) and Sanshō pepper. Roku has a sweet aroma of cherry blossom and green tea, followed by a harmonious flavour of various botanicals led by yuzu, finishing with a crisp Sansho pepper sizzle. The distinctive yet stylish hexagonal bottle is inscribed with one of the six botanical prints on each facet.
---