Discover The Wines Of Southern Italy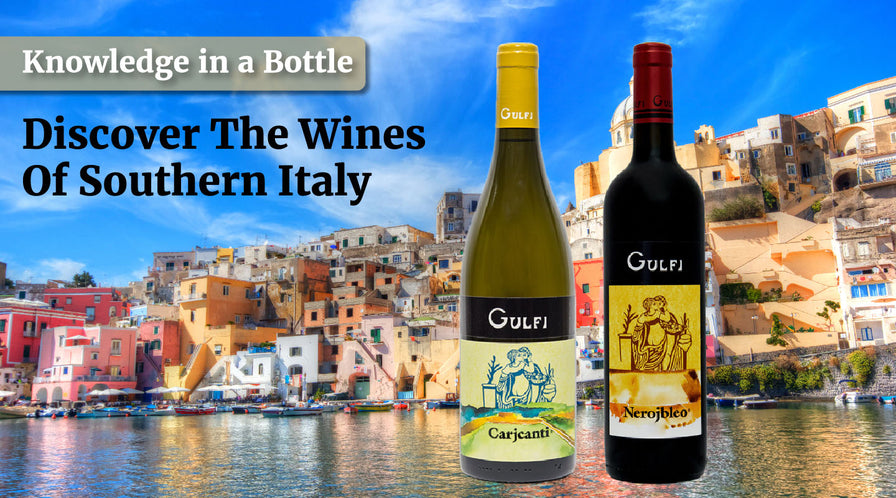 Italy is shaped like a long boot, from north to south in the country, you will find  different climates and terroir. Every region has got its own indigenous grape varieties, and they shaped the character of the regions. Sicily, Puglia and Campania are three major wine producing regions in southern Italy, and you will find a whole new world when you explore them.
Sicily is the southernmost region in Italy, it is the largest island in the Mediterranean. The climate is warm and dry, with plentiful sunshine, which is a great place to make wines. The iconic fortified wine Marsala maybe passed the heyday, but the wine producers in the island had already found some suitable grapes to make Sicilian wine shines again.
Nero d'Avola is the red variety that shown great potential in the pass years. In Vittoria, Frappato is blended with Nero d'Avola to make the only DOCG Cerasuolo di Vittoria in Sicily. Etna Rosso made in the area of the active volcano Etna, with native grapes Nerello Mascalese and Nerello Cappuccio have a blast in the wine world recently. White wines made from Grillo, Carricante, Catarratto or Zibibbo are also outstanding from their own characteristics.  There are now 23 DOC in Sicily, but most of the producers prefer to named their wines Sicilia DOC.
Puglia is located at the "heel" of the "boot", since the country is mountainous, there are plenty of plain lands for growing wine grapes. You can find many different grape varieties in the region, but Primitivo and Negroamaro are the most popular ones. Primitivio di Manduria DOC and Salice Salentino DOC that are made mainly from Negroamaro are the two major wines. Mero di Troia and Susumaniello are other native grapes that gained more attention in the past years. White wine is not a big thing in Puglia, but you will find the best Italian Rosato or Rosé in this region.
Campania are known for tourist hotspots such Pompeii, Capri, Amalfi and its capital Naples, the wines in this region are also attractive. Under the region's 4 DOCG and 15 DOC, you will find some unique wines. Falanghina del Sannio DOC, Greco di Tufo DOCG and Fiano di Avellino DOCG, are some of the best white wines in Italy, while Aglianico is the most representative red grape in the region, Taurasi DOCG is nicknamed "The Barolo of the south".
There are more indigenous and international grape varieties planted in these three regions, singing loud with the diversity of Italian wine.
---