Gift ideas for wine lovers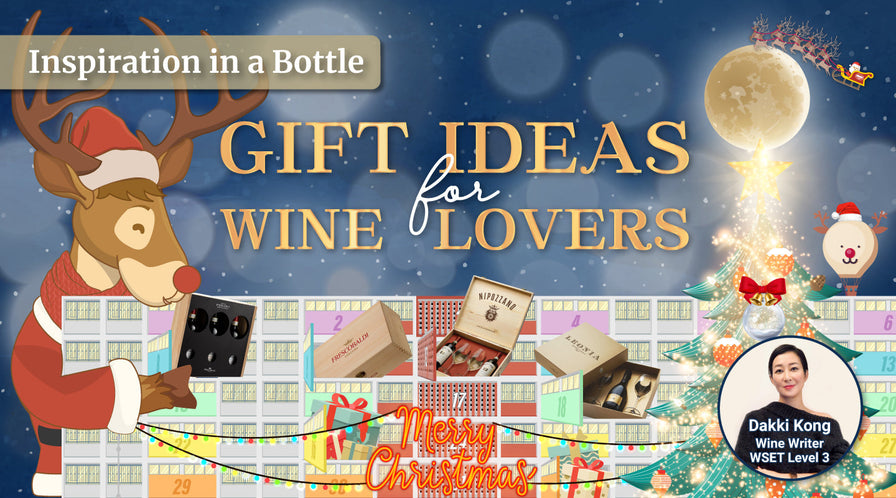 Text: Dakki Kong
Regardless of the current group gathering ban, imagine how wonderful it'll be to stay home for Christmas with your beloved friends or family, which is rare as everyone used to fly out of town during the previous Christmas. This Christmas, surprise your beloved ones by bringing them some wonderful wines as Christmas gifts and warm up your intimate home gathering.
When it comes to picking a wine as a holiday gift, you have to know the taste preference of the person whom you're going to present your gift. No clues? Try finding out whether he is a beginner, an enthusiast or a wine professional and you'd get some hints on their preference since the wine palate changes over time on a wine-drinking journey. Then you could easily choose a wine that fits the palate even you don't regard yourself as a wine person. See what the 700-year Italian winemaker, Frescobaldi offers you, especially the indulgent gift sets that delight most wine connoisseurs.
Light and fruit-forward wines
Though many beginners are attracted to the world of wine by a bottle of sweet wine, the preference would quickly switch to those light and fruit-forward wines. If your gift receiver is also taking off a wine journey, consider a bottle of refreshing and vivacious chardonnay that is filled with fruitiness. Frescobaldi Castello Pomino Bianco 2019 demonstrates its well-fruited palates with its apple, pear, apricot grapefruit and lemon notes. It's certainly most newcomers would be delighted by the subtle jasmine notes and vibrant acidity. The tiny plot of land, Pomino DOC in the east of Florence turns this wine limited in its quantity of supply and become much more precious as a Christmas present.

Tangy and complex wines
Having tasted refreshing and fruity white wines for a period of time, wine lovers usually step up to the wines with tangier and more layered flavours on the palate with a long finish. When shopping for this sort of beginner-turned-enthusiast, think about Chianti reds. Made with a grape varietal named Sangiovese, Frescobaldi Nipozzano Riserva Chianti Rufina DOCG 2016 is blended with some merlot and cabernet sauvignon for greater complexity. You would taste wild cherry, cinnamon and clove with notable acidity and tanginess.
The gift set consisting of this red and the Pomino Bianco in an elegant wooden case makes an enticing combo! Red wine fans could consider the Nipozzano Riserva Special Case comprising two Riserva Chianti Rufina DOCG 2016 that comes with a pair of glasses, which is perfect for an indulgent festive gathering with your most beloved one.

Made with the same grapes growing on the hilly plots, Frescobaldi Tenuta Perano Chianti Classico DOCG 2017 is produced in the sun-drenched and cypress-lined hills south of Florence, bringing a taste of the sunny atmosphere and bright fruit flavours, such as wild blackberry, raspberry and cherry. Wine lovers do not only enjoy the concentrated ripe fruits but also its unwavering structure and tannin.

Delicate and elegant wines
For some professional-level drinkers, there's no gift better than a delicate and elegant wine he or she could savour at home during the festive nights. Along the journey of a wine discovery, wine enthusiasts always look for wine upgrades. Send them a well-aged wine such as Frescobaldi Tenuta Perano Chianti Classico Riserva DOCG 2016 for its smooth tannins and integrated flavours. Aged for 30 months prior to launch, this Chianti favourite expresses pronounced ripe fruitiness such as blackcurrant and blueberry with nuances of black pepper, espresso, liquorice coconut and tobacco. Any serious wine lovers would enjoy the mingling of herbal notes and ageing characters with the persistent finish. The set of one Tenuta Perano Chianti Classico Riserva DOCG 2016 plus two Tenuta Perano Chianti Classico DOCG 2017 presented on a foldable 6-bottle rack in a contemporary design is a generous selection for any wine collector.

Fine bubbly
By gifting a bottle of good-quality sparkling wine, you'll never disappoint a wine drinker of any levels even a wine professional. It's definitely a must-have celebratory drink for Christmas. A high-grade sparkling means an incredibly refreshing taste of fruits, bricohe-y tone with ultra fine bubbles. Frescobaldi Leonia Pomino Brut Pomino Spumante DOC Metodo Classico 2016 has it all. Using a traditional method as how Champagne is made, this Italian sparkling wine is made with best-quality handpicked chardonnay and pinot noir from Pomino, followed by fermentation and blending into harmonious quality, finished with the second fermentation in the bottle. It's fascinating to watch its golden sparkle and fine bubbles rising from the bottom of a glass. It brings delicate aromas of the white spring flowers, followed by flashes of acacia honey, patisserie and white peach. Savour the light touch of dried fruit, caramel, liquorice and toast to finish. The sparkling will leave the gift receiver a good memory of its creamy texture.
So do not miss the Frescobaldi Leonia Gift Set which includes a bottle of Leonia and two elegant flute glasses for your intimate celebration.
Let's pour a glass of your favourite wines and toast to a better 2021! Cheers!
---