How to throw a perfect party at home?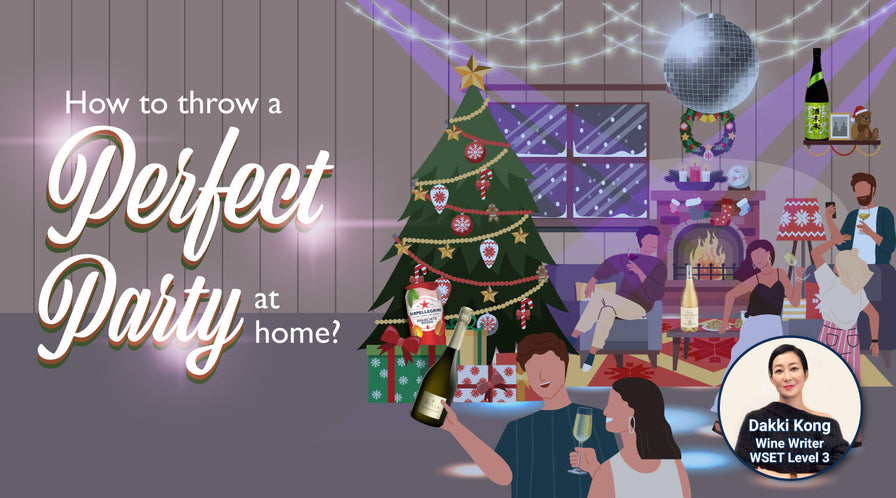 Christmas is all about doing lovely things with friends. Travelling is not the only way to create meaningful memories. Throwing a successful Christmas party at home by inviting your dearest friends can also do. By carefully planning the theme, decorations, foods and drinks, you could organise a Christmas home party in a way easier than you imagine. Check out these party ideas.
Theme and Invitation 
The very first thing you have to do for a party is definitely setting a theme because it's critical to your invitation, your home decoration, the foods and the drinks. There're way too many ideas out there. You could hold a night of card games and gambling fun while decorating your home in a Vegas-style. Pyjama party is timeless and always mostly welcomed as it makes everyone comfortable and feels like home. Or a Christmas movie night to review all your favourite Christmas-themed films at one shot, such as Love Actually, The Holiday, Die Hard and Holidate. In case your friends are big fans of costumes, consider cartoon characters, Hollywood celebrities, a 1920s or 1970s vintage fashion party or simply a white Christmas theme to pick everything in white colour.
Once you have set a theme, send out a party invitation early, reminding your friends to mark their calendars and offering sufficient time for costume and gift searching. And you could start planning for the decoration, foods and beverages. 
Decoration
Explore Fuk Wing Street in Sham Shui Po for some decorative essentials. Bear in mind to use fewer plastics for a greener environment. Decorate your home with something that can be reused next year or use what you already have at home. Lighting always helps in setting the right vibe. Dimmer lighting is good for a cosy environment while string lights in hallways or on windows make your space fairy and magical. 
Foods 
Offering bite-sized foods or nibbles is always easier, more interactive and more fun than offering a formal sit-down dinner on festive days. 
Surprise your guests with some handmade chocolate chip cookies, gingerbread men, mince pies or stollen fruit cake. The spicy and buttery scent would make your home smell like Christmas too. Or prepare an array of savoury and simple bites that go well with drinks. Think about devil eggs, shrimp cocktails, fig and blue cheese bruschetta, guacamole dip or goat cheese dip for a big pack of nacho chips, chorizo and cheese crostini, crab-stuffed mushrooms or bacon-wrapped scallops or asparagus.   
If you'd rather go hassle-free, head to the frozen section in the supermarket and grab cranberry brie tarts, sausage rolls, cheese puff, potato balls, Swedish meatballs, chicken nuggets, samosas or even wontons and dumplings which you could quickly get ready by putting into the air-fryer or ovens.
And food delivery service has never been easier in Hong Kong. Just order foods through mobile applications, such as pizza, mini burgers, sashimi and sushi, Peking ducks, Korean deep-fried chicken, salads or grilled chicken. Be sure to prepare the food in advance as it's more stress-free so that you could enjoy entertaining guests instead of working in the kitchen during the party time. 
Drinks 
Set up a self-service home bar or table counter which lets your guest pick whatever they like and reduce your workload at the same time. 
Prepare a few bottles of crowd-pleasing wines, including Sauvignon Blanc, Côtes du Rhône, Beaujolais, Provençal Rosé or Vouvray, which are all friendly flavours. Experience the function of Coravin Pivot that keeps the wine fresh all night long or even when the guests could not finish the whole bottle. 
In case you'd go for Japanese sashimi or seafood, Japanese sake is the top choice for you. Especially for those seasonal sashimi, enjoy it with Junmai shu type as the rich rice umami flavour matches with the fattiness. If the sashimi flavour is more delicate such as scallop or Botan Ebi, change from Junmai to Junmai Ginjo and Junmai Daiginjo. 
If you're not sure what your guests love to drink or the preferences are too diversified, Champagne or Rosé Champagne never disappoint guests as a party drink. 
Your guests probably want to have some fun with cocktail mixology when it comes to self-service drinks. But, as a party host, you might worry you have to prepare a wide range of liqueurs. My advice would be to pick the most versatile cocktail spirit — Gin. The pleasant botanical scent is the soul of various cocktails such as Gin & Tonic, Martini, Tom Collins, Gin Fizz, Gimlet or gin-style Mojito or Daiquiri. Simply prepare ice cubes, lime, lemon, orange, juices, syrup, mint leaves, soda water, vermouth and a few cans of Sanpellegrino sparkling drinks alongside the gin. Let the guest experience the pleasure of mixology. 
Don't forget a playlist of party music. Have fun! 
---