Lovely Sweet Wines to Fall For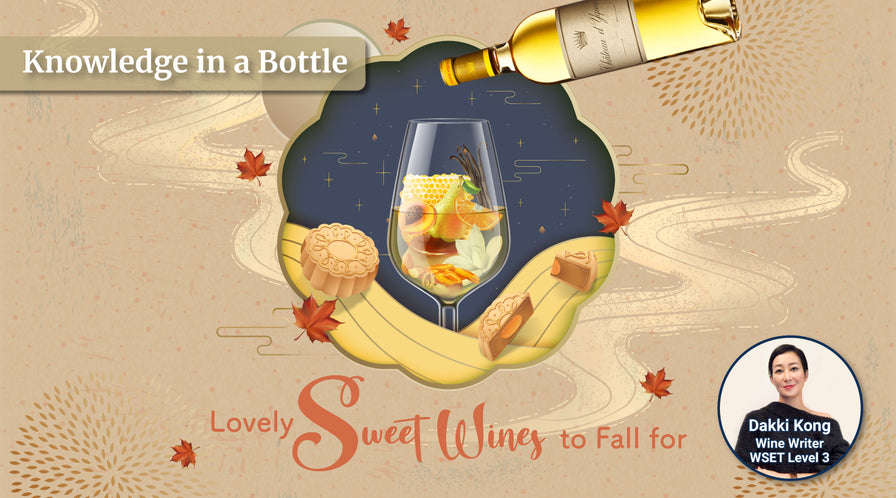 Text: Dakki Kong
When talking about sweet wine, many people turn up their noses at it, saying "Too luscious!" or "It's for women." If you're one of those, you might not know well about sweet wines or have never tasted it in a serious demeanour. The Mid-autumn Festival is coming. Get to know more about sweet wines and pick a good one to enjoy with your beloved one on a festive night.
Sweet wine is more than just sweetness. It's all about balance and complexity. A good sweet wine offers sweetness that is counterbalanced by racy acidity. So it's a question of balance. It's the same as putting two tablespoons of sugar with numerous lemon slices into a cup of tea and it never tastes too luscious.
Most wine-producing countries produce sweet wines, such as France, Germany and Italy. The most world-famous sweet wine is definitely the botrytised Sauternes by Chateau d'Yquem. The first time I tasted it, I found it utterly mind-blowing as it instantly melted my heart. I am sure whoever first tasted it would find it's too late to encounter the fine wine. That glass of "liquid gold" wooed me with a taste of absolute heaven and tons of compelling notes, namely white peach, pear, apricot, tropical fruits, vanilla, orange, flowers, creme brûlée, nutty and honey flavours.
I have no clue if it's more loved by women, what I could tell Chateau d'Yquem has won the heart of the third president of the United States, Thomas Jefferson. The hardcore fan has claimed Sauternes was the best wine of France. Under an ideal climate, the grapes are "infected" by a rare fungus called Botrytis (a.k.a. Noble rot) and dried to a high level of sugar concentration and aroma intensity. Then they're handpicked, berry by berry, and made into the rare and magical golden nectars that come with gorgeous richness and amazing complexity. That's how its yield is limited to one glass per vine. The racy and refreshing acidity makes it a fine wine with great ageing potential up to more than a century. A record shows a bottle of two-century-old 1811 Chateau d'Yquem was sold for more than HK$0.9 million in London. No wonder why the renowned wine critic Jancis Robinson feels sad whenever she finds the sweet fine wine is under-appreciated. In the region of Sauternes, also try Chateau Rieussec, Lafite's sister property that receives the Premier Grand Cru Classe. Beautifully balanced, long-lasting, fresh and light fruitiness, showing excellent value for money. If you've already tried both, go somewhere else. Next to Sauternes, Barsac is also home to sweet botrytised wines. Receiving 95 marks from Robert Parker and 97 marks from Wine Enthusiast, the Premier Grand Cru Classe Chateau Coutet from Barsac is something you could not miss.
Other than Bordeaux, Loire Valley is also known for its sweet wine production. In Vouvray, the cool and humid climate creates a cradle for nurturing the noble rots. By "infecting" the local grapes, Chenin Blanc, the noble rots help make sweet wines that are rich, honeyed and nutty with different levels of sweetness, such as "sec" (dry), "Demi-Sec" (medium sweet) and "Moelleux" (sweet), which are listed on the label of a Vouvray sweet wine.
Sweet German wines enjoy a high reputation among wine lovers. Try "Kabinett" for the beginner level of sweetness. Refreshing with off-dry sweetness and nuances of lime and herbs, which is probably the first German Riesling many drinkers have tried. Go for medium sweet level "Spatlese" and the sweeter level "Auslese". "Auslese" refers to a level of sweetness equivalent to 10 to 15 tablespoons of sugar in one litre of wine. There're actually some more sweeter German wines that make u call the dentist, such as "BA" or "TBA", which are less popular among consumers. Queen Elizabeth II is said to enjoy a glass of sweet German white with dinner. Unfortunately, we have no idea which level of sweetness Her Majesty goes for.
The noble rot is not a fan of the Tuscan sun. Therefore Italy's sweet "holy wine", Vinsanto, is made by the "Passito" method, drying grapes under the sun into super-sweet raisins. So the wine is raisiny with lovely toffee, fig and perfume undertones. Vividly aromatic. In lieu of getting drunk, the slightly sweet Moscato d'Asti with an alcohol content as low as 5% is very flattering to drink.
It's scientifically proven that sweet treats bring a sense of joy and happiness. Take a sip of the chilled sweet wines and let the natural grape sugar to increase the level of dopamine in your body. Get away from all the hustle and bustle. Enjoy a sweet wine and a sweet talk with your loved one. 
---