Loving Italian Charm. Italian Wines VS Italian Guys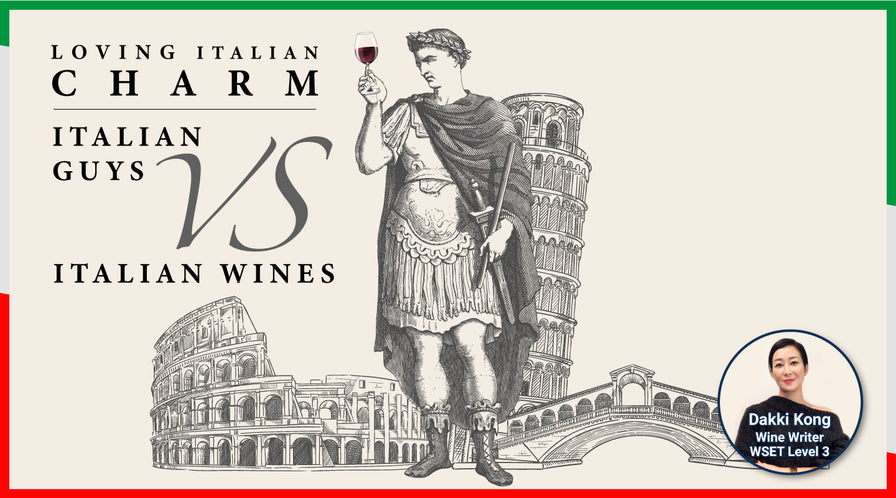 Text: Dakki Kong
During my debut visit to Italy, I was astonished by the charm of Italian men, especially their best-looking facial features and model-like figures which I could stare at for hours. It's the same way I felt about the Italian wines when I first tasted them. Everything was perfect, including aroma, structure, mouthfeel, earthiness and complexity. Those were the moments I fell for Italy and why I am continually intrigued by Italian charm.
1. Piedmont
People love Piedmont for its white truffles and Lavazza coffee, while I love it for its Nutella hazelnut chocolate spread. But the most impressive encounter with this northwestern region of Italy was through the tasting of its rich and full-bodied reds, such as the much-loved signature wine, Barolo and the more elegant and delicate Barbaresco. Highly perfumed and richly flavoured, these reds just melted my heart when I firstly sipped. Piedmont, literally means "the foot of the Alps", tells its location by its name. The region does not only grow outstanding vines but also outstanding guys. It's the place where the sweet-yet-confident Luca Argentero was born. He was the hot Italian tutor for Julia Roberts in the movie《Eat, Pray, Love》. I am sure everyone would die for an opportunity to try Italian language and food with him.
2. Veneto
Through drinking Prosecco, you could probably understand the Italian lifestyle and how they appreciate life. Enjoyed by the whole nation, Prosecco could be drunk anytime and anywhere without waiting for a special occasion or celebration to pop a bottle. Veneto is not the only region that produces Prosecco DOC. However, it's the region that produces the best Prosecco as it's where the higher-graded Valdobbiadene DOCG and the finest Superiore di Cartizze DOCG are located. Both DOCG bring more fruitiness, floral and mineral notes to your palate. Over 70% of the wines produced in Veneto are whites which include the mood-lifting Soave and Pinot Grigio. What's more mood-elevating is the Veneto-born Olympic swimmer, Alessandro Terrin who once starred in a Dolce & Gabbana underwear photoshoot where he showed off his gorgeous body and piercing eyes .Truly swoon-worthy.
3. Tuscany
Admiring the marble statue of David in Florence, Tuscany, you'd find it's difficult not to shift your focal point to his perfect body proportion and be allured by his ready-to-attack tension. I was wondering if the city's filled with similarly physically-fit lads. In fact, there're plenty of charming males originating from Tuscany. FIFA World cup-winning Italian goalkeeper Gianluigi "Gigi" Buffon is definitely one of them. Look at his well-built figure, dark skin tone and 192 cm-height; and you'll scream like his fans. If you're more into the classic Tuscan style, watch《Under the Tuscan sun》for the dashing Italian Raoul Bova. Sexy stubble, white linen shirt and confidently standing in the piazza.  Thanks to the Tuscan sun that brings them the desirable skin tone and it also brings the sun-kissed and lively Tuscan red wines such as Chianti Rufina, Chianti Classico and Brunello di Montalcino.
4. Campania
Located in the South of Italy, Campania is situated on the west side of the Mediterranean sea while facing Sicily Island. The sea-based capital city, Naples, offers the beauty of the coastline and it is always put on the bucket list of many travellers. Cute beach boys with Mediterranean looks are everywhere. Warm honey skin tone, dark eyebrows and brown eyes. Look like Greeks and also look like the native-born actor Giampaolo Morelli. Naples is the origin of Neapolitan pizza and Pizza Margherita. With abundance of freshest seafood and local farm produce, Naples is awarded the most Michelin-star restaurants in Italy. Thanks to the ancient Greeks who brought unique grape varietals to Campania so that we could savour some unique and refreshing whites with mineral notes, including Greco and Fiano, as well as the dry red with notes of fruits and spices, Lacryma Christi which is made with ancient wine blending techniques.
5. Puglia
Puglia, known as the "heel of the Italian boot", is located in the southeastern tip of Italy, where you could enjoy sunshine every day throughout the year in those seaside villas. Filled with laid-back and relaxed charm, Puglia's appeal is not limited to the weather. You might meet someone like the sweet cutie Michele Riondino, the best actor awarded by Rome Film Festival, who is born and bred in Puglia. His winning smile feels like drinking a glass of Primitivo, full of effusive warmth. Primitivo is actually made from sun-drenched grapes or raisin-like grapes, bringing cherry jam tone and higher level of alcohol. You'll definitely enjoy the satisfying chocolate and fig aroma with its creamy texture. Expressive of rose and strawberry, Negramaro, a red varietal native to southern Italy, is a must try when visiting Puglia. 
Divided into more than 20 regions, the most diverse variety is what Italy has to offer. Take your time and find the love of your life. Cin Cin!
---