Perfect Match on the full moon night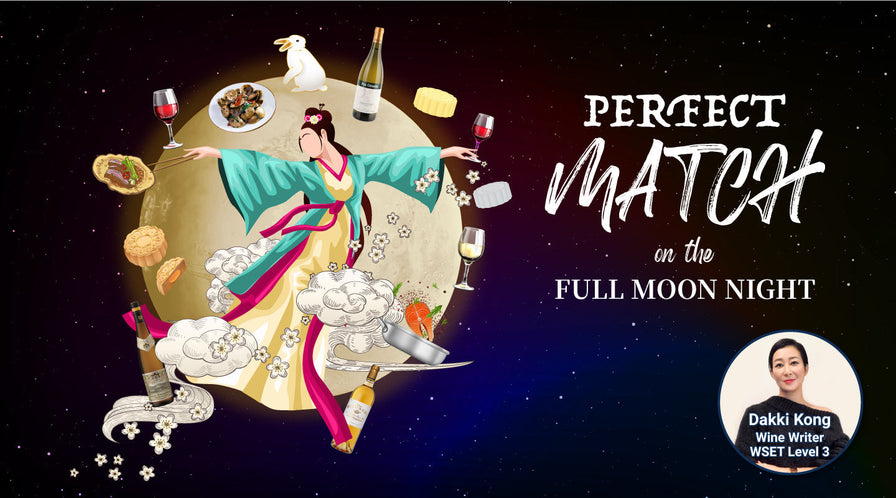 Text: Dakki Kong
Mid-Autumn Festival is time for a reunion. 
Whether it's a gathering with the one or a family party, nothing is better than enjoying a feast of seafood in season or a delicious home-cooked meal prepared with love. The highlight of the night is definitely the long-awaited taste of indulgence, which is to savour the most sought-after mooncakes of the year. Have you made up your mind about which wine to bring home?
Go Chinese for Lantern Festival
Unlike the French cuisine, during a Chinese dinner we rarely change wine from course to course. So a versatile bottle is an answer. At the Chinese dining table during Autumn, we always have steamed corn-fed chicken, braised pork ribs with pumpkin, pan-fried salmon steak, braised duck with taro, or even a Peking duck from an ordered delivery. In this case, look for wines that have bright fruit and relatively low tannins. For example, Pinot Noir is a good all-rounder that works with most dishes. Wherever it's produced, namely France, Italy, New Zealand, Australia, the soft and easy-drinking Pinot Noir always win the heart of most diners. Another versatile wine that goes well with Cantonese cuisine is Gamay. Light and packed with notes of red mulberry and strawberry, and grown mostly in Beaujolais, just south of Burgundy in France. Look towards any Gamay wine crowned with cru Beaujolais appellations.
In case you're planning for a seafood galore in Hong Kong- or Asian style, such as spicy crab curry, steamed shrimp with garlic, stir-fried clams with black bean sauce, crispy squid with spicy salt, and corn and fish maw soup. Do not think all whites could fit the bill perfectly. Try a refreshing off-dry Riesling and it also matches with the Mid-Autumn Festival dessert, glutinous rice dumplings in sweet soup. Some adventurous friends always bring their whiskey bottle to the local seafood restaurants and enjoy very much the spiciness elevated by the liquor, which is something worth trying. Japanese rice wine is an alternative to pair with the Asian seafood dishes, such as Honjozo or Junmai. However, in case you opt for lightly flavoured steamed seafood dishes, switch to the fruity and delicate yet smooth Junmai Daiginjo or Junmai Ginjo.
Molten Lava Custard Mooncake
It's not a perfect ending to the festive night without enjoying mooncakes. In recent years, the molten lava custard mooncake becomes highly desired. Gourmet lovers fall for its fluid-like egg yolk, velvety custard and the buttery crust. To pair a wine with this complex flavour profile, Sauternes or Barsac is definitely the one to pick as  both are renowned for its flavour complexity. With the presence of the noble rots, the grape juice is concentrated and made into rich and luscious sweet wines with intense notes of honey, butterscotch and orange peel. Both Sauternes or Barsac sweet wines make top pairings with crème brûlée, custard tart or mille-feuille for fine dining. And that's why they're also perfect for the lava custard mooncake. Similarly golden in appearance, the French Bordeaux sweet wines and the lava custard cake are destined to be a perfect match.
Fruit-flavoured Snowskin Mooncake
If you're after the soft and gooey texture of snowskin mooncake, watch out for the countless offerings in fruit flavours such as mango, pineapple, blueberry, passion fruit and the long-craved Musang King durian flavour. To match with the delightful and fruity purée, select a bottle with low to medium sweetness, such as Vouvray Sec or Vouvray Demi-Sec from the Loire Valley in France. Appreciate its hint of pear and invigorating acidity. When pairing with Musang King durian mooncake, forget the sweet wines and let the "King of Fruits" take centre stage. OR make the distinctive yet strong aroma more outstanding by contrasting it with the dry Extra Brut or zero-sugar Extra Nature Champagne. For alcohol-free option, try the sparking water or sparking juice.
Ice Cream Mooncake
Wine experts might say pairing ice cream with wines is not a favourable match. But, according to my real-life experience, when licking the ice-cold dessert, the tastebuds actually got anaesthetised and leads to a reduced ability to taste. That makes the pairing job so much easier and simply go for the semi-sweet bubbly, Moscato d'Asti when enjoying ice cream mooncake. No matter it's vanilla, peach or mango ice cream fillings, the matching is unexpectedly immaculate and probably the best way to enjoy fruitiness.
Though you're not free to go anywhere you wish under lockdown, you could still bring comfort and love to your beloved ones by preparing a wonderful meal. May your life be as perfect as the full moon!
---