Sparkling Chinese New Year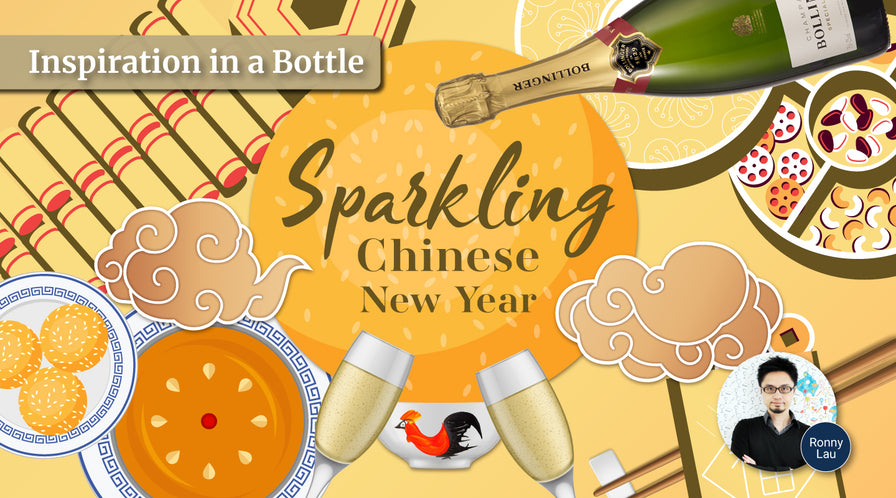 Text: Ronny Lau
Sesame Balls, New Year Pudding, and Sweetened Dried Lotus Root inside the packed candy tray are some of the most common traditional snacks during Chinese New Year, simply because they symbolize good luck. Even if you can withstand the temptation of these delicious calorie traps, to say no to the good intentions of your relatives and friends is something you don't want to do in the festive time.
In order not to have a full stomach before the plentiful dinner, a bottle of sparkling wine can really help.
Many friends told me that they don't appreciate the sour taste in wine, and among wines, sparkling wine has the highest acidity. Perhaps this is why sparkling wine is far less popular than still wine. In fact, acidity is very important to wine. You may not know that some winemakers even need to acidify the wine during the making process.
The tannin in wine can prevent it from oxidizing, but most white wines were not made with skin contact, and do not contain this natural preservative from grape skin. The acidity has become more important to protect the wine. Bubbles in sparkling wine are carbon dioxide, which is acidic too, now you know the reason sparkling wines generally age better than still wines.
Acidity not only effectively preserves wine, but also brings refreshing and crispy taste. If you are having greasy snacks such as Sesame Balls, Crispy Triangles and Sesame Cookie Balls, pop a bottle of Sparkling wine, the acidity will cut through the oiliness, and make you feel less stuffy.
There are lots of choices for Sparkling wine, Champagne from France, or Prosecco, Moscato d'Asti from Italy are the most popular ones. Champagne Bollinger Special Cuvée is my favourite in Chinese New Year, although it's a non-vintage Champagne, some of the base wine are aged up to 15 years. Moreover, the 60% Pinot Noir in the blend shows more red fruit flavours and made the acidity less sharp. Prosecco is not only more affordable, but also the higher residual sugar balancing out the acidity. Try Chiaro Prosecco from Treviso, and you will know it matches well with the traditional Chinese New Year snacks that always taste a bit sweet.
If you are having New Year Pudding that made with lots of sugar, don't pair it with Champagne or Prosecco, but a bottle of Moscato d'Asti. Barolo has been called the "king of wines" and the "wine of kings", it is the wine that made the historical wine estate Pio Cesare famous, but their Moscato d'Asti is also a beauty you can't miss. This semi-fermented fizzante wine is filled with peach aroma and fresh fruit sweetness. It contains less bubbles, so you got more rooms to take another piece of pudding.
---