Wine and Dine to Welcome Fall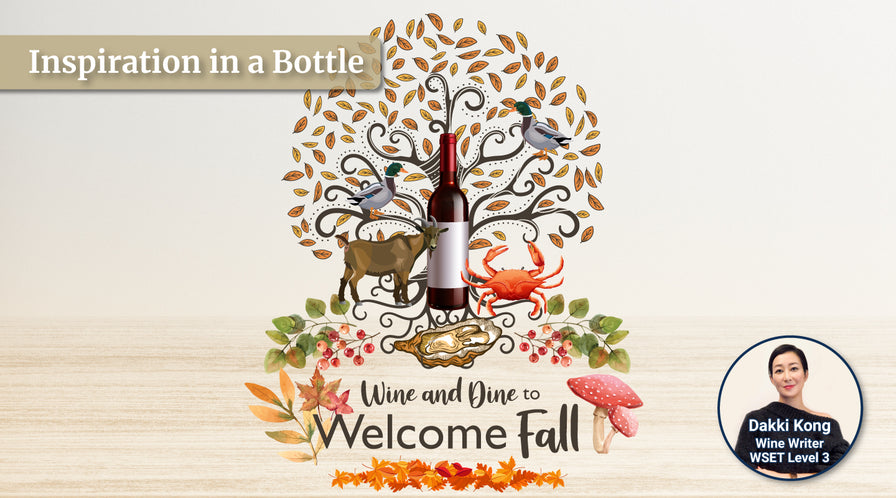 Text: Dakki Kong
When swirling autumn breezes blow gently, you'd know it's time to savour some seasonal delicacies. What's better than wining and dining with your friends and family?
Oyster
We're lucky we have a huge variety of raw oysters imported from around the world especially the iconic French oysters, such as the crunchy yet briny Fine de Claire, the sweet and smooth White Pearl, the complex Gillardeau and the robust Belon with the supreme aftertaste. Nowadays, you could enjoy oysters year-round because of modern oyster farming worldwide. However, those French delicacies are best enjoyed for its tasty and rich flavours in the months containing the letter "r", that is, September to April. Who could resist the juicy and umami flavour followed by flashes of mineral with an enduring aftertaste?

Chablis is typically recommended to pair with raw oysters. Not only because it's dry and crisp, but also because the soil that grows the grapes actually consists of oyster shells. That's what brings Chablis the mineral note and the seashell-like salinity, and what makes it congruent with the taste of oysters. Go try this classic pairing! Some other racy and citrus whites could be great to go with them, such as Eden Valley Riesling or Sauvignon Blanc from New Zealand.
Crabs
It's the best time of year to enjoy a crab feast. As water temperate drops, crabs get to fatten themselves up and turn heavy-weighted, which are delightful as a seasonal delicacy. Go for our all-time favourites, Cantonese ginger and scallion crab and underbridge spicy crab. Savour the sweet freshness of crab meat with the sizzling spice flavours or the fragrant ginger-scallion aroma. Consider the classic pairing with a slightly sweet and fruit-forward Riesling, such as the less alcoholic German Kabinett. Let the sweetness of the wine counterbalances the spicy and robust flavours, as the aroma intensity of both the wine and the dishes match perfectly.

If you'd prefer lightly seasoned crab dishes more, Chiu Chow-style chilled crab would make a great choice. This dish lets you purely taste the powerful richness of the crab meat. Complement it with a medium-bodied fruity white, such as Viognier or Bordeaux whites. Of course, there's the most anticipated gourmet highlight, hairy crab. To amplify the strong flavour of the fatty and creamy roe, pick a nice Champagne and let the bubbles and acidity accentuate and prolong the umami creaminess in the mouth. Or you could break the rules by matching it with some velvety Japanese single malt whiskies.
Duck and lamb
Apart from sea creatures, duck and goat also get fattened up too during the summer-to-fall transition. It's the season to enjoy some great dishes made with these ingredients. The imperial gastronomy Peking duck is a signature dish on a banquet table. The crispy duck skin and the succulent yet soft texture are truly mouthwatering. Also, Hong Kong-style braised lamb casserole is a popular dish for autumn and wintertime. To Chinese, this dish is loved for its tender texture and beancurd sheets in a thick broth infused with Asian spices as well as its nourishing and warming properties. A Burgundy red is always recommended to pair with Peking duck. Since the making of the duck involves maltose while it's served with the sweet bean sauce, be adventurous to pick an off-dry white with nice acidity to resonate the sweetness and mitigate the greasy mouthfeel, such as Vouvray Demi-Sec or German Spätlese.

For the Hong Kong-style braised lamb casserole, a medium, rich, powerful and meaty red nuanced with spices or black pepper would work well with it. In this case, consider the northern Rhône, whose top-notch wines are Côte-Rôtie, St.-Joseph, Crozes-Hermitage and Hermitage. A bottle-aged Rhône red could even bring you some interesting gamey and leather notes, which is an excellent counterpart for the lamb stew.

At a Chinese sumptuous feast, we often serve all sorts of different tastes in one shot. Then which wine should we pick? Don't get panic. Just go get an all-rounder wine to serve for the entire meal. Look for a wine with bright fruit, good acidity, low or no tannins. For example, a young New Zealand Pinot Noir or Beaujolais would be versatile to pair with either fish and meat.
---