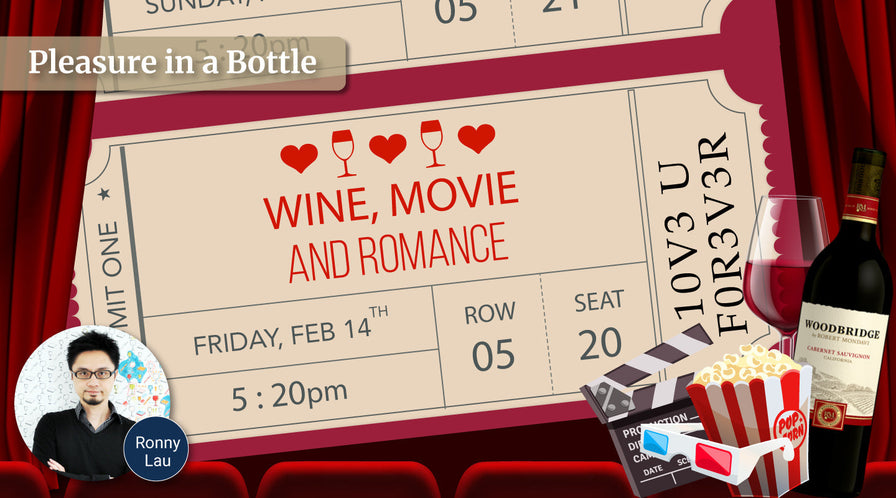 Text: Ronny Lau
Wine and movie are all you need to set a romantic mood for this Valentine's Day. However, "romantic" may not have the same definition to everybody. Some like it hot, but some people are more reserved. This is the reason some are attracted to the cinema by "Fifty Shades of Grey", but the others may say "Lost in Translation" is their cup of tea. In the world of wine, the divide is between Bordeaux and Bourgogne.
Wine is a popular element on silver screen. Is the Champagne Bollinger James Bond shared with the Bond girls romantic to you? Or the 2 bottles of Château Latour 1957 Simon (played by Val Kilmer) opened to flirt with Dr. Russell more seductive?
Some of the movies even use wine as main plot, "Sideways" is supposed to be the most acclaimed one. Although the story was based on a wine trip to California by two gentelmen, the journey was filled with romantic moments. Divorced Miles (played by Paul Giamatti) and his soon-to-be-married friend Jack showed their different approach both on romance and wine during this bachelor party trip. Miles is anti-Merlot and pro-Pinot, but the bottle of Château Cheval Blanc 1961 he treasured in the movie was made with Cabernet Franc and Merlot! What is Love? Who knows...
Another wine movie you should not missed on Valentine's Day is "A Walk in the Clouds". Keanu Reeves played a married soldier returning to his hometown from World War II. After he discovers that his wife was not as expected, he headed to Sacramento and met a pregnant woman who abandoned by his boyfriend. He poses as her husband to save her from her father's anger, but eventually found her to be his true love, and rebuilt the vineyard by a surviving vine after the fire. Maybe you cannot find a winery in Sacramento as dramatic, but there are more than 200 wineries that you can explore their only stories. Lodi, only a half-hour drive away, is a wine region under the shadow. Californian wine pioneer Robert Mondavi built the Woodbridge winery in 1979 to produce affordable wines. Open a magnum bottle of Robert Mondavi Woodbridge Cabernet Sauvignon to enjoy this movie, the romance is doubled.
There are more wine TV movies, try the Hallmark Channel, "Summer In The Vineyard", "Harvest Love", "Paris, Wine & Romance" are all about wine and romance filmed for wine couples. Sit back and relax on the comfortable sofa with your loved one, and don't forget the wine. You might think the most talked about Japanese TV series "Grand Maison Tokyo" is just about some chefs wanted badly to achieve Michelin stars, but the ambiguity relationship between Kimura Takuya and Kyoka Suzuki was what made the story interesting. In episode 9, the sommelier suggested to create a dish based on an inexpensive but enjoyable white wine, right, you don't need a fortune to set a romantic mood for Valentine's Day, you don't even have to open a bottle of Rosé Champagne that has almost become a cliché.
---