Flor de Caña's Sustainable Cocktail Challenge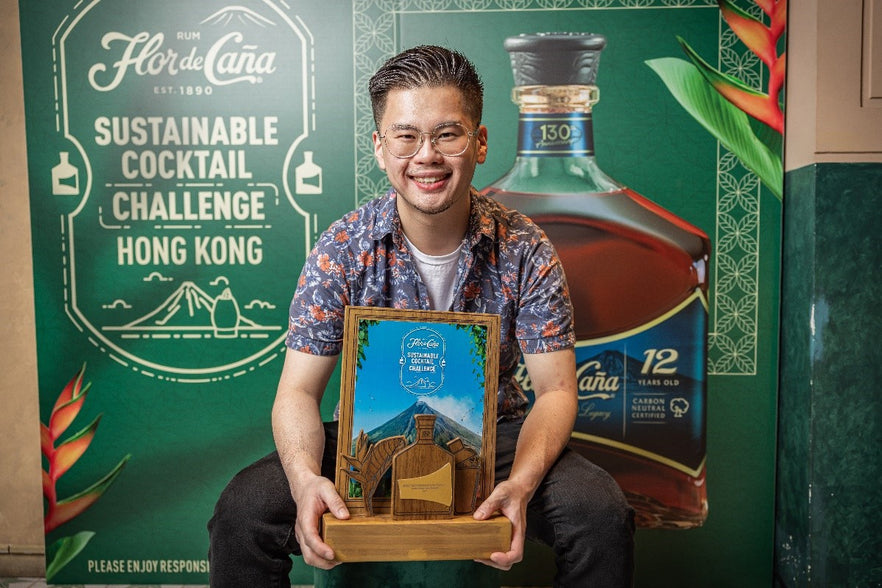 Flor de Caña crowns Morris Chang of Penicillin as Hong Kong and Macau's Most Sustainable Bartender
(Hong Kong, 7 September 2023) In the exciting local final of Flor de Caña's Sustainable Cocktail Challenge, Morris Chang from Penicillin Bar was crowned as champion after competing with 10 bartenders to create Hong Kong and Macau's most spectacular sustainable cocktail.
 The competition took place on 5th September, 2023 at the prestigious Daily Tot in Hong Kong. The judging panel was composed of renowned industry personalities such as the founder of Bar Leone Lorenzo Antinori, Wine and Spirits Director of Tasting Kitchen John Ng, Flor de Cana Sustainable Cocktail Challenge 2022 Hong Kong Winner Jack Ng. The cocktails were evaluated based on elements such as: history and inspiration behind the cocktail, the use of sustainable ingredients/techniques and the level of creativity, in addition to its flavor and appearance.
Morris Chang, a 27-year-old Taiwanese who came to Hong Kong 2 years ago, now the Chief Mixologist from Penicillin, he took the top spot of the competition with his cocktail Vice Versa, Flor de Cana 12 Year Rum, Upcycled Falernum, and Pineapple Bun Colada Foam. In addition to receiving the title of "Flor de Caña's Most Sustainable Bartender of Hong Kong and Macau", Morris will be participating in the Asia Regional Final of the Sustainable Cocktail Challenge that will take place in November 1st, 2023 in Ho Chi Minh, Vietnam.
Furthermore, the winner of the regional final will then go on to the Global Final of the Sustainable Cocktail Challenge that will take place in exotic tropical Nicaragua in 2024 to compete for the title of "Flor de Caña World's Most Sustainable Bartender" and a US$10,000 cash prize.
"My approach towards sustainability is to minimize food waste through bar technology and innovation. I'd like to rethink the potential of leftovers and repurpose the flavors in a more effective and sustainable way." Says Morris.
 Over 30 countries participate in the Sustainable Cocktail Challenge, which is a celebration of Flor de Caña's historic commitment to sustainability and its way of sharing and promoting these values with the global bartending community. In addition to being the world's first Carbon Neutral and Fair Trade certified spirit, its rum is distilled using 100% renewable energy, all CO2 emissions during fermentation are captured and recycled and the brand plants 50,000 trees annually since 2005.
About Flor de Caña Rum
Flor de Caña is a sustainably produced premium rum that's Carbon Neutral & Fair Trade certified. From an 1890 family estate, it's distilled with 100% renewable energy and naturally aged at the base of an active volcano without sugar or artificial ingredients. The brand has been honored with the "Ethical Award" by the Spirits Business Awards and the "Environmental Excellence Award" by the Just-Drinks Awards for its leadership in sustainable practices. www.flordecana.com
---