JWS x Chanson Burgundy Wine Masterclass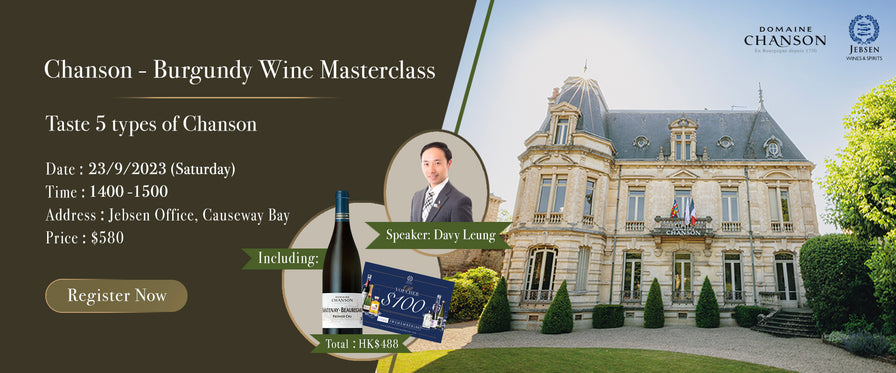 Date: September 23, 2023 (Saturday)
Venue: Jebsen Office, 21/F, Hysan Place, 500 Hennessy Rd, Causeway Bay
Time: 2:00pm – 3:30pm
Price: HK$580
 Register Here: https://www.jebsenwinesandspirits.com/products/jws-x-chanson-burgundy-wine-masterclass
The Masterclass details: 
Chanson Wines Tasting 
- Chanson Volnay 2018
- Chanson Santhenay Beauregard 1er Cru 2014
- Chanson Beaune-Bastion 1er Cru 2017
- Chanson Chambolle Musigny 1er Cru Les Combottes 2018
- Chanson Nuits Saint Georges 1er Cru Les Damodes 2016
Jebsen Wines and Spirits
Jebsen Wines and Spirits was established in Hong Kong in 1991, representing a portfolio of leading premium wineries and brands from around the world.
Speaker: Davy Leung
Mr Davy Leung, FCPA is a seasoned corporate finance and accountancy professional specializing in merger & acquisitions, corporate finance and assurance services. He also runs his own private equity fund in fine wines and spirits as an alternative investment for clients under Aquaseason Professionals Limited, where he holds responsible as the director. Davy is also looking after the financial team of a wine company where he's practicing his professional alongside his hobby.

Davy is the current Chairman of the Society of Wine Educators Hong Kong Chapter. He is also a Certified Specialist of Wine and Spirits, Certified Spanish Wine Educator, WSET Diploma holder, Certified Italian Wine Educator, and a student of Masters of Wine. With his commitment, he will continue to maintain a balanced lifestyle with both his profession and interest for wines in hope of giving back to the community.
Exclusive Offer
All participants will receive a Chanson Santhenay Beauregard 1er Cru 2014 - 750ml (Valued at HK$388) and HK$100 online coupon* to purchase selected items on Jebsen Wines and Spirits. 
A bottle of wine and JWS coupon will be distributed after the event.
*Terms and conditions applied
---